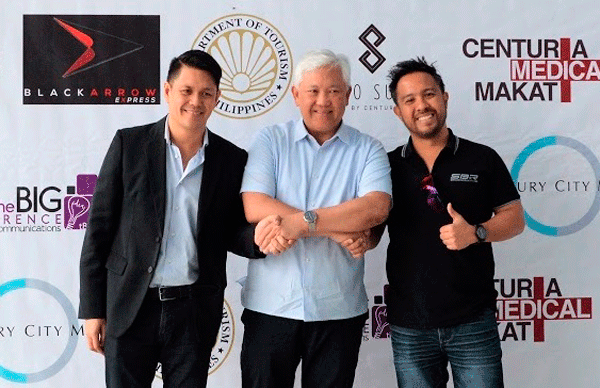 Anyone and everyone who is into triathlon knows SWIMBIKERUN.ph or SBR.ph. I'm lucky to have met its founder, Carlos de Guzman, years ago when he paced his girlfriend (now wife) Aleta at our inaugural TBR Dream Marathon way back in 2010. Now, almost a decade after, I'm happy to see how far SBR.ph has come.
SBR.ph is the main resource for triathlon information and races in the country. It is also an online store that caters to the gear needs of tri-athletes and/or those that are simply into running, swimming and cycling. SBR.ph also has shirts, socks, caps, drinking bottles, monitor watches, goggles, support straps and such made available on the site. Carlos also supports some cyclist needs such as wheels.
This February 10 and 11, the SBR EXPO will take place. The SBR EXPO is a retailers event showcasing items all geared to the needs of a tri-athlete. New retailers will join in the event showing their wares that are health related in nature that both athletes and non-sport minded individuals may be interested in. This is an open to all event, regulars of the mall can also enjoy the items offered on those days.
Alongside the expo, the Oscar's of the local triathlon community will also take place. With the online voting ongoing, the triathlon community of the Philippines is buzzing with excitement and is waiting for the results which will be made known during the Award's Night which shall take place still at the event center of CCM. Recognition to be given are for the following categories:
– Elite Tri-Athlete of the Year (Men and Women Division)
– Duathlete of the Year (Men and Women Division)
– Age Group Tri-athlete of the Year (Men and Women Division)
– Youth Tri-athlete of the Year (Men and Women Division)
– Race of the Year (Below 800)
– Race of the Year (Above 800)
– Team of the Year
– Shoe of the Year
– Shop of the Year
– Tri-Gear of the Year
– Bike of the Year
– Coach of the Year
– SBR.ph Hall of Fame Class of 2017
SBR.ph has events too! The first of all the races will take place in April which is the AQUAMAN (Aquathlon), followed by the DUAMAN (Duathlon) in May and capping it all off with the TRIMAN (Triathlon) in June; registration for all SBR events is now open to all interested individual and enjoy an early bird discount; something that some attendees took advantage of since the whole race activities are not time set, making it more enjoyable in the process.