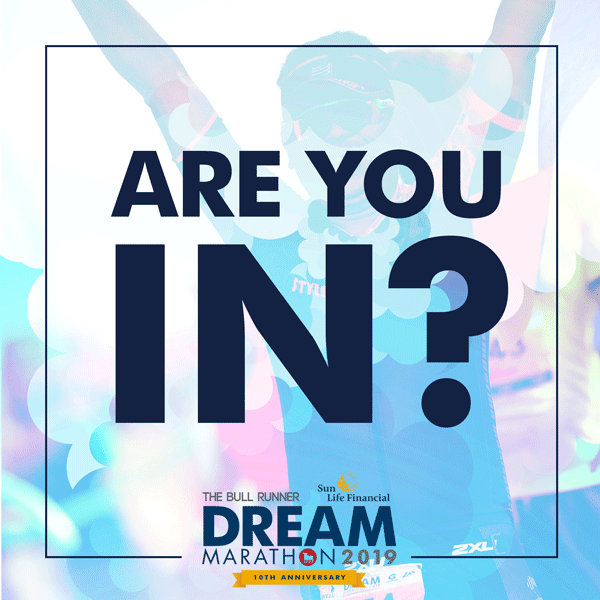 ARE YOU IN? Official list of 1000 Accepted Runners for TBR Sun Life Dream Marathon 2019 is out! Click on the link below to download:
LINK: TBR Sun Life Dream Marathon 2019_20 Aug
Congratulations to you if you made it to Batch 2019!  To secure your slot, you must pay for your race fee following the schedule below.  See below or click on this link.  Unclaimed slots will be opened to Waitlisted Runners by July 30.
To those who didn't make the cut off, list of Waitlisted runners will be released before Sunday.
Remaining slots will be taken up on a first come, first served basis until 1000 runners are registered.
PAYMENT SCHEDULE 
> July 28 (Sat) and 29 (Sun) – Only first 1,000 Accepted Runners may register. Online registration opens at 12:01AM on July 28.

> July 30 (Mon) to Aug 5 (Sun) – 1,000 Accepted Runners + Waitlisted Runners may register.  Online registration for Waitlisted Runners opens at 12:00NN on July 30. First come, first served basis until slots run out.

PAYMENT OPTIONS
1-ONLINE Registration via Credit Card (P200 processing fee for credit card transactions)

2- ONSITE Registration at: New Balance Bonifacio High Street near ROX (12nn to 9pm) OR Secondwind Running Store 2F Ayala Mall the 30th, 30 Meralco Ave. Pasig City (12nn to 9pm)

3- BANK DEPOSIT / APP (BPI)
Click here for full details on REGISTRATION.