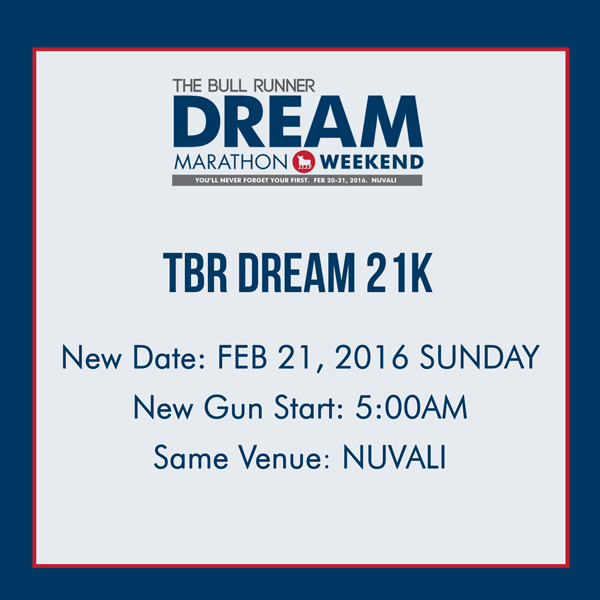 Please be informed that we have decided to move the date of the 21k event from Saturday, February 20 to Sunday, February 21, 2016 for the convenience of majority of runners who will also be supporting friends and family at the 42k event.
Gun start will also be moved later from 4:30AM to 5:00AM. Race venue will remain at NUVALI, Sta. Rosa, Laguna. The 3.5-hour cut off for the 21k event remains as well.
TBR Dream Marathon 42k will remain exclusive to first- and second-time marathoners with a separate finish line from the 21k.
We apologize for the inconvenience this may cause for some registered runners. We will accept request for refunds until November 30, 2016. To avail of a refund, click on this link: TBR DREAM 21K REFUND FORM. You will receive a notification of refund within 10 working days.
To those who made bookings with our hotel partners, Seda Nuvali, Paseo Premiere and Technopark Hotel, please call the hotel to cancel your bookings to avoid credit card billings. There will be no cancellation fees.
For any concerns, you may contact TBR Dream Hotline at tbrdream@gmail.com or 0942-477-6099. For more details, visit www.tbrdream.com.
Thank you for your kind understanding.