For 2014, I told myself I wouldn't resist change, but I would embrace it.  Well, it looks like I went a bit overboard!
Tonight I am launching the new The Bull Runner logo and TheBullRunner.com layout.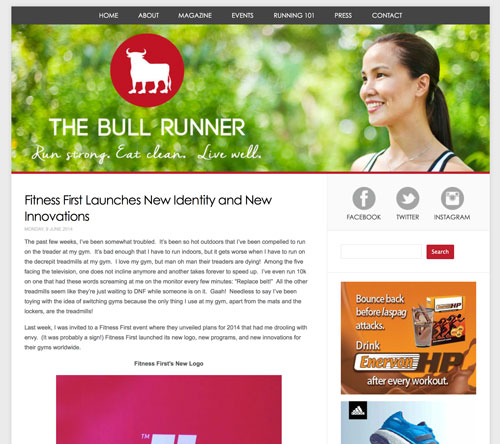 This is the first redesign of the TBR logo ever since I designed the original identity on a whim, in 15 minutes, when I created this blog.  I thought it was about time that I made it look more contemporary, strong and simple, yet striking.
As for the layout,  I believe this redesign comes after over 3 years using the old layout which I felt was cluttered and confusing (much like my life then! LOL)  Every year, I would dream of creating a new fresh look, but life always got in the way. This time, I committed to working on the design bit by bit whenever I had spare time from work or training (i.e., on long flights, while waiting at doctor's clinics, sitting in the car in traffic).  With the help of my fantastic web designers (and TBR Dream Alum, mind you) Marc and Gail Villanueva of Intuitiv Solutions and Cres Yulo who shot my photo in all of 15 minutes right in her condo, I was finally able to launch this little part of me on the world wide web.  Thank you Marc, Gail, and Cres!
For this year, I have bigger and more exciting plans!  Hope you can join the journey with me!
What do you think about the new layout?  Any new topics, articles, or features you'd like to see on running?  Just let me know!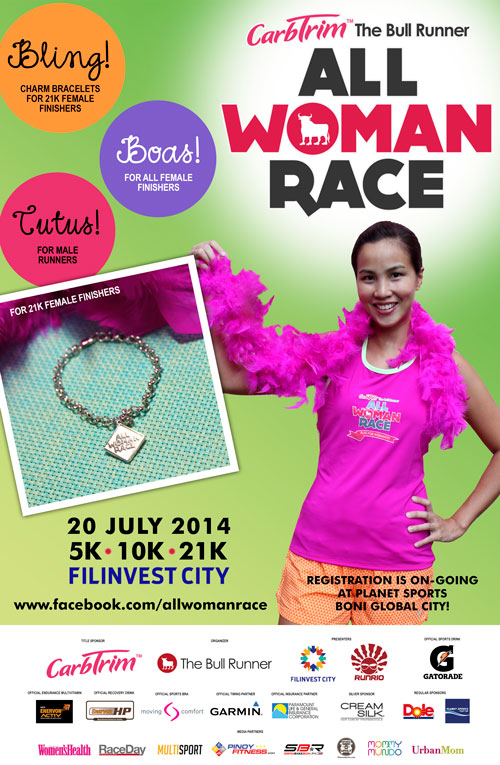 4 more days for EARLY BIRD registration for Carbtrim – The Bull Runner All Woman Race! Sign up now to join in on all the fun on race day! Here's what we've got in store for all you women (and a few good men) on July 20 at Filinvest City:
All 21k Female Finishers get this beautiful charm bracelet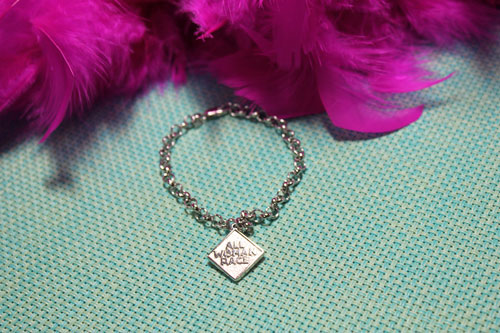 5k, 10k, 21k Female Participants get this drifit, women-specific singlet in their Race Kit.  Race Kit also contains: race bib, pico timing chip, and Carbtrim capsules and iced tea for the Race Kit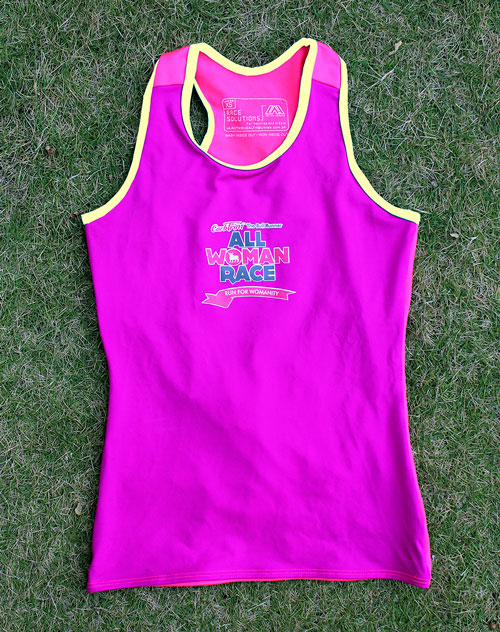 AWR Race Singlet Size Chart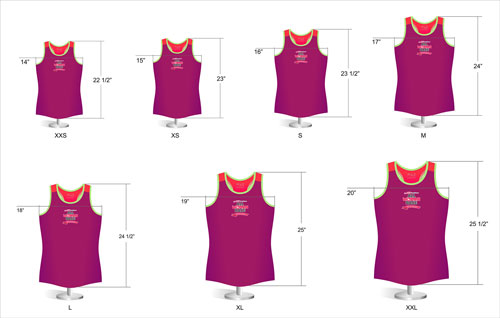 Carbtrim – TBR All Woman Race 5k Route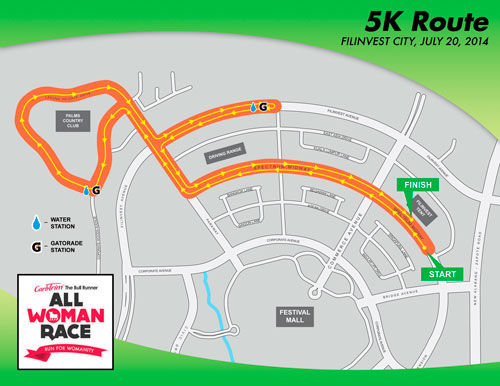 Carbtrim – TBR All Woman Race 10k & 21k Route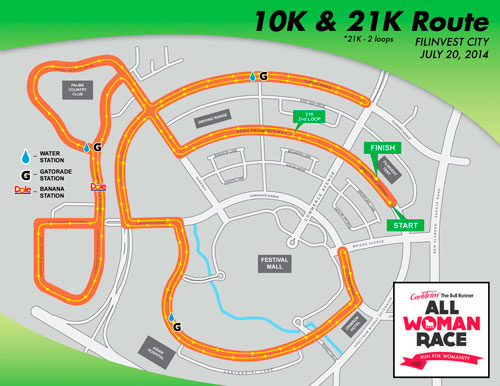 To register, visit our registration centres! See below for more info: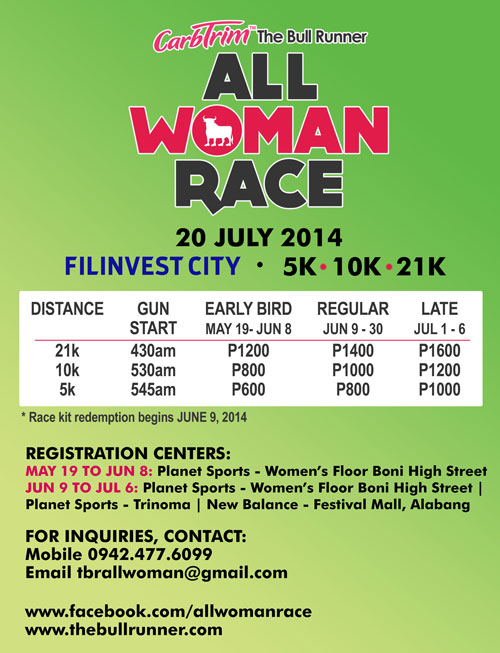 For more information, you may download our FAQ on this link:
Download: AWR FAQ (PDF File)
Happy to announce my new passion project and I sure hope to see ALL WOMEN there…and some men in tutus too. Teehee!
Event: Carbtrim – The Bull Runner All Woman Race
Date: July 20, 2014
Distance: 5k, 10k, 21k
Venue: Filinvest City, Alabang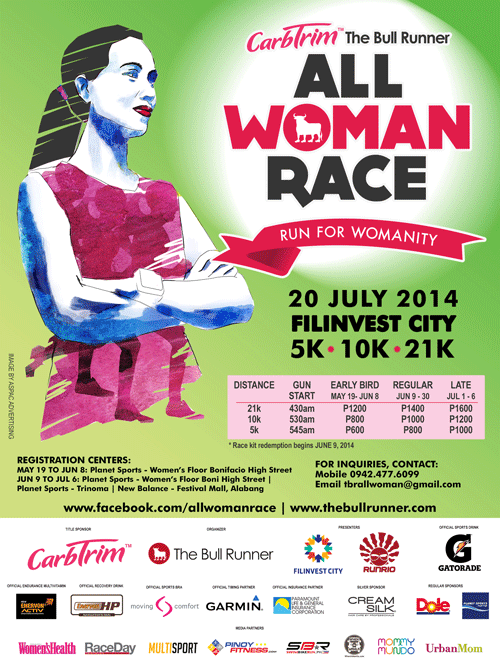 All women are invited to CARBTRIM – THE BULL RUNNER ALL WOMAN RACE! This run for womanity features 5k, 10k and 21k race distances along the safe and friendly roads of Filinvest City in Alabang. It will be a run open to women of all fitness levels who wish to celebrate women empowerment and camaraderie.
Participants can expect lots of bling, boas, and tutus on this fun-filled event! Charm bracelets will be awarded to all 21k female finishers. All female finishers will receive colorful boas upon crossing the finish line. Prizes await the top three female finishers for each race category.
As for the male runners, limited slots will be open to men who wish to run as "honorary women of the day!" The only requirement is that they wear tutus provided in the race kit. 21k male finishers will receive medals.
Early bird registration starts on May 19 until June 8 only at Planet Sports, All Woman Floor at Bonifacio High Street. Early bird rates are 21k P1200, 10k P800, and 5k P600. Regular and late registration will be at Planet Sports – Bonifacio High Street, Planet Sports – Trinoma, and New Balance, Festival Mall in Filinvest City, Alabang. Regular race fees (June 9 to 30) are 21k P1400, 10k P1000, and 5k P800 and race fees for late registration (July 1 to 6) are 21k P1600, 10k P1200, and 5k P1000. Race kit redemption will begin on June 9, 2014.

All runners will receive free CarbTrim Capsules in their race kits to help them reach their ideal race weight by race day. Female participants will also receive an attractive dri-fit women-specific racerback All Woman Race singlet along with the race bib and ipico timing chip.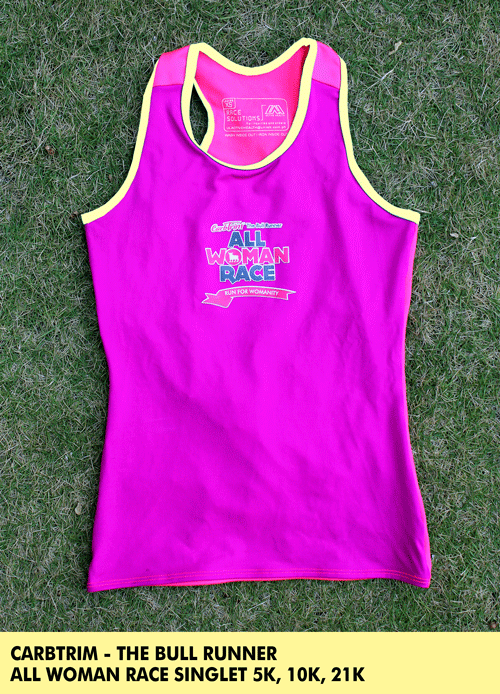 The race starts at Spectrum Midway Avenue in front of Filinvest Tent in Filinvest City. Gun start for 21k is 4:30AM, for 10k 5:30AM, and for 5k 5:45AM. Runners will be treated to shopping and pampering at the post-race area.
Carbtrim – The Bull Runner All Woman Race is sponsored by the following: Title Sponsor – Carbtrim, Presenters – Filinvest City and Runrio, Official Sports Drink – Gatorade, Official Endurance Multivitamin – Enervon Activ, Official Recovery Drink – Enervon HP, Official Sports Bra – Moving Comfort, Official Timing Partner – Garmin, Official Insurance Provider – Paramount Insurance, Silver Sponsor – Creamsilk, Regular Sponsors –Dole and Planet Sports. Media partners – Women's Health, Race Day Magazine, Multisport, Urban Mom, PinoyFitness.ph, SwimBikeRun.ph, MommyMundo.com, and WhenInManila.com. The event is organized by TheBullRunner.com.
For more information, please contact Macel at mobile number 0942.477.6099 or email tbrallwoman@gmail. You may also visit www.facebook.com/allwomanrace or thebullrunner.com
It's the last day of our TBR CINCO DE MAYO Contest!  Read why we're celebrating and giving away all these prizes on this LINK, then join us and have a chance to win the Grand Prize worth over P15,000 in prizes!
WHAT CAN YOU WIN:
> 2 pairs of Nike Running Shoes (model and color of Nike Running shoes varies from photo)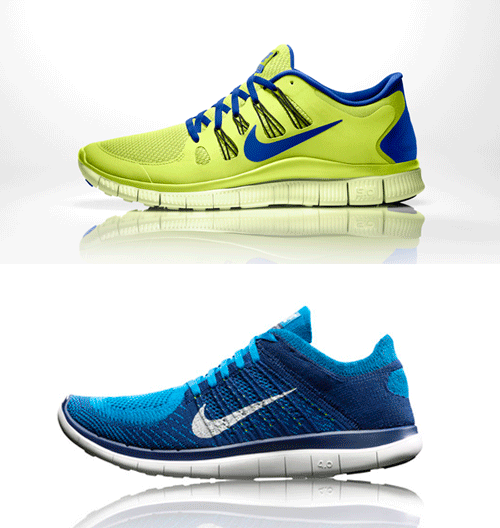 > 1 pair of Telic Recovery Sandals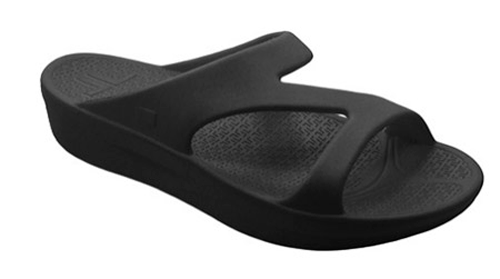 > 1 Yurbuds Sports earphones (model and color of varies from photo)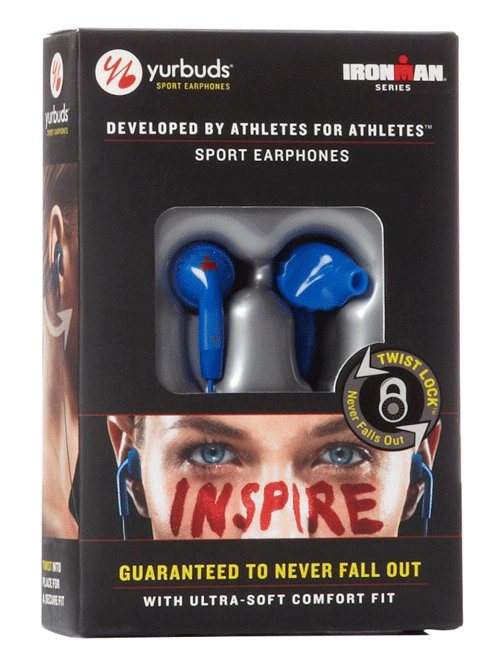 > 1 Runnr Backpack
> 1 Runnr Expandable Waistpack

> 2 race kits to Brooks Run Happy 3 
HOW MANY WINNERS?  Just 1 winner! Woot! 
HOW TO JOIN?
1) Follow The Bull Runner on Twitter
2) Follow The Bull Runner on Instagram
3) Like The Bull Runner Page on Facebook
4) Post a comment on this blogpost with the answer to this:
IF YOU WON THE GRAND PRIZE IN THIS CONTEST, WHO WOULD YOU GIVE THE 2ND PAIR OF NIKE RUNNING SHOES TO?  WHY?  (Answer must be in 2 to 3 sentences only.  Exceeding 3 sentences will lead to disqualification.)
As the question above suggests and as I've done in the past years, the 2nd Nike shoe that you win will be your gift to someone else.  You can choose to give it to your husband or wife, your best friend, your colleague, or that runner you see in races all the time who you think deserves new shoes.
Post the answer below and also include:
– your Name
– Name used in Twitter
– Email address
– Shoe size
– Gender
HOW CAN I WIN?
Deadline for submission of entries:

Monday, May 5, 2014 at 6:59 p.m.

 Winner will be announced on Tuesday, May 6, 2014.
All entries submitted within this period complying with directions above will be evaluated by TBR.  TBR will choose 10 of the best answers and these will be eligible for a raffle to be conducted by TBR via random.org.  There will only be one winner.
All entries will be moderated and will be approved upon closing of the contest.
Only one entry per runner. Submission of more than one entry leads to disqualification.
Winner will be announced on the bottom of this blogpost as an update and will be advised via email on how to claim the prize.  Winner must claim the prize at the venue advised by TBR.  TBR will not ship prizes to provinces or abroad.
May the best runner win!
UPDATE: Congratulations to Ma. Blanca Dela Cruz for winning the Grand Prize in our 5th andDay of TBR Cinco de Mayo!  Here's her winning entry:
I will give the second Nike pair to my daughter if I win. We're fighting cancer and doctors have already given her the go signal to RUN!
Thank you to everyone who participated!