I just arrived from a weekend of fitness and fun at Boracay with the awesome women of Women's Health and Summit! I think all women need an annual getaway for us to focus solely on ourselves—our body, mind, and spirit—every once in a while.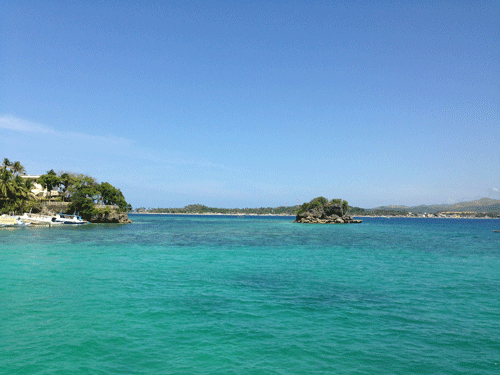 We flew off to Boracay for the weekend for Women's Health's annual event, Beauty and the Beach, the biggest beauty and wellness event in the country.  It was also a grand celebration of Women's Health Philippines' 5th year anniversary wherein they encouraged women to give themselves a high five for their achievements.  I felt fortunate to be invited to Beauty and the Beach again having had a fantastic time there last summer of 2011.  Read about it here.
So, last Friday, I hopped on my bike trainer (because I wouldn't be able to ride that weekend), bid the hubby and kids goodbye, and flew off to Boracay for a weekend of fun and fitness!
As soon as we arrived and after checking in at Pearl of the Pacific, Women's Health spared no time in pampering us.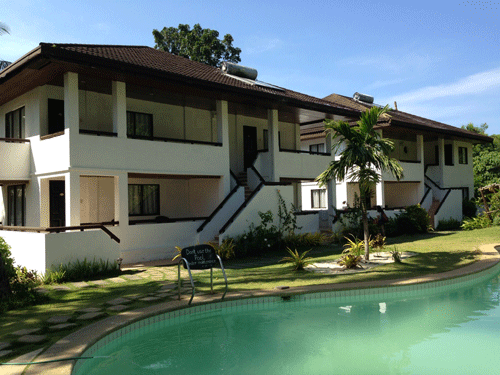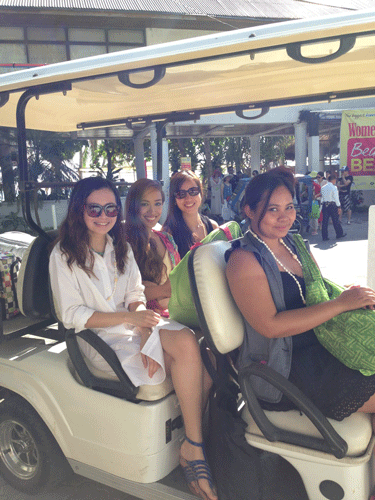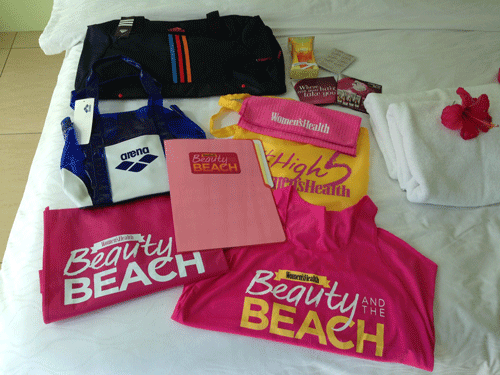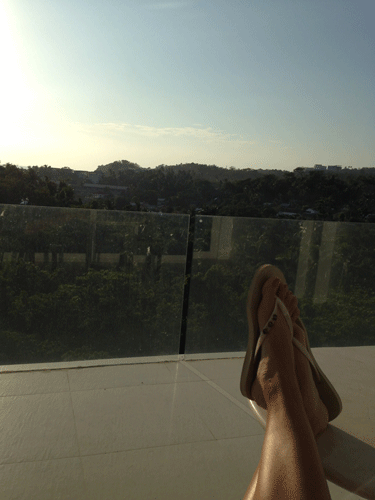 Together with Solar news anchor and event host for that weekend Hilary Isaac, we were whisked off to a 90-minute massage at Mandala Spa and Villas. It was my first time there and I loved everything about it from the friendly staff, the ambiance, the clean and well-kept rooms, and, of course, the fantastic massage. I asked for a strong massage and they gave me strong…just the way I like it! We ended the massage just in time for a quick dinner before we got some rest before the real fun began on Saturday.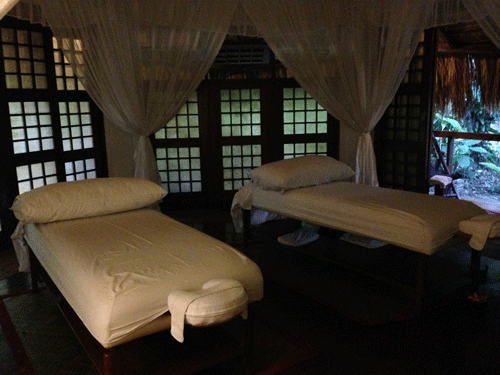 The following day, I got up early for Beauty and the Beach classes by the beachfront. First class: Hatha Yoga! I'm a big fan of yoga especially for runners because we need to loosen up our leg muscles, which take a pounding from all the runs. It's also great for busy people like me who need to slow down, clear the mind, and simply recalibrate.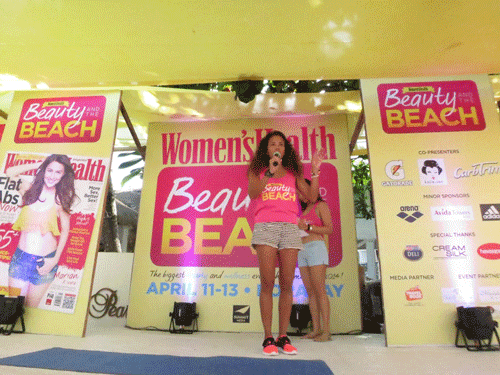 – Women's Health Editor in Chief Lara Parpan welcomes everyone to Beauty and the Beach –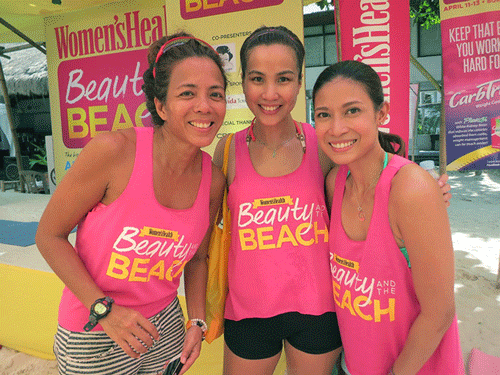 – with Lara and event host Hilary Isaac –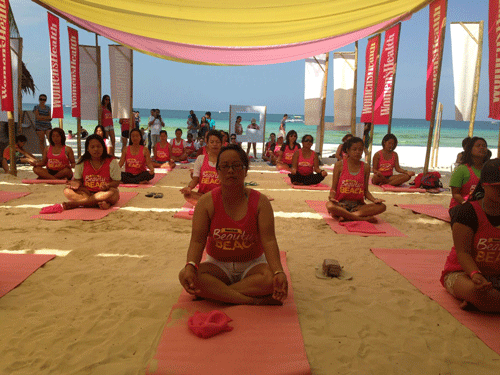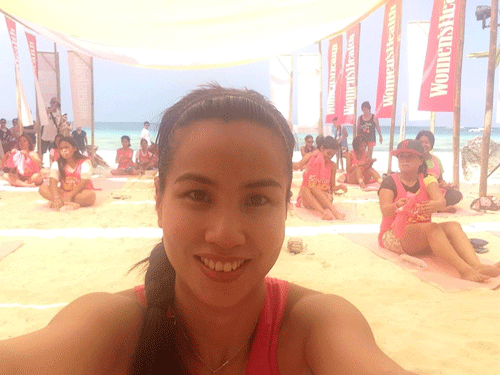 – Never thought I'd do a yoga selfie LOL –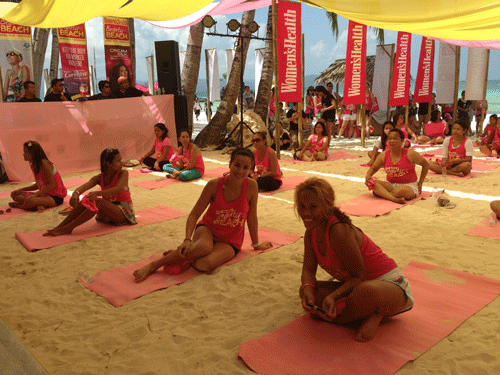 Second class: Piloxing. The class was taught by the only certified Piloxing instructor in the country, my good friend and roommate for the trip, and also a partner for the Weight Management Sessions we offer at TBR Dream Marathon, Mitch Felipe-Mendoza. Piloxing, as the name suggests, is a mix of Pilates, Boxing, and Dance. I thought it was going to be an easy workout, but boy was I wrong. It was a lung-busting, challenging workout that had me thinking: I would rather be running 21k right now! LOL. Still, it's always fun to learn new things, to use muscles that are rarely used, and to challenge myself constantly with workouts that I find difficult to do.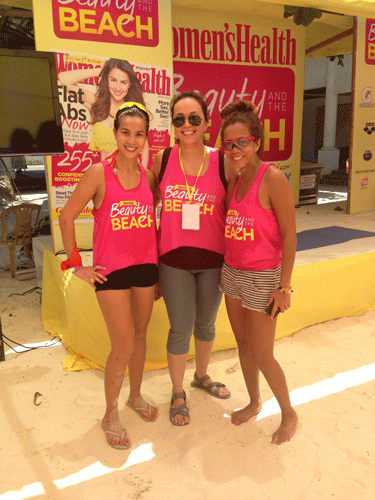 – with Summit Group Publisher and TBR Dream Alum Edna and Lara –
After lunch at D'Mall, I met up with Women's Health Editor-in-Chief and triathlete Lara Parpan. We dove into the clear, pristine waters of Boracay and proceeded to swim 1.5k. I had never done laps in Boracay and, as we swam, I couldn't keep myself from smiling about how fantastic it felt. The water was clean and not too choppy, there was absolutely no jellyfish (we were viewing Ann Curtis' jellyfish attack photos over lunch! Gaah!), and I felt that I could go on and on. There are times when I'm reminded of blessed I am to have the opportunity to swim, bike, and run the way I do and this was definitely one of them.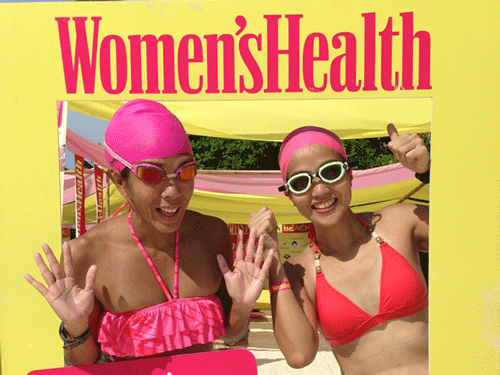 By the afternoon, we enjoyed cocktails at Women's Health's Chill Out Sunset Party by the beach front. It was an evening to meet other like-minded women of Summit, fashion bloggers, and fitness enthusiasts. More importantly, it was also to congratulate the Women's Health team for all the great work the past 5 years.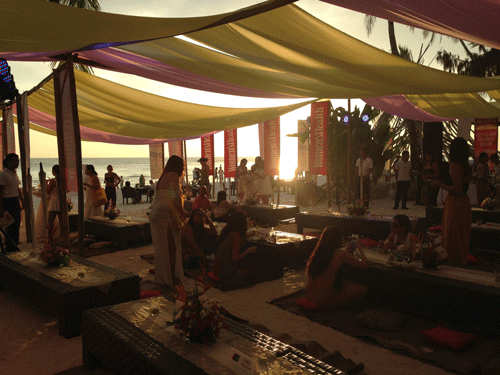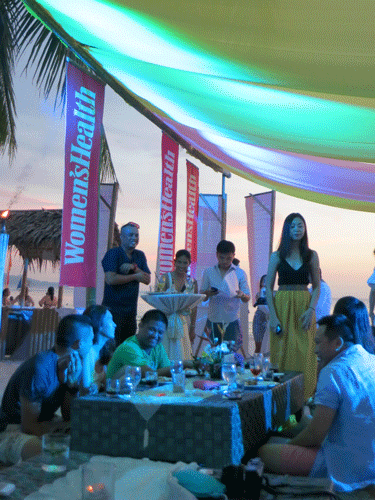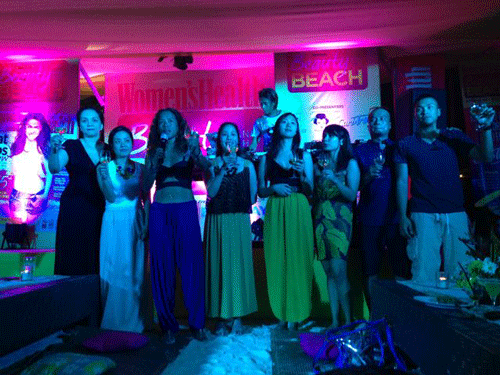 – Cheers to the fantastic team of Women's Health!  You girls and guys rock!
The next morning, as expected, I got up early to run on the white sand of Boracay.  Hey, no trip is complete without a run, right?!  Running on sand is always a tricky situation; it's unstable and soft. My light and minimalist Nike Free Run 2 was perfect for the job.  It was hot and humid, but running with that beautiful scenery before me was just a delight. I just enjoyed every moment.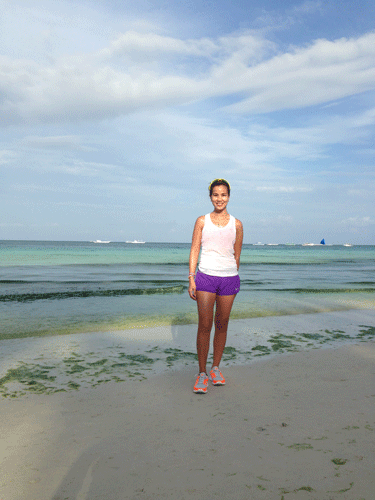 The next classes for Beauty and the Beach were the Flirty Girl Fitness and Pound Workout.  I have two left feet so I decided to spare the rest of the women from watching me make a fool of myself.  It looked like so much fun though!  This is just even more proof that there are limitless ways to get fit while having fun.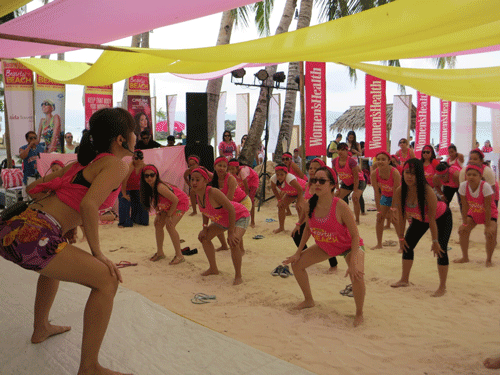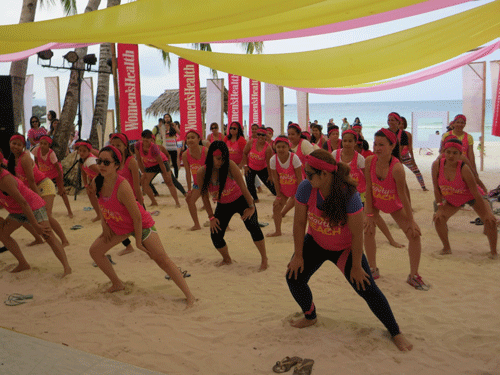 Oh, aside from fitness, Women's Health treated women to free mani/pedi and hair braiding services at their Beauty Dome by the beach. I would've wanted to get my nails done, but I think I was just too excited to maximize my workouts while in Boracay. I guess you could say I'm a pawis ("sweat") over pampering kinda girl. Hah!

Before we knew it, we were bidding each other goodbye as the event came to a close.  It was great to make new friends, learn new fitness workouts, swim and run in Boracay, and just have the opportunity to get away from the daily grind.  Thank you so much to Women's Health for the great weekend.  High five to all of you!