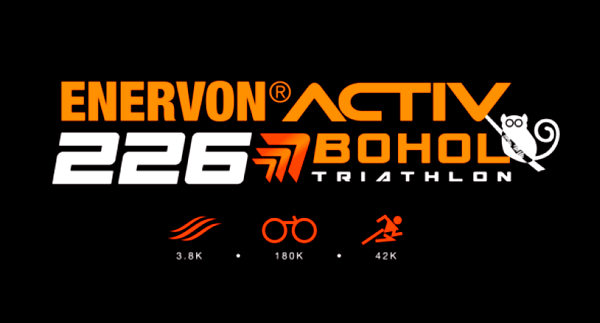 To all experienced triathletes out there, the country's longest triathlon, Enervon Activ 226 Bohol Triathlon in Panglao, Bohol set for December 6, 2014, is now open!  Limited slots available.
PRESS RELEASE
As early as now, triathletes are already preparing for the much-awaited Enervon Activ 226 Bohol Triathlon. Dubbed as the country's longest triathlon, the Iron Distance race will cover 3.8km swim-180km bike-42km run along scenic routes in Panglao, Bohol on December 6.
Enervon Activ 226 Bohol Triathlon is being put together by premier multisport events' organizer Bike King. Slots for the first-of-its-kind race will be limited, thus interested participants are encouraged to register early. Online registration is ongoing and will be open until October 15, 2014.
"We are expecting around 120 participants, mostly top long- distance elite and age-group triathletes. It will be a small and intimate kind of race compared to the other triathlon races that we organize like the Tri United series," said Raul Cuevas of Bike King. The race will be held at the world-class Bellevue Bohol Resort, which boasts of its luxurious guestrooms and spectacular view of Panglao Island.
Bike King is also the organizer of the Tri United Series, the second leg of which (Tri United 2) was held early this month on July 6 and was participated by a record 750 triathletes. Next up, before the Bohol race, is the Active Health Duathlon in Porac, Pampanga—SCTex.
According to Cuevas, it has been quite a while since local triathletes competed in an Iron-Distance race. The first Iron-Distance race in the Philippines was held in Matabungkay, Batangas in 2002, also organized by Bike King.
"There is really a clamor for this because it is every triathlete's dream to someday finish an Iron-Distance triathlon. We want to give the Filipino triathlete the opportunity to realize that dream at Enervon Activ 226. It takes commitment, dedication and mental toughness to finish this kind of race," added Cuevas.
Triathletes are sure to be provided with the right stamina and extra immunity to prepare and to endure the challenge of the race by Bike King's title sponsor Enervon Activ multivitamins, which is part of Unilab Active Health's Sports Nutrition System. The nutrition line also includes Enervon HP Recovery Drink and Active Health Sports Gel.
"Training makes superb athletes, but proper nutrition plays an equally important role in ensuring the athlete's best performance. Enervon Activ will help build stamina for the athletes as they train for this event up to race day. The impact of taking enough vitamins and minerals daily such as Enervon Activ cannot be denied," said Bianca Sison-Cortez, brand manager of Enervon Activ, which was launched in October last year.
The participants at Enervon Activ 226, according to Cuevas, are "people who are very passionate about triathlon and with years of triathlon racing experience". He said: "Nutrition will play a big factor as athletes would need sustained energy to help their body perform at its peak and to recover for the next workout."
Race proper for Enervon Activ 226 Bohol Triathlon will be on December 6 at 7am. Race kit pickup and briefing as well as bike check-in will be held the day before, on December 5. Cut off time is at 17 hours to finish the whole race. A race expo will be held simultaneous where products of sponsors will be showcased and sold. For race registration and other details, please log on to unilabactivehealth.com or www.bikekingphilippines.com/enervonactiv226.