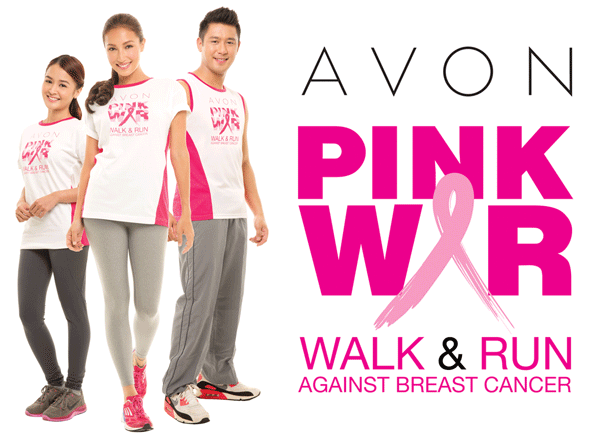 For this year, Avon Philippines invites you all to wage WAR!  W.A.R. or Walk And Run against Breast Cancer, that is.  (How clever is that?!)  The run will be held on October 12, 2014 in SM Mall of Asia with a walk, 5k, and 10k distance.
Breast cancer, up to this day, remains the number one enemy of Filipino women, being the most common cancer and the third leading cause of death in the country. But armed with knowledge and awareness for early detection, which are a patient's best ammunition against the disease, half the battle against breast cancer is already won.
Avon, the foremost advocate for the cause, once again takes lead in this battle, as it launches its Kiss Goodbye to Breast Cancer (KGBC) campaign and fundraising events for 2014. The company for women calls on more Filipinos to join them, and together, become comrades in this rally against the deadly disease through information dissemination on the importance of awareness and early detection.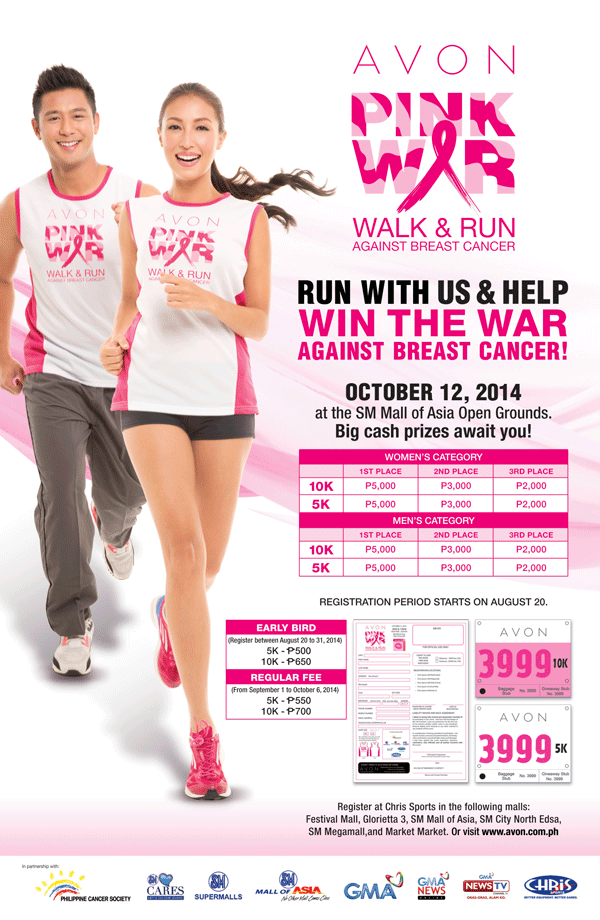 For a registration fee of Php550 for the 5k run event and Php700 for the 10k run event, individuals will receive the Avon KGBC Race Kit, which already includes a singlet, race number and giveaway; while Walk participants only need to purchase a KGBC shirt for Php 299 to join.
Registration opened last August 20, 2014 at Chris Sports outlets below. A special early bird discount of P50 is being offered until the end of August: P500 (5KM) and P650 (10km).
REGISTRATION LOCATIONS:
Chris Sports (SM North Edsa)
Chris Sports (SM Megamall)
Chris Sports (SM Mall of Asia)
Chris Sports (Festival Mall)
Chris Sports (Glorietta 3)
Chris Sports (Market! Market!)
You can also register on the Avon Website or on their Facebook Page.
COURSE MAPS: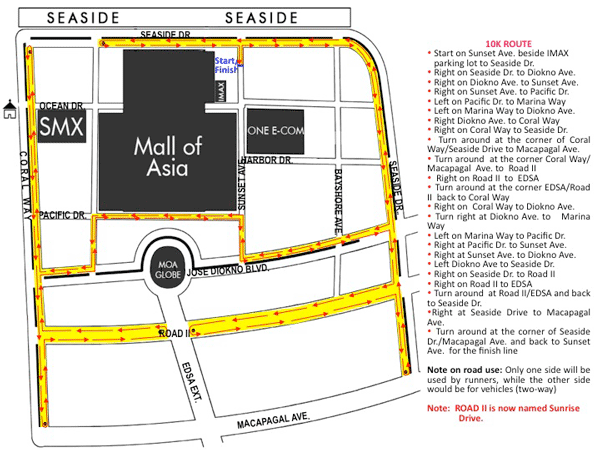 Since its Philippine launch in 2002, it has been Avon KGBC's mission to help provide access to care and support to medically under-served women. Proceeds from the events will go to the Philippine General Hospital (PGH) Breast Care Center and selected provincial hospitals.
CONTACT:
Website: http://www.avon.com.ph/
Facebook page: https://www.facebook.com/AvonPhilippines