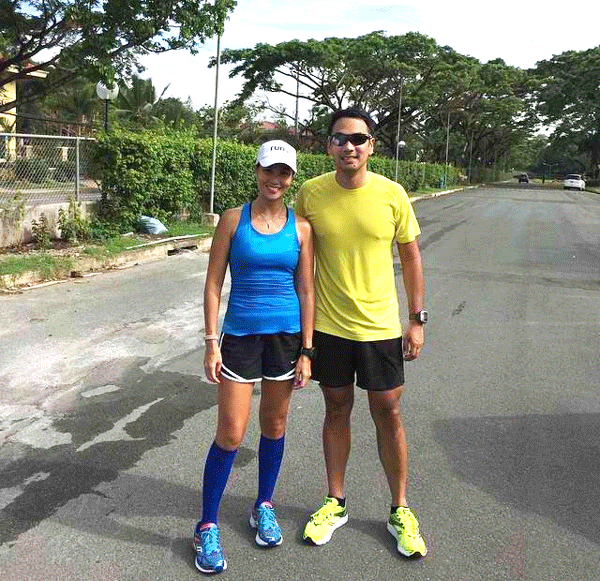 – Easy Friday run with Ian (raceyourself.com) –
7 Weeks to Chicago Marathon!
Last week was a fantastic for me. Okay, that's an understatement, it was a milestone week! I hit my highest mileage ever in one week!
I ran 5x a week following the Hanson's Marathon Program. It consisted of Tuesday speedwork, Thursday tempo, and easy runs for Friday, Saturday, and Sunday. The speed and tempo runs were tough to say the least, so I was looking forward to those easy runs at the latter part of the week.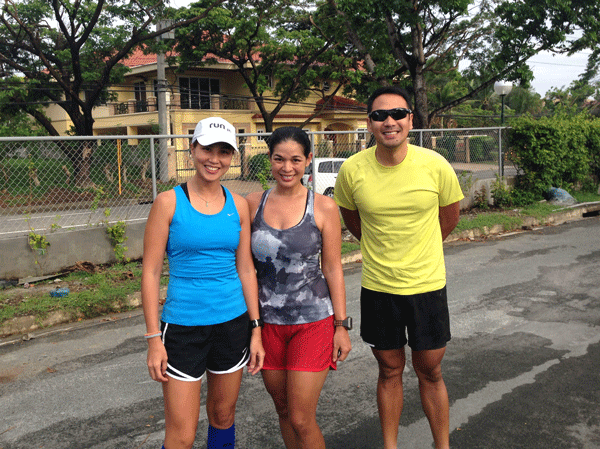 – Nice bumping into Bea who's running Chicago Marathon too –
By Saturday, my legs started to feel heavy, but I plodded on like a good soldier to run an easy 13k.
By Sunday, just as we took off for our 26 km run, my legs were dead! No exaggeration. I felt like they were chained to the ground.  With friends, Lit and Ton, we ran towards the starting line of Run for Heroes 10k, a race organized by Hero Foundation to commemorate our heroes on National Heroes Day and to raise funds for the orphaned children of our fallen soldiers. We ran the 10k through rolling hills of Fort Andres, Bayani Road, and Navy Village, and man oh man, I swear I was calling out to Jose Rizal, Andres Bonifacio, and all our heroes in heaven, as I attempted to climb those hills with legs that wouldn't budge.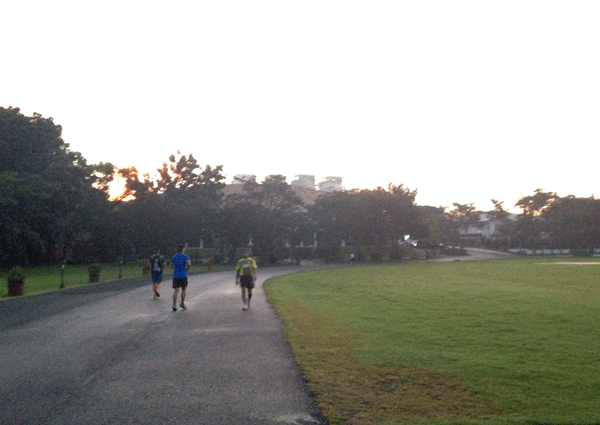 – We ran circles around here while waiting for the race to start. What a great way to watch the sun rise –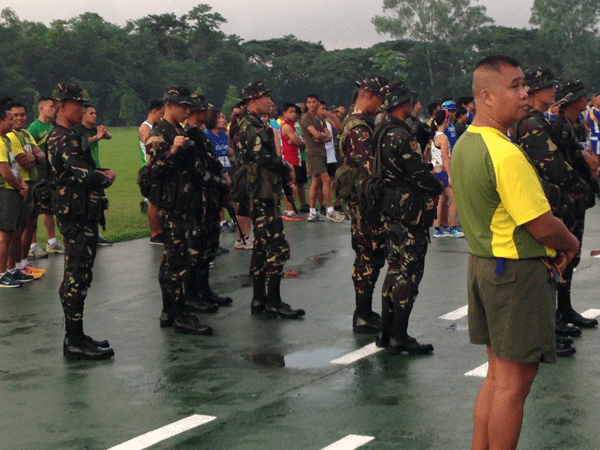 – These guys ran in full uniform with their guns. Gulp. Who was I to complain about my heavy legs? –

As masochistic as it sounds, I did somewhat enjoy crawling through the last 6 kilometers of that run. Sure, I was dying and my feet were burning in pain, but, at the back of my mind, I knew that this was what the program was about. Two words: Cumulative Fatigue. I had to feel this kind of fatigue to prepare me for the last kilometers of Chicago Marathon.
At the risk of sounding like a total running geek, I realized this week that I really do love training for a marathon even more than running the race itself. There's something about the discipline of sticking to a program, pushing myself mentally and physically, and knowing that I'm progressing day by day that brings more meaning and focus into my life. I said it once and I'll say it again: It's the journey, not the destination, baby!
P.S. Don't get me wrong: I'm still pretty excited about Chicago. The hotdogs, the deep-dish pizza, and running 42.195 km through the city!
Thank you to Unilab Active Health for supporting my big adventure, Chicago Marathon!