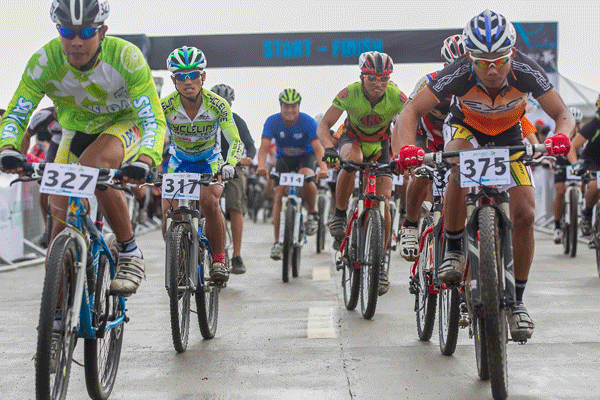 Attention cyclists!  The sprawling NUVALI community in Laguna with its exciting trails and inviting amenities becomes the epicenter for action and adventure as the sixth edition of NUVALI Dirt Weekend happens on November 21–23, 2014.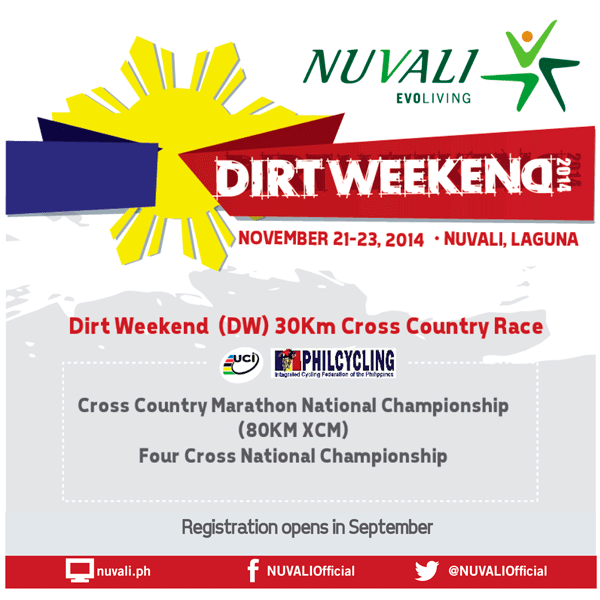 From 2009, Dirt Weekend has become one of NUVALI's signature events, an annual gathering of cyclists from all over the country averaging around 2,000 participants. Dirt Weekend has also gained a reputation as trailblazer by being first in staging unique formats in the field of mountain bike events like the first ever UCI National Mountain Bike Championships in 2013.
Dirt Weekend 2014 sets another record as it holds the UCI National Championships for Cross Country Marathon (80Km) along with other annual staple events such as the Four Cross Race and the 30Km Cross Country Race.
One of the two events when Dirt Weekend started, the Dirt Weekend 30 Km Cross Country Race is a test of endurance and strength as it offers a challenging hilly trail. The event welcomes not only racers but weekend warriors and biking enthusiasts as well who are after the adrenaline rush and the sheer joy of being able to finish the tracks. Divided into categories based on age groups, the top 10 riders in each category will be awarded with the first three receiving cash prizes and all finishers bestowed with a Finisher's Medal.
Another Dirt Weekend trademark event is the Four Cross Race as it provides action-packed scenes courtesy of riders who speed through the jumps of the four cross tracks. Four riders at a time race through the tracks with the first two finishers advancing to the next until riders are eliminated and the last four standing move on to the Big Final.
Official Practice opens on November 21 while the Race Proper for Four Cross is on the following day, November 22. The UCI (Union Cyclist International) categories are Elite and Masters while National Categories will be according to the following age groups: 19 below, 20-29, 30-39 and 40 and above. The top 4 finishers in each category will be given medals and cash prizes while the top riders in the UCI Elite and Masters Categories, respectively, will get the Four Cross National Jersey.
But the most highly-anticipated centerpiece of this year's three-day Dirt Weekend meet is the National Championships for Cross Country Marathon (XCM). After Dirt Weekend hosted the first ever UCI sanctioned National Championships last year, it is determined to bring races that matter to cyclists vying for a title and the UCI points. The grand dream is to be able to host a Cross Country Marathon World Series which will entice foreign riders to race in the Philippines.
Open strictly to riders 19 years old and above under Women Elite and Men Elite categories, two laps of the 40-kilometer NUVALI Bike Trail make up for the required minimum distance of 80 Km for a National Championship XCM event. Up for grabs are XCM National Jerseys for the Top Elite Male and Female Finishers and Finisher's Medals for all Finishers.
For over six years now, Dirt Weekend continuously expand as a team; supporter and participant Parabanne Mendoza has remained as one of the biking event enthusiasts and has grown as an award-winning athlete and top mountain biker; placing 6th in his international debut at the world championships held in South Africa last 2013.
Mendoza as a professional biker has contributed to the development of biking in the Philippines, bringing in new formats in MTB such as the pump track and enduro. He is also a UCI National Commissaire and a Technical Consultant for mountain bike races and events. This year, Parabanne Mendoza is the only Filipino to represent the country in the MTB World Championship in Hafjell Norway.
For Dirt Weekend 2014, a new partnership between NUVALI and Victorious One has emerged to be able to pursue what is set to be as the biggest biking event of the year. Victorious One is an organization founded through its members' common interest and passion for biking, spearheaded by their President, Vittorio "Oyo Boy" Sotto.
At its very heart, the annual NUVALI Dirt Weekend event is a perfect opportunity for racers and hobbyists to have three days devoted to a passion characterized by speed, thrill and adventure while offered up with a first-hand experience of marveling at the NUVALI eco-community's open spaces, accessibility, safety, scenic bike trails and challenging terrain.
Where nature and adventure meet in an exciting confluence, NUVALI and the Dirt Weekend meets will continue to thrive.
Registration for Dirt Weekend 2014 starts on September 20, 2014 at the following registration areas:
Sabak (Makati, Sta. Rosa, Alabang branches)
Bike Line
Ross
John Wilkie Bike Shop
777 Bike Hub
Papi's Ride Bike Shop and many more!
To learn more about NUVALI Dirt Weekend 2014, visit www.nuvali.ph or call 0917-5ASKNUV (275688). You can also follow NUVALI on Facebook and Twitter @Nuvaliofficial