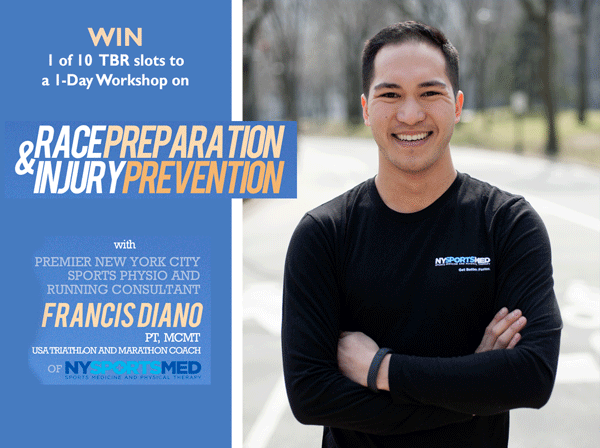 When there's a chance to learn more about running and how to get better at it, one always has to grab it!  Premier NYC Sports Physio and running consultant Francis Diano will be visiting Manila to give us a 1-Day Workshop on Race Preparation and Injury Prevention on Dec. 20.  Slots ran out even before we could say his name, but over here at TBR, we're giving away slots to 10 lucky runners!  Interested?  Read through this informative interview with Francis and join the contest below!  May the best runners win!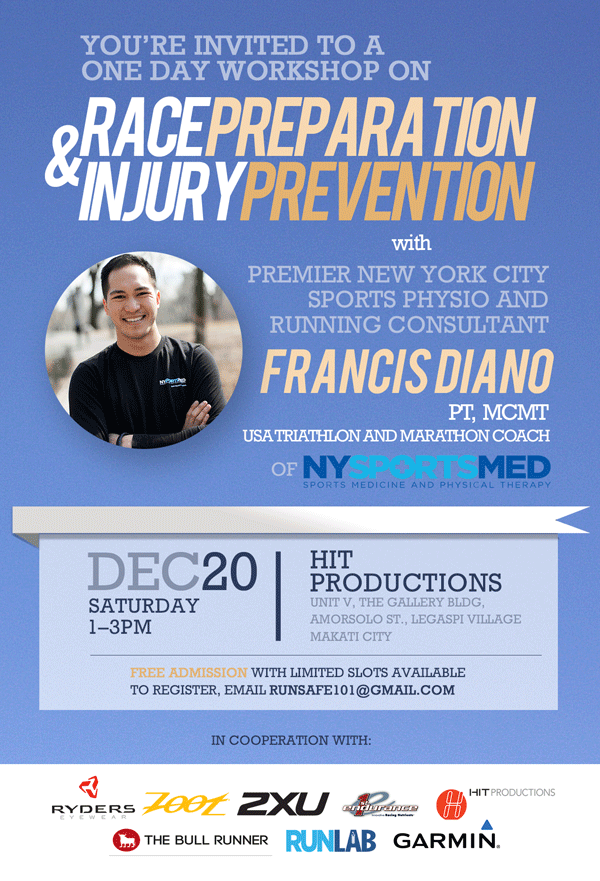 TBR: Hi Francis! Welcome home!  We hear that you head the running program of NYsportsmed and you're a sought after Orthopedic Sports Physical Therapist and running coach.  Can you tell us more about what you do?
Hi Jaymie, a quick professional background on me:
I'm a Orthopedic Sports Physical Therapist, majority of the patients that I see in my practice have a musculoskeletal problems. I'm also certified manual therapist with an emphasis on myofascial and trigger point therapy along with spinal manipulation/mobilization.
I don't exclusively treat athletes but majority of my patients tend to fall under the athletic category. I also consult with a professional players and teams in the MLS, NBA, NFL and professional Runners and Triathletes on their training, injury prevention and recovery programs for their athletes.
We started the running program at NYsportsmed about 3.5 years ago with the idea of making professional and elite level training and performance assessment available to the average athlete. We named our performance center "RunLab" where we use the latest technology to asses a persons gait and movement. This is where I identify asymmetries, imbalances and form deficits that lead to inefficiencies in performance.
I am a USA Triathlon coach as well as a running coach, I chose to further study and get these certifications so that I could understand the different perspectives and approaches that coaches take with their athletes. With those angles, I look at the clinical and medical data that I collect as their Physio and i'm able to construct a detailed and comprehensive training and recovery program.
I also serve as a clinical faculty to Physio students from the US and Internationally. I also mentor Physios who are looking to get into the same field that i'm in.
I also am a consultant for shoe development for a 2 running shoe companies. I construct custom foot beds for my athletes without compromising the general shoe structure.
I conduct several workshops during the year and I have a passion for teaching and education and that's why I'm excited to bring this workshop to the Philippines.
TBR: Are you also a runner or triathlete?
Yes and yes. I enjoy and love the discipline of training and excitement of both sports. I started out as a runner, I did mostly sprints and short distances.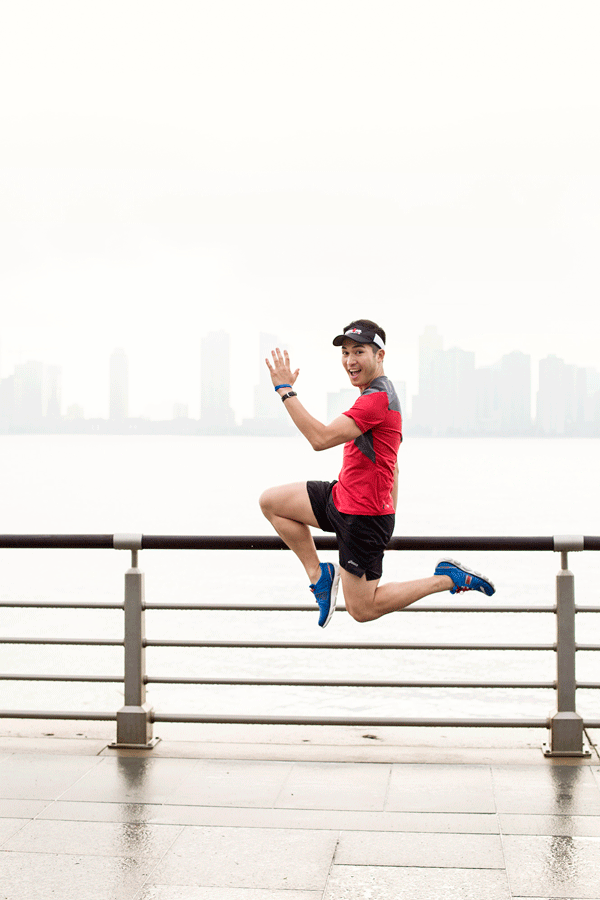 TBR: For runners who wish to improve in their sport, what are the top three tips you can give?
1. Set goals — This is one of the biggest priorities before you even start a training program. Knowing what your goals for the season are will help you create a periodized plan that will help you hit that final goal.
2. Consistency and Periodized Training— It takes about 4-6 weeks to cause a developmental change in your muscular system and about 8-16 weeks for cardio-pulmonary system. But we have to consider that your body will have a peak of fitness and will then be followed by decline. This is your body's way of forcing it to recover.
3. Recover — I cannot stress this enough, this is one of the most overlooked aspects of a training program. If a proper recovery program isn't built in to training, it undercuts the adaptive changes and causes the body to deteriorate faster which could lead to an increased likely hood for injury or a decreased performance
TBR: What do you think are the mistakes that runners often make and how can they correct this?
They under estimate the value of recovery. This is one the largest pitfalls of athletes and even professionals. We often see this in athletes who miss a training day or session. They feel that they need to make up for it so they train harder or forgo a rest/recovery day.
I stress this with my athletes: Your body makes the adaptive physiological changes during this period and if we don't maximize this, then we don't maximize our training effort either.
TBR: We're looking forward to your workshop on Dec. 20 on Race Planning and Injury Prevention. What can we expect?
The workshop will cover common general complaints/injuries from head to toe that athletes experience; I'll also highlight how to recognize an injury and how to address them on your own and to prevent recurrence in the future.
Some highlights of the workshop will be how to create a periodized training program and integrate drills to optimize performance and efficiency. I'll also cover nutrition planning during training and for race day.
At the end, we'll hold an open forum so if anyone has any questions that they want to throw out there or issues that they need help with, I can help address them.
HOW TO WIN 1 OF 10 SLOTS TO THE WORKSHOP:
1) LIKE TBR ON FACEBOOK
2) LIKE TBR ON INSTAGRAM
3) Comment on this post with the following info: (answers on Instagram, Twitter, and Facebook will not be accepted)
Your complete name
Your answer to this question in two sentences: Why do you want to join the workshop?
CONTEST RULES:
1) Deadline for submission of entries: Wednesday, Dec. 10, 2014 at 11:59 p.m.
2) TBR will choose the top 10 most deserving runners.
3) Only one entry per runner. Submission of more than one entry leads to disqualification.
4) Contest is open to Metro Manila residents only.
5) Winner will be announced on this blogpost and will be advised via email on how to join the workshop.
6) Please make sure you are available on event date before participating in the contest.
UPDATE: Congratulations to our 10 winners!  I will be emailing you in a bit for details on the workshop.
Jarold Sambo
Arthur Doctolero
Abigail Bautista
Robert Archibald S. Patricio
Reynaldo Sia Jr.
Ashleigh Miriam G. Cristobal
Juan Miguel F. Mendoza
Peter Chua
Mary Jane Lorbis Santos
Margaux Umali