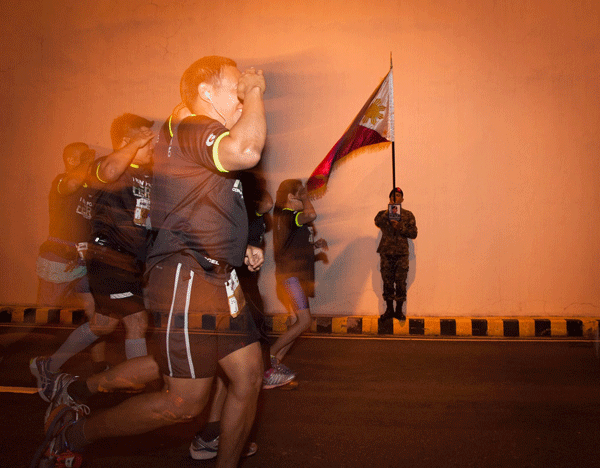 Photo courtesy of Condura Marathon 
Over 15,000 runners trooped to the South for Condura Skyway Marathon at Filinvest City last February 1, 2015. A whopping 5,629 participants registered for the 42km making this the biggest local marathon to date.  4,989 registered for 21k, 2,953 signed up for 10k, and 1,808 joined the 6k. With Hero Foundation as its race beneficiary, Condura Skyway Marathon aptly used the tagline: Run for a Hero. With the recent tragic loss of the 44 PNP-SAF in the Mamasapano massacre, it became, for many runners, a meaningful way to honor our fallen heroes. Some marathoners ran an additional 2k to cover 44km, other runners ran 44 minutes, and some simply offered the run for them.  The race was organized by Condura's Ton and Patrick Concepcion at the helm and Runrio.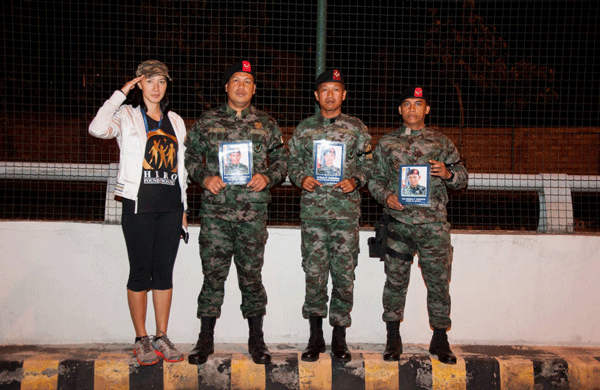 Michelle Chan of HERO Foundation with our soldiers holding photos of some of the 44 SAF-PNP soldiers killed in the Mamapasano massacre
GOAL-LESS IN CONDURA
Having been a Condura race fan ever since its first event back in 2008, I never miss the opportunity to participate in this race even if it means that I'll have to run 21k with less than 5 hours of sleep due to its early race start.
So, last Sunday, I woke up with a bad cold, sleepily pinned my brown race bib unto my shirt, and stretched my arms with a yawn nonchalant over running my first half marathon for the year. While the rest of my friends had serious goals for this race (i.e., sub-2 dreams for half marathoners and PRs for marathoners), I had none at all.
I recalled when, earlier that week, a friend asked me what my goal was for Condura. I replied with a smile: "None!" He asked the same question again, probably in disbelief over my answer, rattling away with 10k split times and goal paces and I stated yet again: "I have no goals at all!" I had run sub-2 on the Skyway in 2013 and, this time, I didn't feel the need to prove anything to myself anymore. Quite honestly, I just didn't want to suffer as much this time LOL. So, I told myself I would allow myself to enjoy every moment of this race. This was to be a training run for Boston Marathon. (More about Boston on the next blogpost.)
I arrived at Filinvest before 3:00 AM happy to see the entire area filled with runners in their black Condura shirts (and quite a number of TBR Dreamers in their orange shirts! woot!) making their way to the corral. I was in Wave K along with friends Lit, Ton, Jun and Jaimie. It was only then that I found out that Wave K was the last wave to be released and, with our quick math, we predicted we'd get to run in an hour or so at around 4:00 AM. Double yawn.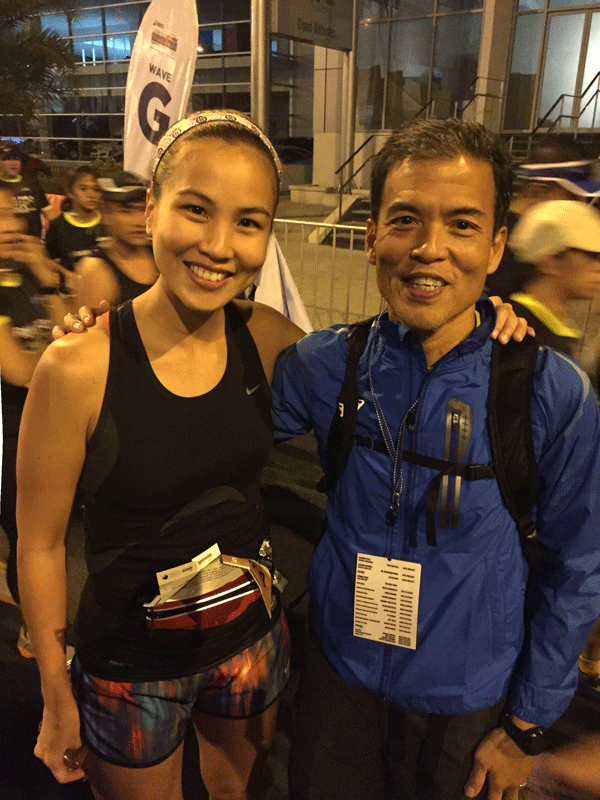 Nice seeing good friend Pat Concepcion of Condura greeting runners at the race start!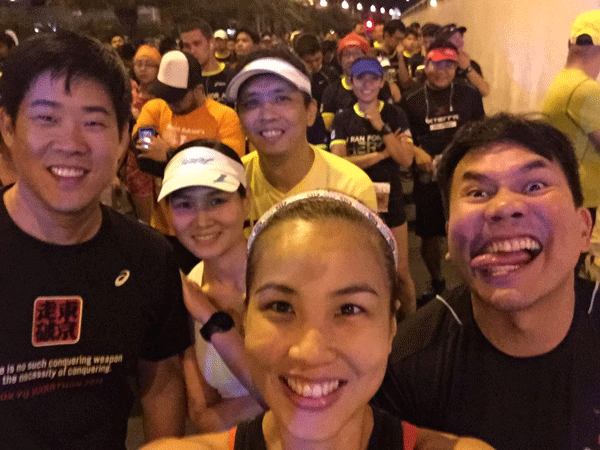 Selfie with Lit, my secret twin sis Jaimie, Jun, and Ton.  Thanks for the runners at the back for smiling too! Haha
A MEANINGFUL RACE START
A little before 4:00 AM, we made our way into the starting corral. After a short briefing with the first host Tricia Chiongbian, we were ushered into the starting area at the foot of the Skyway where the next host, Anthony Suntay, greeted us as the last wave to start the race.
As the theme song for the race, Heroes by Alesso, filled the air and we were about to start, Anthony made a request. He said that 40 soldiers lined both sides of the road each holding a photo of one of the PNP-SAF soldiers that was killed in the Mamapasano massacre and he asked us all to salute each of them as we started the race. The gun was fired and we were off.
I got goosebumps while taking my first steps after the starting line. I saw the faces of each fallen soldier for the first time. I made a silent promise to run my best during the race to honor the lives they lived. And, just like that, my sleepiness went away and the race suddenly had more meaning.
STEADY AS IT GOES
I ran the race easy in the first couple of kilometres in a slight state of panic because they felt so heavy.  I could even hear my shoe hitting hard on the ground.  But, by Kilometer 3, I found my rhythm. From then on, I ran the race steady and strong.
I had been training on a hillier course the past few weeks so I was prepared for the hills of the Skyway. My circuit training and strength training at Fitness First had also given me more power to climb those hills. While I hadn't trained for this race at all, I was surprised by the fact that I could easily maintain my pace without losing my breath. I didn't kill myself as I wasn't gunning for a PR, but I wasn't running too easy either. It was exactly as I had planned it, just an enjoyable run from beginning to end.
I finished the race at 2:10 with a huge smile on my face. If my goal was to enjoy the race then it was definitely mission accomplished.  I loved every minute and that's what a run is all about.
I met other runners at the event area and congratulated some of our TBR Dreamers who had to run 30k on that day as part of their program. A lot of the runners did hit their PR at the half and full marathon due to good weather and a wonderful course (Now, isn't that course just perfect for a negative split?!!) Everyone was ecstatic over a well-executed race. The race start was smooth and very well organized, hydration and portalets were overflowing, and the course was safe and just completely enjoyable to run in.  Condura never fails to impress.  Perhaps my only recommendations for next year would be these: 1) Would you consider having music playing on certain parts of the Skyway? It got eerily silent at times. I did see the drummers! 2) Can we have Gatorade or sports drink in the first few kilometers of the race instead of just water? 3) Can you make sure the marshals are awake while we run? Don't laugh, but I spotted three marshals who were sleeping so soundly, I almost wanted to nap along with them.
My 21k medal was awarded to me by a soldier and he hung it around my neck. I said thank you to him, both for taking the time out to put that medal on me and for protecting our freedom, then I happily went on my way to have breakfast with friends a little bit wiser and a lot more grateful for everything that I have.
Congratulations to Condura and Runrio for a fantastic event!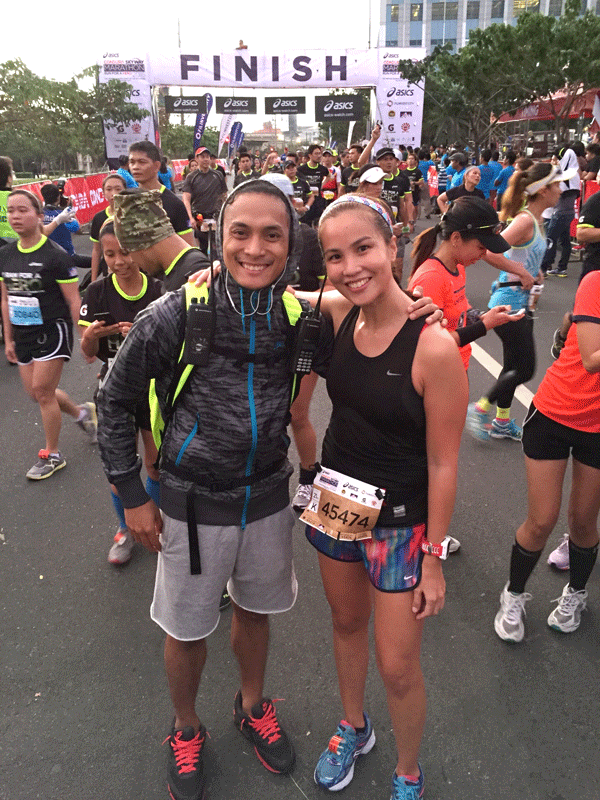 Nice to see Coach Rio (in disguise without the hair haha) at the finish!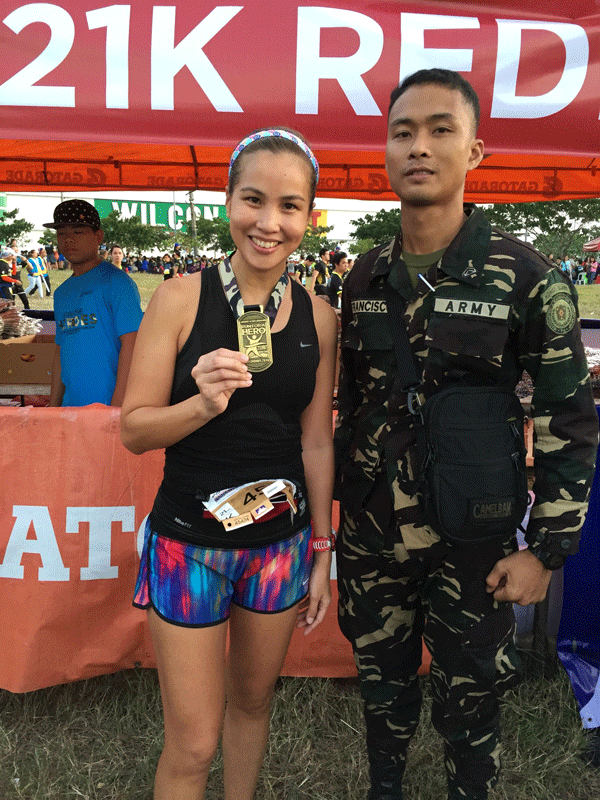 Happy to get my 21k medal from one of our soldiers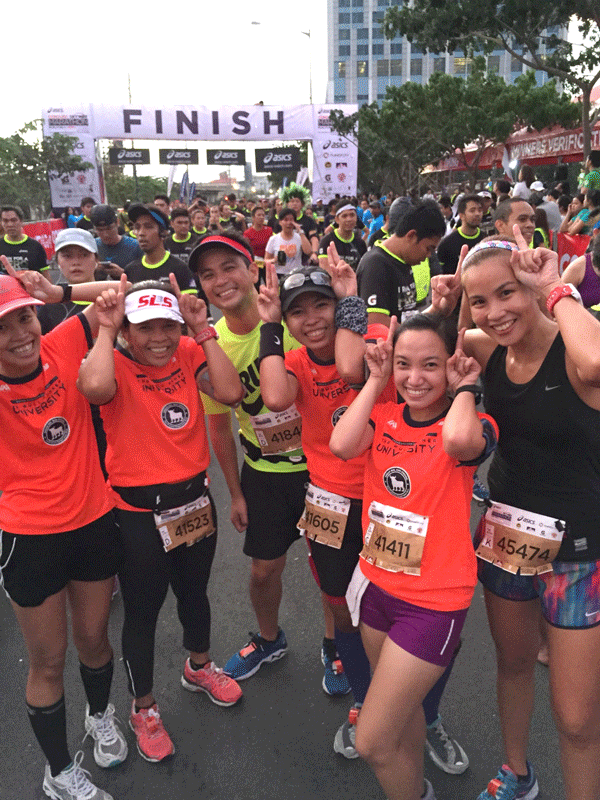 Our TBR Dreamers are one strong and happy bunch! Love these guys!