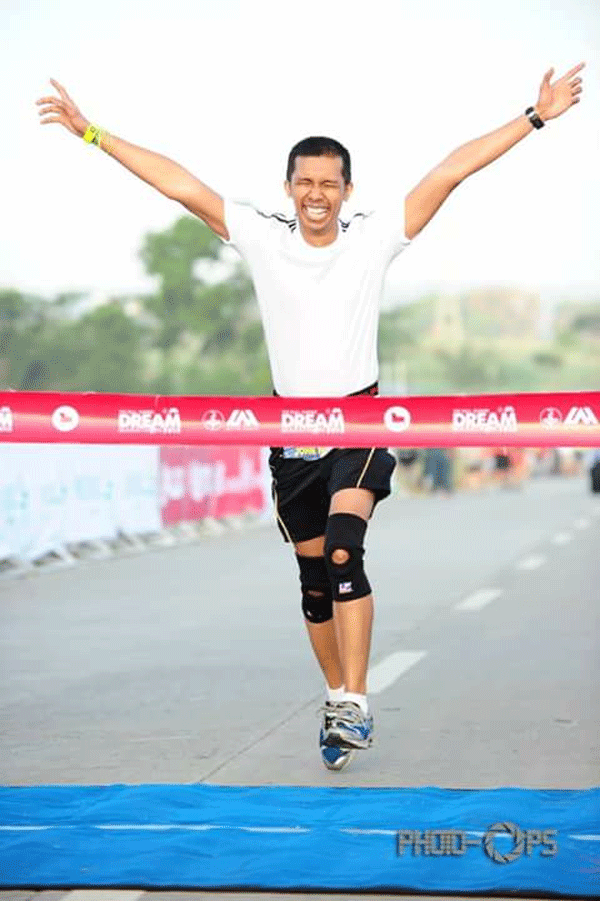 The 6th TBR ULAH Dream Marathon held last February 22, 2015 has ended, but the experiences of each of our 615 first- and second-time marathoners will live on in their hearts and memories. This is part of a series of marathon stories from Batch 2015 in an effort to preserve their stories in words and share them with you to, hopefully, inspire you to dream big as they did.
A Lifetime of Waiting for the Marathon Dream
Words by: John Paul Buhain, Bib No. 116
If someone told me years ago that I would be running a marathon I would have not believed that person.   Four years ago I was not allowed to do any physical activity which includes running. It is because I was borne with a congenital physical condition, I had inguinal HERNIA.
I could still remember the time when I was watching the 1996 Atlanta Olympics, a part of me wanted to be like some of the participants there – A RUNNER. But this dream seemed impossible to happen.
But as they say dreams do not fade. In 2011 there was a big turn of events. After 30 years I finally had my much awaited operation.  And it's only now that I remembered what my surgeon told me that in just one month of recovery I will be able to RUN.
And I never put to waste the  new life that was given to me. I ran and joined races. I have participated in so many races and set new personal records for different distances but there was still this one dream of mine that needs to fulfilled, to run a FULL MARATHON! A DREAM I thought would remain only as a dream.
But that elusive dream has now become a reality! Last February 22, 2015 five days after my birthday, I ran my first ever MARATHON.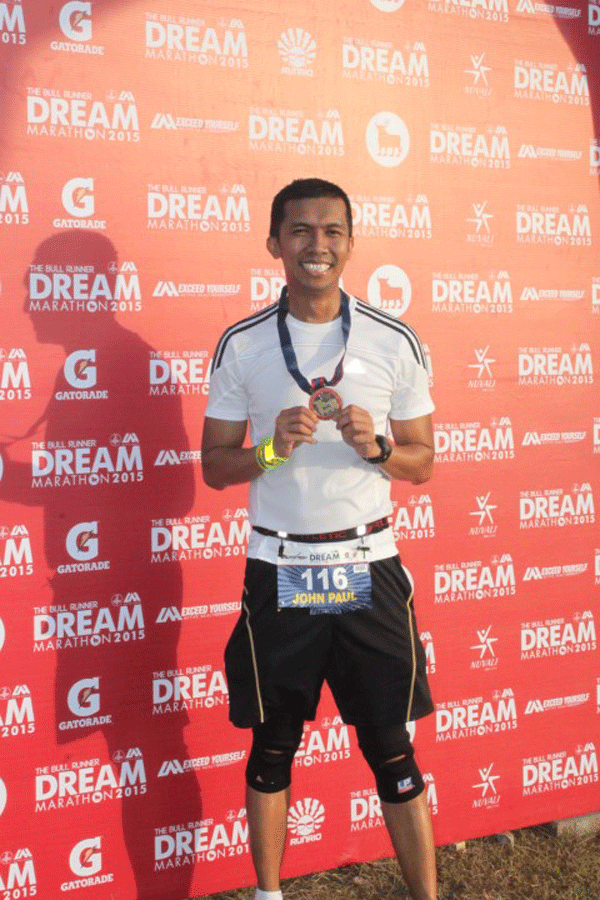 My most important medal so far
It wasn't an easy journey. All my life I have not put myself to this kind of physical hard work. For six months I've pushed myself to my known limitations. And in those times, I learned that there is more to myself that I didn't know. It made me realized that I have skills that I thought I never had .It taught me humility because the one who trained me was my former student.  It gave me a new sense of hope. It made me understood that those years of waiting for me to be able to RUN was not in vain because when I crossed that finished line I knew then that it was worth the wait. And most important of all, it taught me to never ever stop CHASING my dreams!
I never stopped dreaming and today the man who was once not allowed to run is now a MARATHONER! So when I crossed that finished line I raised my hand to  thanked my God for letting me run this dream!