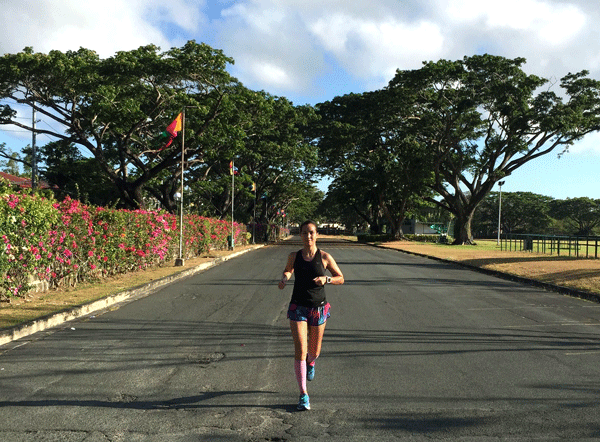 Belated Happy Easter!  How did you celebrate easter?  I started easter morning, as I've done every year, with a long run with friends.  I covered 21k, my 2nd to the last long run before Boston Marathon, and I must admit that I'm soooo looking forward to tapering next week.  I usually love long runs preparing for a marathon, but the heat and humidity the past week has just been excruciating!  If you're dreading the summer heat like me, here are 10 cool tips for running outdoors…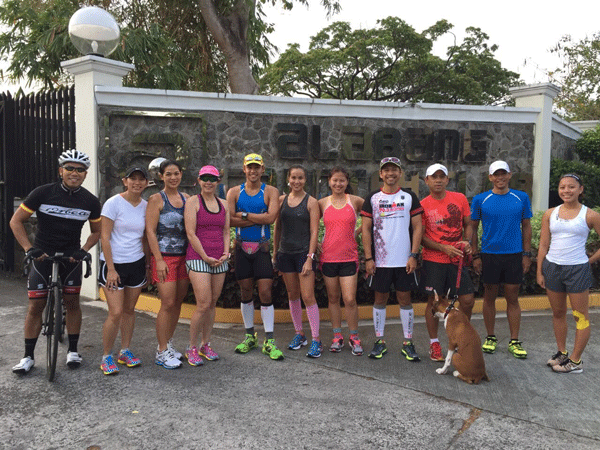 10 Cool Tips for Running in the Heat  (This article is an updated version of an old article I posted in 2013)
1. Run before the sun rises. Best time to run, especially if it's longer than 2 hours, is to run at around 4:00 AM. No, it doesn't follow that the earlier you wake up the cooler it is. Take it from me. When I had to run my longest run before London Marathon, I started running at 2:30 AM.  Stupid me. Humidity was so high that I practically choked to death at the first 50 meters of my run, the air was so stale and heavy that words exchanged during the run clung in the air like a cartoon.  Ack. It was so frustrating to learn that it felt even cooler at 6:00 AM rather than 3:00 AM.
2. Hydrate. You're a runner! You should know this! Make sure to hydrate with water or your favorite sports drink. No messing around with this one especially in this kind of heat. Heatstroke is not a joke and it can happen to anyone.
3. Change venue. If you're usual run route leaves you exposed under the sun, then consider running in tree-lined, shaded routes at least once a week. How about U.P., Filinvest City, or other exclusive villages that you may have access to?
4. Wear shades. A good pair of shades won't just block your eyes from the shimmering sun, but it will actually help you mentally beat the heat too. With the tinted view of your surroundings, you simply feel that it's cooler and it allows you to go a bit further.  My fave brand is Oakley.
5. Think yourself cold. Scrap the following lines from your vocabulary while you run: "Ang init!", "Grabe, ang init!" or, worst of them all, "WTF, ang init!" Believe me, all that complaining will only make you sweat more (and piss off your running buddies, too!)  Beat the heat by fooling your brain into thinking it's cool. Say the following instead: "Good thing it's not too hot today." or just repeat the words "cool" or "cold" over and over. Okay, okay, I'm not really sure if this works under 35 degree weather, but it's worth a try!
6. Change costume. If you're running long, chances are your shirt will be soaked in sweat in an hour. A change of clothes midway through your run will make you feel fresh and cool.  Oh, and don't forget two magic words for your apparel: DRI FIT.
7. Run on the treadmill. I know a lot of runners who are treadmill-averse. I was one of them. But, in this kind of heat, it just didn't make sense to suffer under the scorching sun at 8:00 AM (that was the only time I could run after dropping kids at school), or, worse, to skip a run simply because of the heat. So, my treadmill and I kissed and made up early this year and I ran twice a week on the treadmill training for London Marathon. It was great.  Treadmill runs are a great way to watch your form, follow a good program at a controlled pace and setting, and, best of all, if it's in a gym, it's air-conditioned!  Woot!  To stay sane and keep boredom at bay, download a good and challenging workout for treader runs and don't forget your music.
8. Cover up with a bandana or visor. Most runners use a cap to shade their head from the sun, but a cap doesn't allow for heat to escape from your head.  Use a visor or bandana instead.
9. Bring cash. Imagine this: You're running at 15k in the heat, you happen to pass a 7-11 and spot a pedestrian savoring his large Mountain Dew Slurpee. Now, you don't want to pine for the same drink without any cash on you, do you? (Obvious ba this has happened to me? heehee)  Make sure to hide at least P50 in your pocket (or under your insoles like I do) for an impromptu Slurpee; one for you and treat a run buddy while you're at it.
10. Cool off with a chilled towel.  Pack a towel in a ziplock in your cooler along with your iced drinks. After your run, use the towel on your face, nape, and limbs to cool off.  If you don't yell out "Haaay sarraaaap!" and think that it's almost manna from heaven, something must be wrong with you.  Go rest and have a frap. It's on me. (I'm kidding of course!)