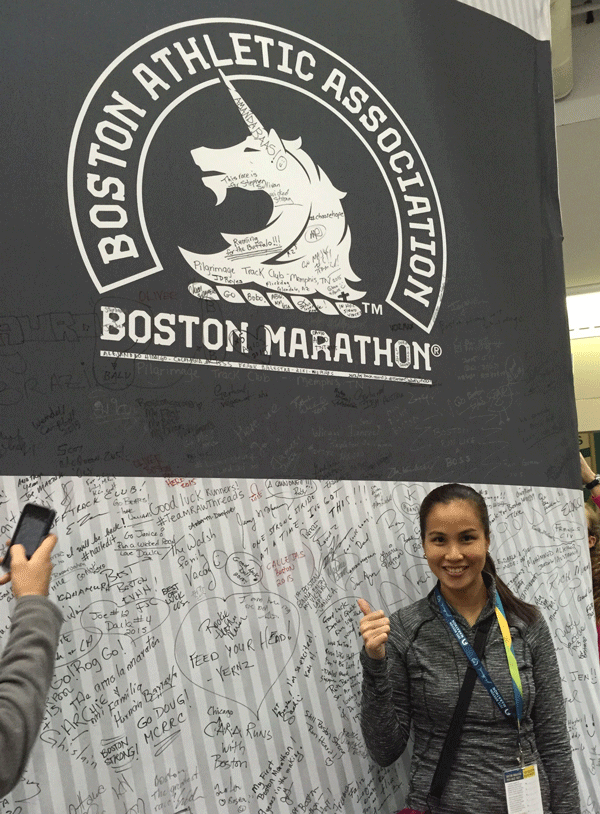 I've been to quite a number of race expos already, with New York City Marathon's expo being my all time favorite, but I wasn't quite prepared for the immensity of Boston Marathon's expo at John Hynes Convention Center. I was like a little girl lost in a giant candy store… and boy did I love it!
I made my way to the Official Boston Marathon race merchandise as I always do. The official partner of Boston Marathon is adidas so all items were adidas. The area was like Divisoria in Christmas time. Runners of all shapes and sizes from different countries were fitting the same purple jackets, shirts, and shorts!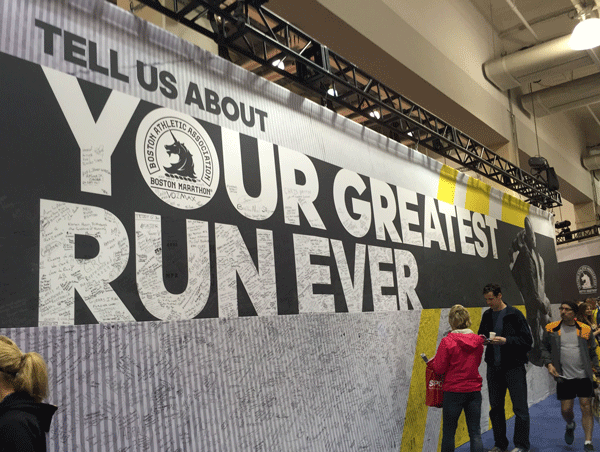 I stood there frozen for a while overwhelmed with the many choices. Everything looked great and I wanted to take EVERYTHING home.  The price tags on these items were not cheap and it took me quite some time to decide which ones to purchase. But, as always, I left that area with half of my total pocket money for the trip gone in an instant. Man, I'm such a sucker for marathon merchandise! LOL.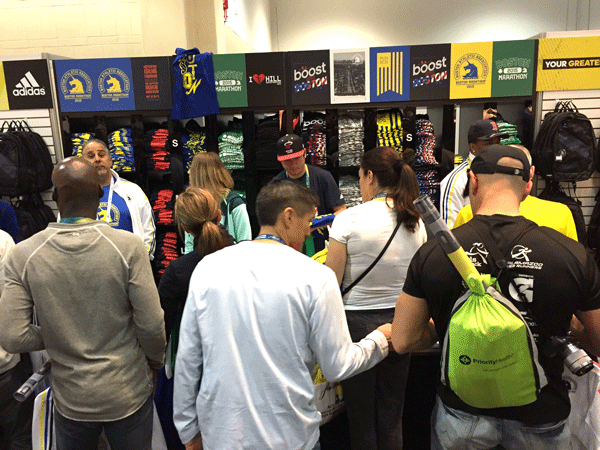 Official Boston Marathon shirts from adidas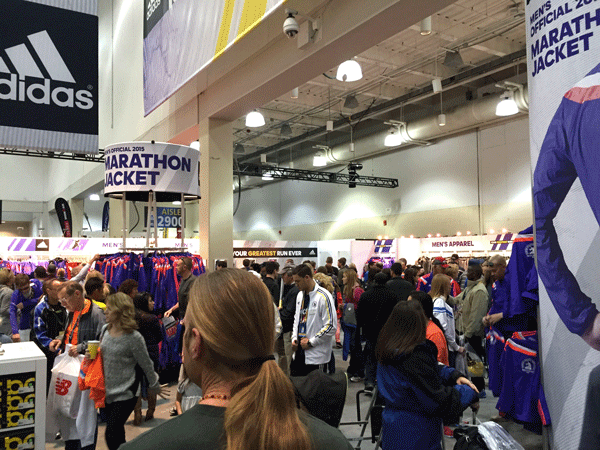 Those purple jackets were the Official Boston Marathon jackets. You would see runners proudly wearing this all over the city days before the race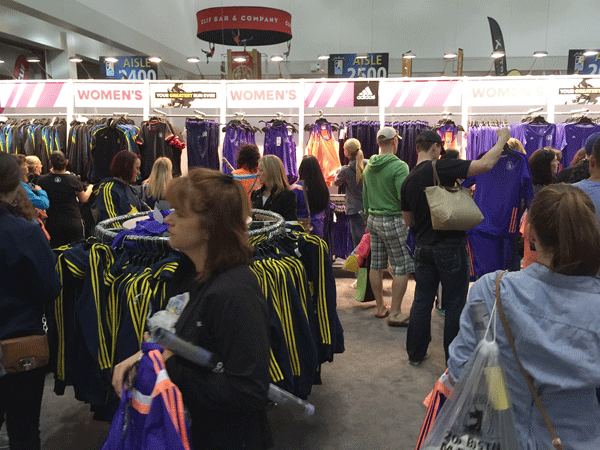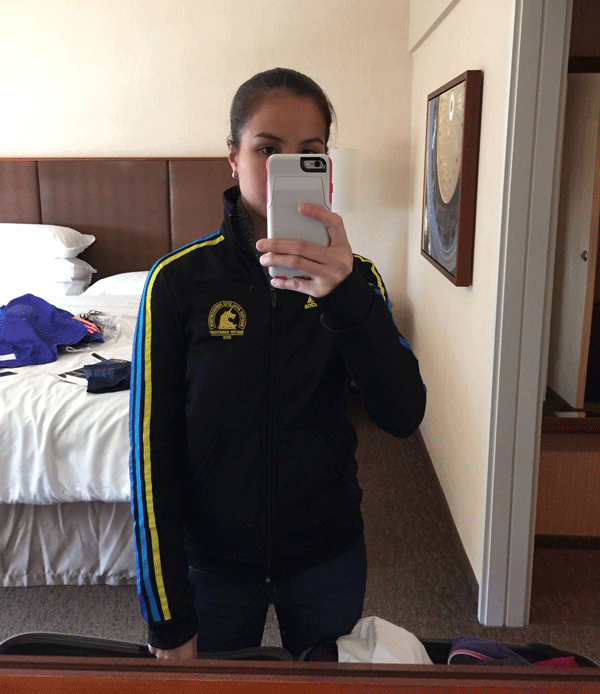 I chose to go with the black Boston Marathon jacket… and wore this practically every single day I was in Boston.  Love love love!
There were mugs, glasses, caps, and more with the Boston Marathon logo on them. Aaah, too many choices!
After shopping, I headed over to the various booths at the expo.  Usually, expos span one large ballroom or hall in a convention center.  To give you an idea about how much bigger the Boston Marathon race expo was compared to other expos, this expo spanned three rooms: two exhibit halls and an auditorium.  Yet, almost every inch of floor space was filled with runners shopping for their loot.  A-maz-ing!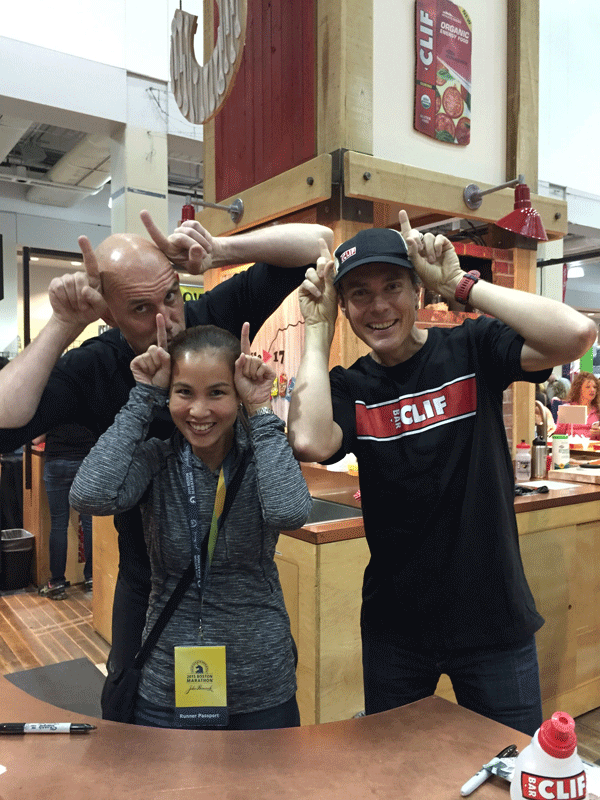 Highlight of the Boston Marathon expo for me was meeting Chris McDougall, author of Born to Run, my all-time fave book on running, and ultra marathon champ, Scott Jurek. They were so cool they agreed to do the TBR bull horn pose with me. Plus, I got a free signed book by Chris, "Natural Born Heroes"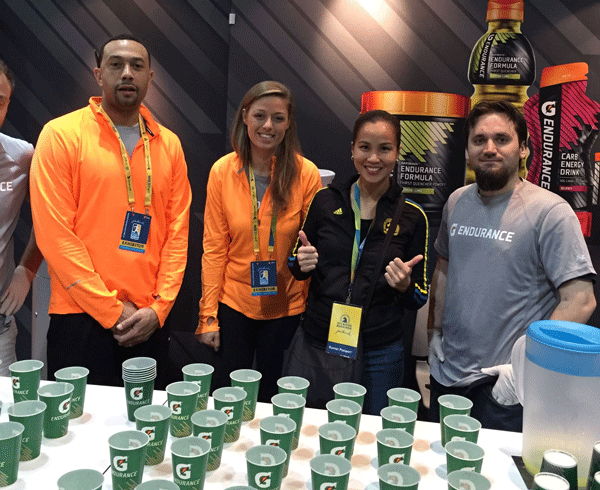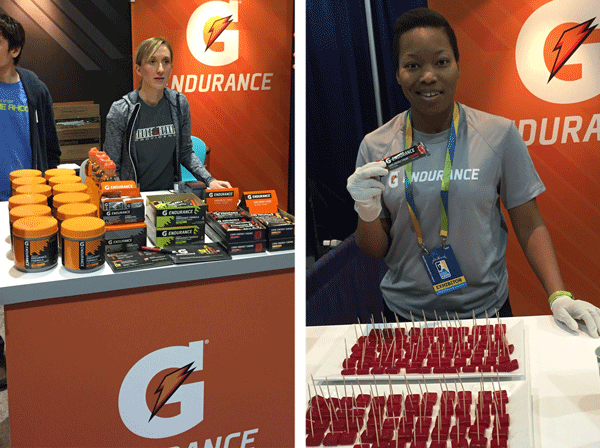 I made sure I dropped by the Gatorade booth to buy a bottle of Gatorade and Gatorade Chews for the race.  Gatorade was the official sports drink of Boston Marathon so I didn't have to worry about bringing my own Gatorade for the race. Yahoo!
Almost all the major shoe brands were represented in the Boston Marathon expo. Aside from official sponsor, adidas, I spotted Newton, Saucony, Asics, and Brooks. Conspicuously absent was Nike.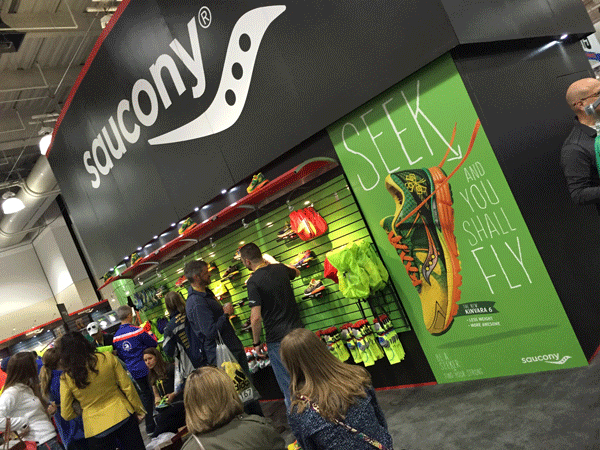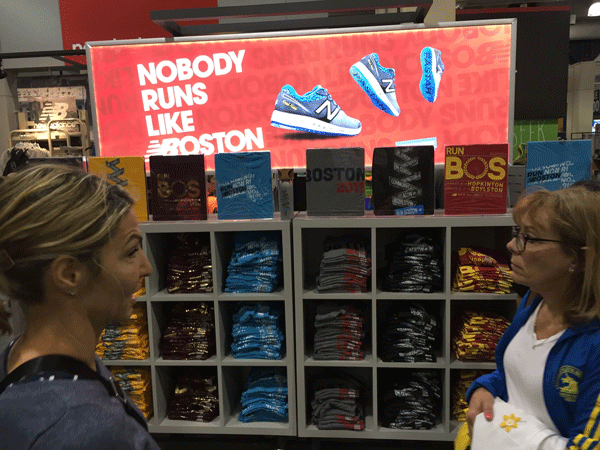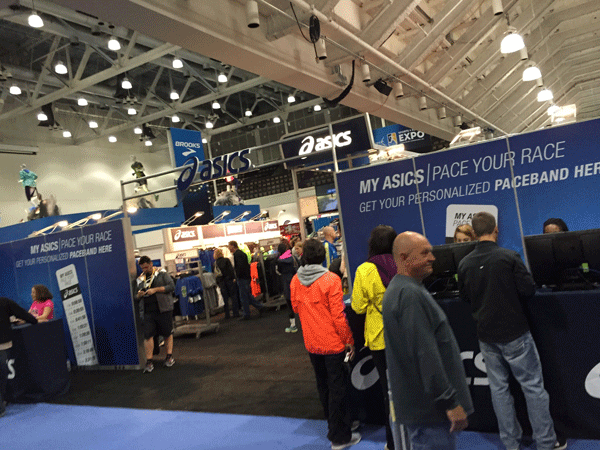 And here, my friends, is just 1/8 of all the other stuff I saw at the expo.  It was cray-zee good!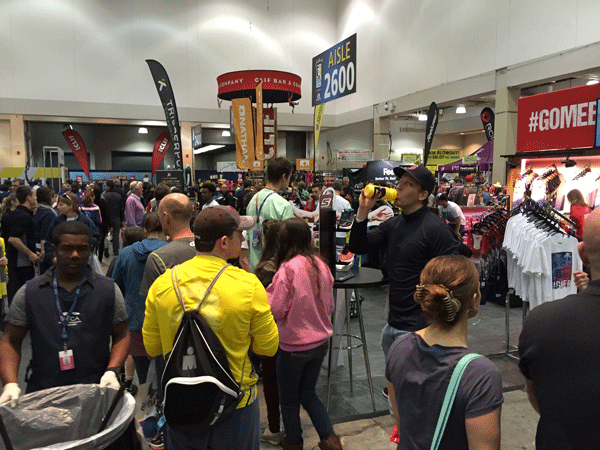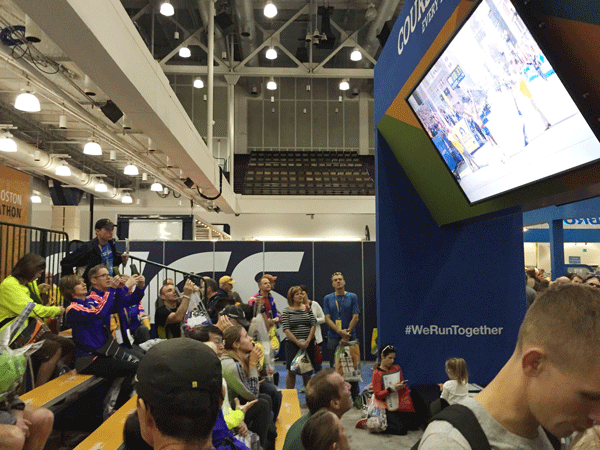 Runners watching a video detailing the Boston Marathon Course Map. I got nervous just seeing a portion of those hills haha!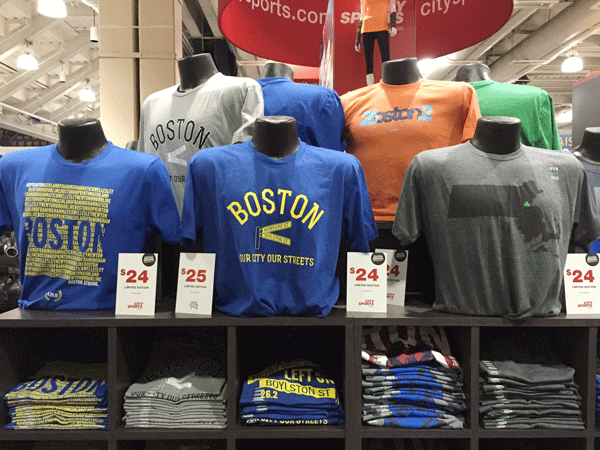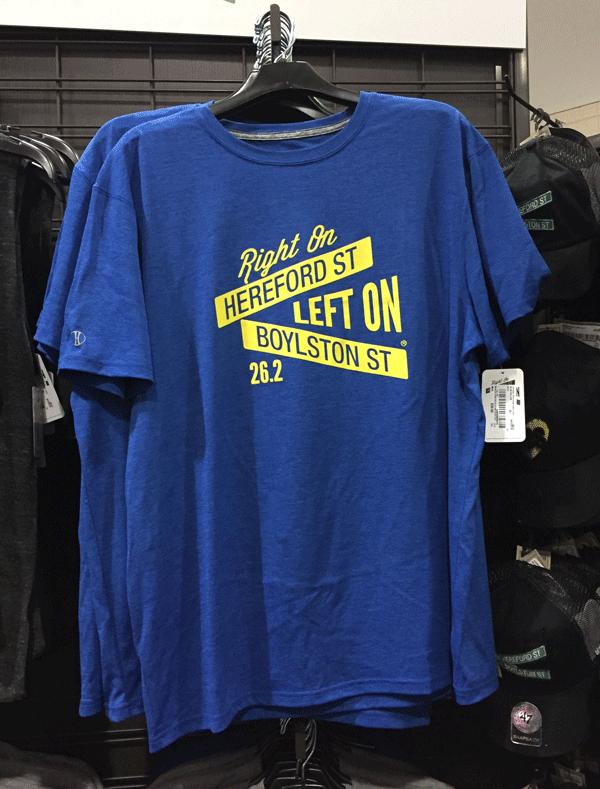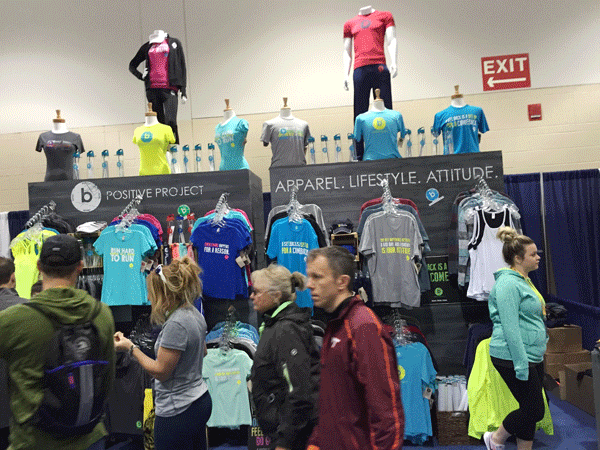 I had a tough time choosing shirts at the adidas area. Little did I know it would be twice as hard when I saw all the other Boston shirts in the other booths!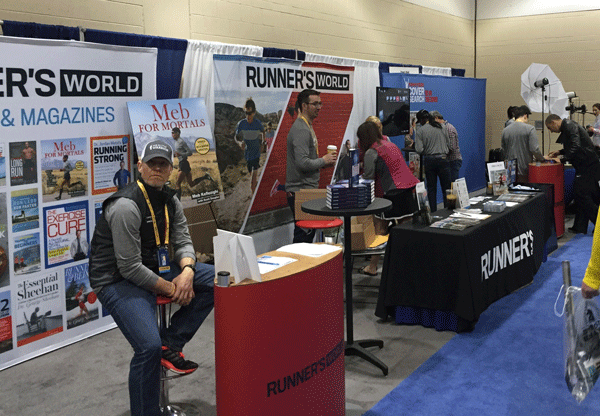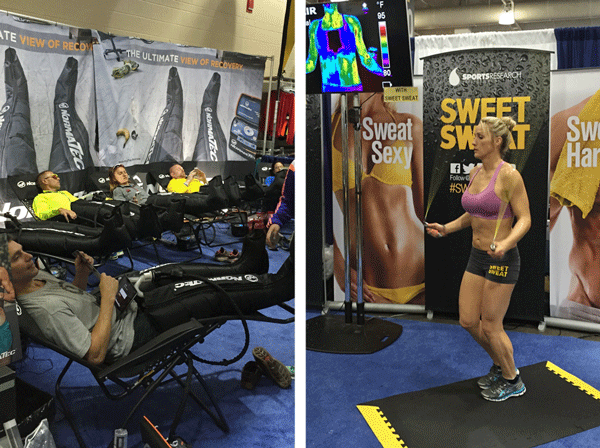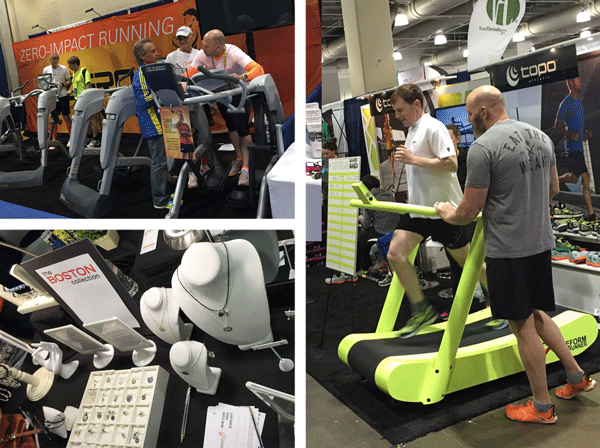 Should you do Boston in the future, check in at Sheraton Hotel. Since the expo was just next door, I conveniently got to shop, drop the stuff in my room, and head back to the expo again for more shopping! I went thrice!  That's how I roll, baby!
Previous: Boston Marathon: Arriving in Boston (Part 1)
Next: Boston Marathon: Touring Boston (Part 3)
Thank you to Gatorade for sponsoring my Boston Marathon adventure. Thank you as well to my other sponsors: Unilab Active Health, Fitness First, Specialized, Peak Form Manila, Otterbox, and Oakley.