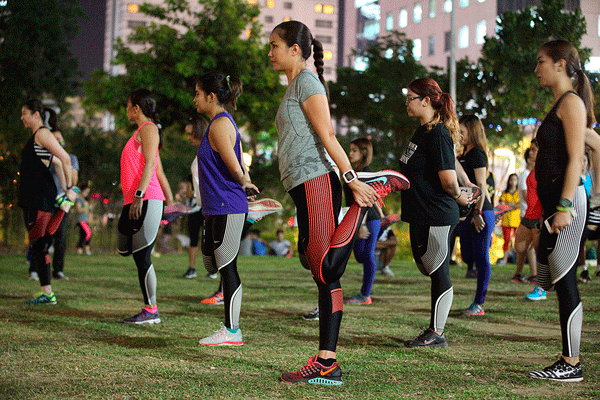 Nike recently launched its two new tights, Nike Power Speed Tights and Nike Zoned Sculpt Tight, at Nike Tight Night, an active evening event exclusively for women. True to Nike fashion, none of us had any idea what was in store for us that evening.
Our friends from Nike, Patrick, Andro and Ally, welcomed us and spoke to us about Nike's new tights. Then, they asked us to turn around to view our first surprise: Nike Power Speed Tights with our names on it…literally!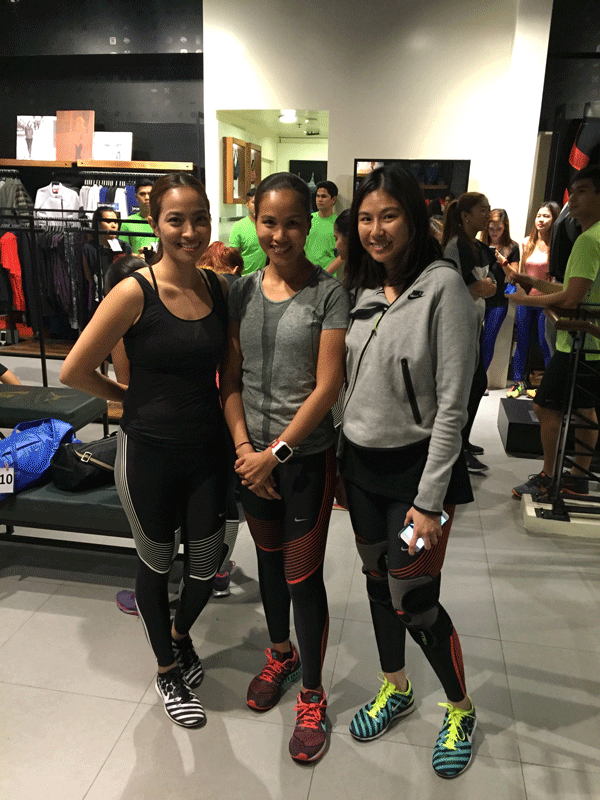 with good friend Jackie Go and Cai 
SPEED WORK WITH NIKE POWER SPEED TIGHTS
What better way to test speed tights than to go for speed work! Led by Nike run coach Ian along with Nike Pacers, we did dynamic drills at Track 30th then ran intervals around the park.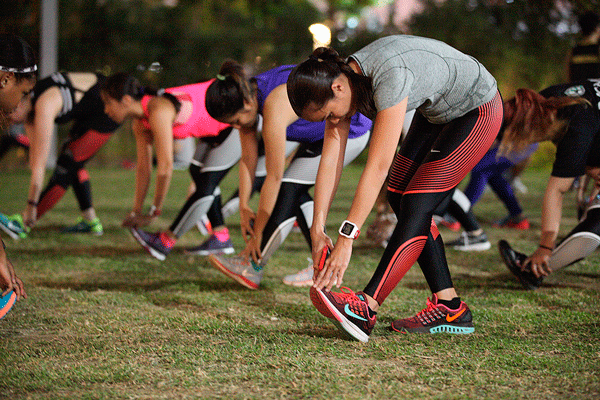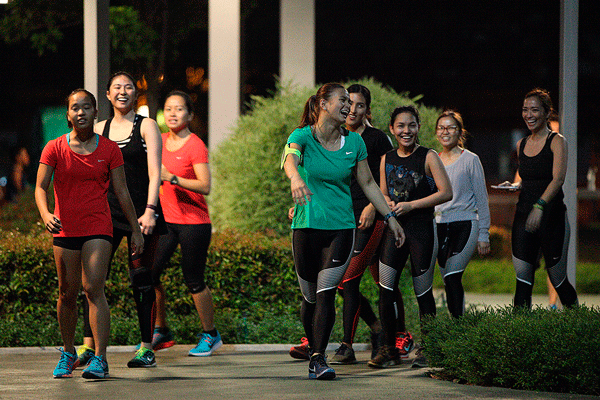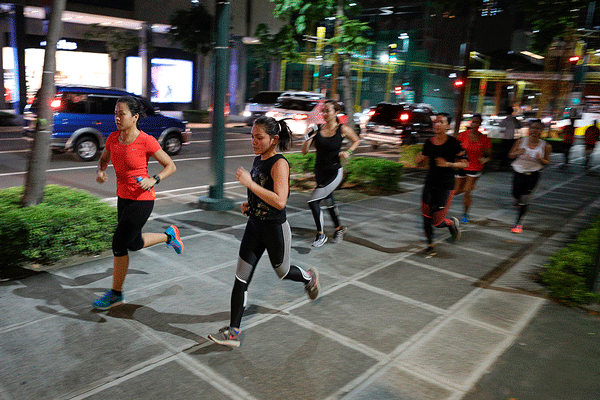 The tights were fantastic. It hugged my legs as compression tights should, but it allowed me to move freely without feeling inhibited the way other tights feel. The material was lightweight and breathable, one that I could actually wear despite the heat in Manila. The tights made me feel like I could go faster and the graphic lines actually helped to make me look fast! Oh, it had a back pocket with zipper to hold cash, keys, or even your phone. This would work well not just for sprints but even for long runs.
For you men out there, the good news is there are Nike Power Speed Tights for Men too.
CORE WITH NIKE ZONED SCULPT TIGHTS
After the run, we were led to the top of the W Building thinking that we'd be treated to cocktails after a hard night's work. Surprise surprise! On yoga mats laid out at the rooftop were Nike Zoned Sculpt Tights. We quickly changed into them for a core workout session led some of my favorite Nike NTC girls Katz and Kat.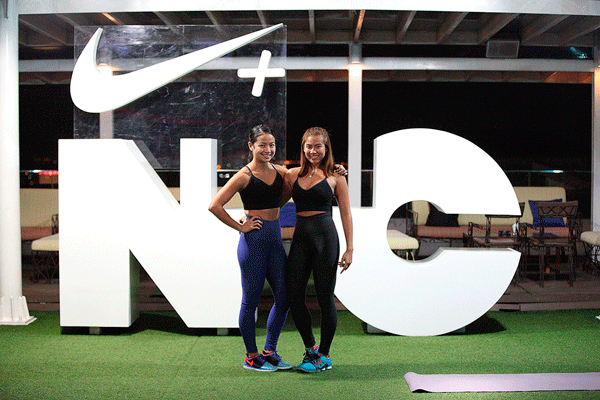 This duo made us work our abs alright! We were challenged to do a variety of core workouts (yeeouch!) followed by ah-maa-zing stretches for runners. I was glad to learn new workouts I could apply to my own training.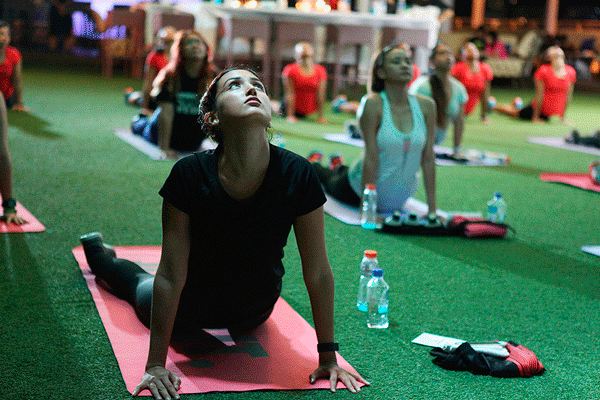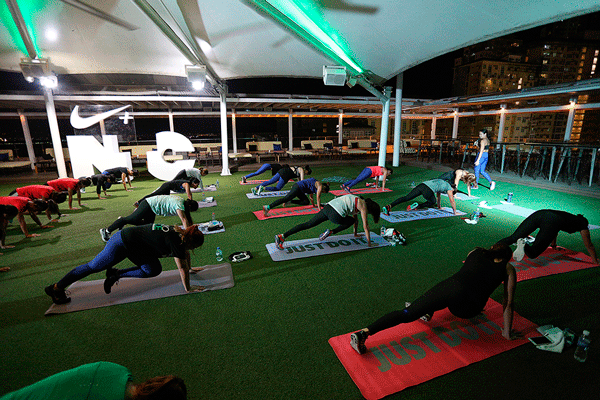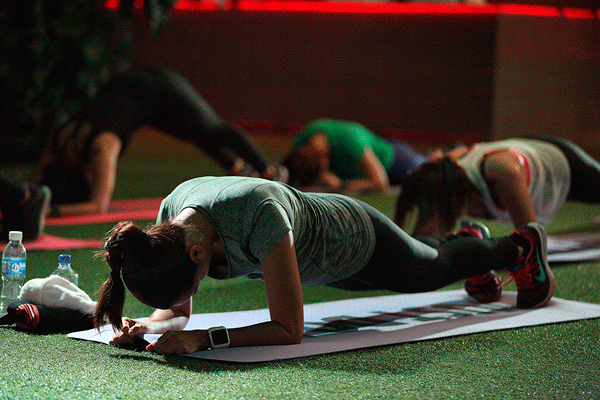 I. hate. planks.
The Nike Zoned Sculpt Tights were extremely comfy. I loved the thick waistband on top to keep the tights from rolling down during workout and, of course, to support the belly lol. I was told that the tights were designed especially for six core training moves – push, pull, lunge, squat, bend and rotate – so that the tights move with the natural motion of our bodies. How cool is that?
The material is a dri-fit, lightweight, breathable knit material that is just perfect for the gym or even for a lazy day for errands. My only issue with the tights was that the sizes run big so if you're usually a Large, try a Medium instead.
After the intense cardio and core workouts, we huddled as a team to chant the Nike Women's cheer: Better for it! Better for it! Better for it!   What a great way to end an evening of fitness and fun among strong and empowered women.
The Nike Power Speed tights retail at Php7,295, while the Nike Zoned Sculpt Tights is Php6,795. For more info, visit Nike Men's and Women's training tights or shop the Nike tights collection at nike.com.