This article was written by Stephanie Ann Dionisio who contacted me via email to help spread the word about the inspiring story of Rhodes Salavia and her mission to help him and his team.  Here's your chance to lend a helping hand to a runner and his team who went against the odds to practice their passion…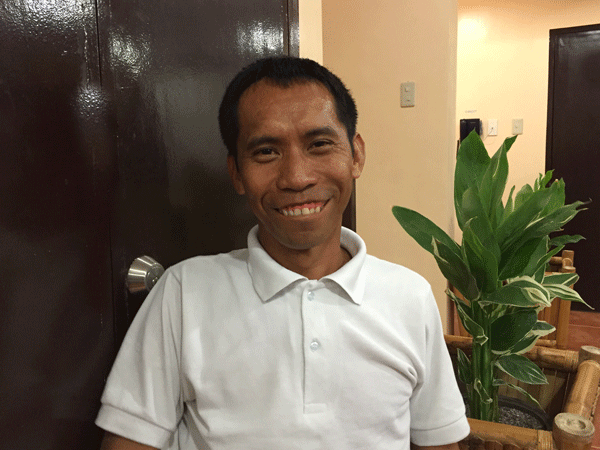 A Running Man's Challenge
By Stephanie Ann Dionisio
For a lot of us, playing a sport stems from interest, popularity, or health. This is not the case for this running man.
Rhodelyn Salavia a.k.a. Rhodes or Totong came from a very poor family in Tiboli, South Cotabato. Farming was his family's only source of income. For this reason, school was not a priority.
High School
Because of his persistence, he decided to continue school despite his family's wishes. In high school, he met a boy who later became a Filipino long-distance runner and two-time Olympian popularly known as Eduardo Buenavista or "Vertek". They trained together.
The running journey became very challenging for Kuya Rhodes but he knew that it was his only chance to get a college education. Indeed, he was right.
College
Kuya Rhodes insisted on enrolling himself to Sultan Kudarat State University. He used his savings from side jobs and competition prizes for his initial tuition fee of Php500.
During his freshman year, Kuya Rhodes became part of the intramurals team. He was determined to improve his skills by going through intense self-training.
A year later, he was awarded an athletic scholarship. On the side, he would work on weekends to support himself through college. Eventually, he also became the campus coordinator for PSALM, Philippine Student Alliance Movement, a Christian youth organization that brought students to the Christian faith.
After College
In 2003, Kuya Rhodes graduated with a degree in Physical Education and took 30 medals and awards with him. In 2005, Kuya Rhodes joined Center for Community Transformation Credit Cooperative, a Christian non-profit organization that strengthened his work ethics, values, and character. He went up the ranks from project assistant, project officer, officer-in-charge, lead trainer, to core facilitator.
In 2012, Kuya Rhodes started running again after stopping in 2003. He gained 51 total awards in the past 4 years including 1 trophy, 3 gold medals, 3 silver medals, and 8 bronze medals. He said that, "I had to limit the competitions I joined. It was expensive to compete in Manila or outside of Mindanao because of travel expenses. I just kept my competitions nearby."
His running story did not end here. It was not just about the struggles and the awards. He believed that "Ang kahirapan ay hindi handlang sa iyong mga pangarap." "Poverty shouldn't stop you from reaching your dreams." Kuya Rhodes is now passing on his skills to the next generation.
Next Generation
In 2014, he recruited a 17-year old boy to be part of his running team. He had no idea that he would grow the team to 26 members including the coaches, assistants, and a pastor.
As a coach with his limited income, he sponsored shoes and registration fees for young athletes to compete. Because of poverty, some kids would run without shoes. Most of the time, he would go around "ukay ukay" bargain shops to find Php50 – 100 running shoes in various sizes. He would collect and give them to his runners.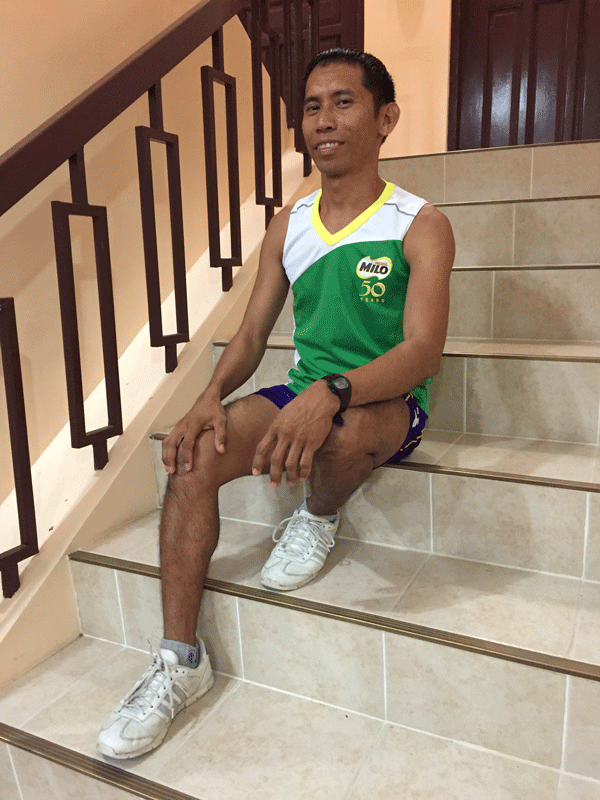 He knew that by keeping the youth focused in sports, they would stay away from drugs. Kuya Rhodes' heart is for young athletes to stay in school, get them college scholarships so they can eventually find jobs and build their careers. He meets them every Monday for bible study and training.
This is a story of a running man's challenge. If you feel it in your heart to support Kuya Rhodes and his team, please send your donations to the addresses below:
How to help?
Manila Drop off Point:
Local Edition Coffee and Tea
Mayfair Mansion, 116 Perea, Legaspi Village, Makati, 1229 Metro Manila
For any inquiries, please contact Stephanie or Rhodes directly.
Stephanie Dionisio
Email: stephanieanndesigns@gmail.com
A donation box will be provided. Donations will be picked up and collected on a weekly basis before sending the package to Mindanao. Until we are able to collect gears for the whole team, this project aims to continue.
Dasurmac Team's Needs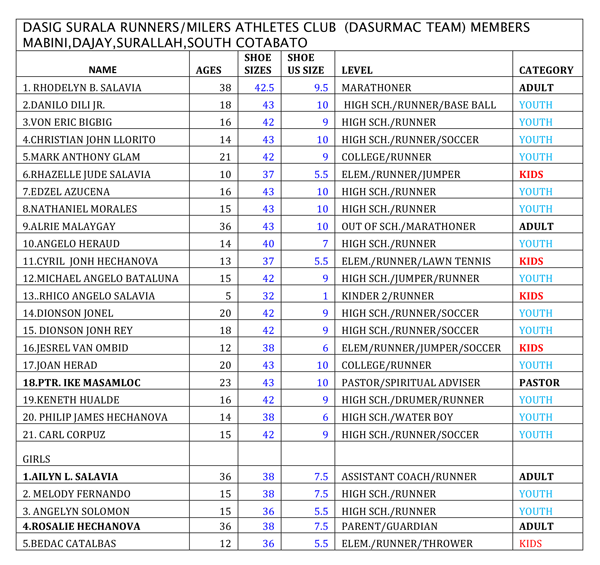 How to contact Rhodes?
Rhodelyn Salavia
Marathon/Ultra Marathon Runner and CCT Staff
Address: Mabini, Dajay, Surallah, South Cotabato
c/o CCT Credit Cooperative
Surallah Branch
Zone 1, Beside JVL SAR Cable, Libertad, Surallah, South Cotabato
Email: rhodelynsalavia_1978@yahoo.com
Mobile: 0977-8246397, 09066534499
About Stephanie
Stephanie Dionisio is a curriculum coach for Partners Worldwide, a faith based non-profit organization that partners with local community institution such as Center of Community Transformation (CCT). Partners Worldwide aims to provide mentoring, training, access to capital, and advocacy to end poverty. Stephanie has travelled to different parts of the Philippines to train CCT staff and micro entrepreneurs using the Partners Worldwide Business Curriculum enriching business as a calling to do God's work.