I was the youngest in a family of nine. With four boys in the family, mealtimes were a battle for food. I had to put as much as I could on my plate, or else my brothers would gobble it all down and none would be left for me. So, I grew up with terrible eating habits. That's not even counting the loads of junk food I devoured, liters of soda I drank, and, by college, the hundreds of meals I had skipped to make up for all my mistakes. My idea of fitness was to starve myself so that I would look fit. Exercise and sports were not in my vocabulary.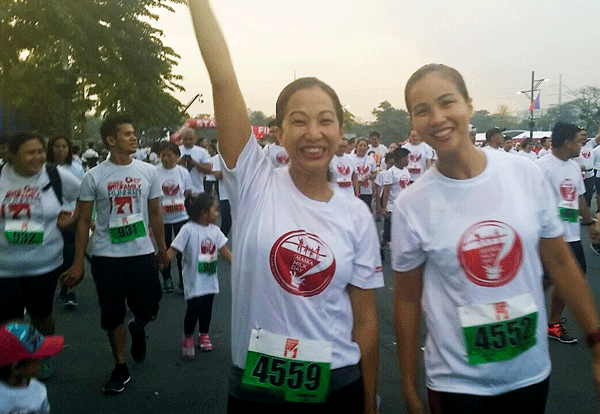 My sis and I (we were the youngest 2 siblings!) at the Alaska Milk Day run
Fast forward to the present. I'm a mom, a marathoner, and a health coach. Needless to say, I've learned about the importance of nutrition and exercise. More than that, I try to instill the same healthy lifestyle with my children so that they adopt it early on and they won't have to go through the struggles I went through.
Here are five habits that you can apply in your own homes to have a healthier family:
1) Start the day right.
Breakfast sets the rest of the day for us. If you start the day right with proper nutrition, then your mind is sharp, you have more energy, and you just have a better outlook all throughout the day.
My kids are in their teens/tweens now, but I can't let them leave the house without having a glass of milk for breakfast. Milk has all the essential nutrients that help children reach their full growth potential. By drinking milk for breakfast, I can be sure my kids get proper nutrition since I have no idea what they eat with their friends at school.
In the 8th National Nutrition Survey conducted by the Food and Nutrition Research Institute, it was discovered that 3 in every 10 adults are overweight and obese. Prevalence of overweight and obesity among the 0-5 year-old is increasing at an average of 0.17%-points per year for the past 24 years.
That's scary right? I think it's really our roles as parents to ensure that are kids are not just well nourished, but they learn proper eating habits that they can carry well into adulthood to avoid obesity, food issues, or other health problems.
2) Eat the colors of the rainbow.
Have a variety of colors on your plate. Not just brown for meat and white for rice. Make sure that there is green, yellow, red, violet, or orange veggies and even more colorful fruits.
I'm proud to say that Anton, even if he's 15, choose salmon over burgers anytime. And, my little girl Nia (who really isn't too little anymore) came home to say that her friends have tagged her as "the healthy one" because her baon is either watermelon, oranges, apples, or grapes.
Eat a healthy array of colors at home and the kids will simply follow suit.
3) Go out and play.
To complement a healthy diet, it's equally important that you have an active life. It could be as simple as choosing to play at the park and having a picnic lunch rather than going to the mall again. Wake up early on a Sunday to bike with the family rather than sleeping in. For our children, we can simply encourage them to go out and play outdoors instead of staring at their ipads all day.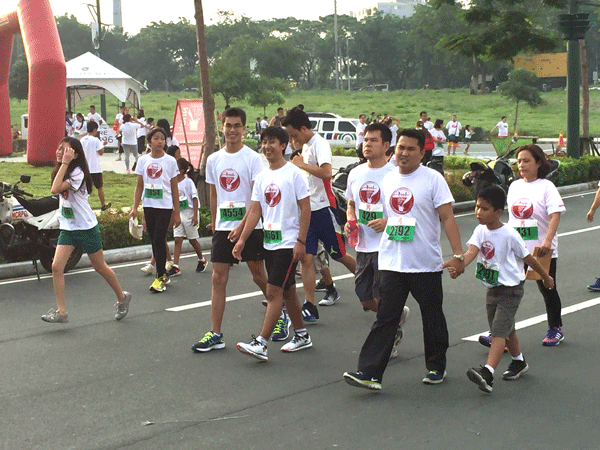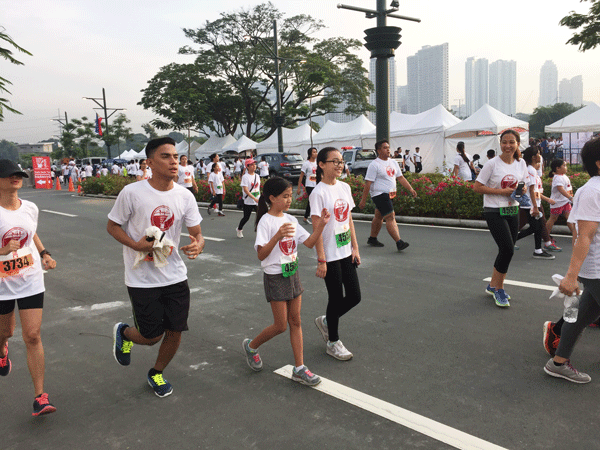 Zach and Anton and Reese and Nia at the Alaska Milk Day 3k run. The kids had so much fun that they didn't know they had done more than 3k hah!
4) Act like champions.
It's not just about eating well and exercising that make us healthy. Being healthy is also about having the right attitude.
Sports can help our children learn the values of discipline, hardwork, determination, and sportsmanship. If they learn these values early on, they take it with them into adulthood.
But, don't think that it's too late for you to have a winning attitude as well. I started running at the ripe old age of 30 and it taught me lessons I would've never learned anywhere else. For one thing, it taught me to believe in myself as long as I gave my very best. Even if I came in 500th out of 40,000 runners, I felt like a champion for exceeding my limits and achieving the seemingly impossible.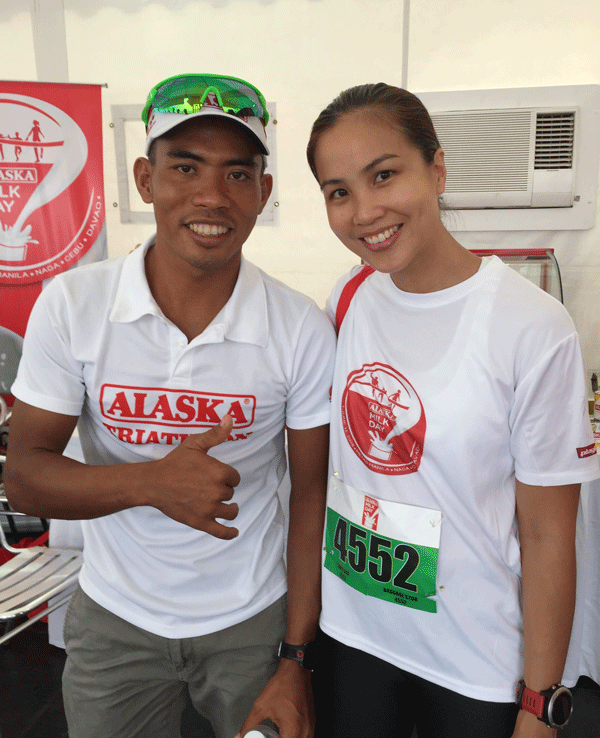 When I grow up I want to be just like this Ironman Champ August Benedicto! I was so thrilled to bump into him at the Alaska Milk Day
5) Have fun.
Never force your kids to eat food or try a new sport that they don't want to. Always try to lead by example. Eat wholesome and healthy meals and ask if they wish to try. Do not buy junk food for the house. Engage in sports and ask them if they want to join you or even just watch in the mean time. By showing your kids that NUTRITION, ACTION, and imbibing the will of a CHAMPION is not a chore, but a healthy lifestyle then they grow up living the same way.
If you would like to become a part of Alaska's "Nutrition. Action. Champion" program for a chance to become a real life health advocate, log on to www.alaskaworldmilkday.com follow them on facebook at WorldMilkDayPH and PlayPH.