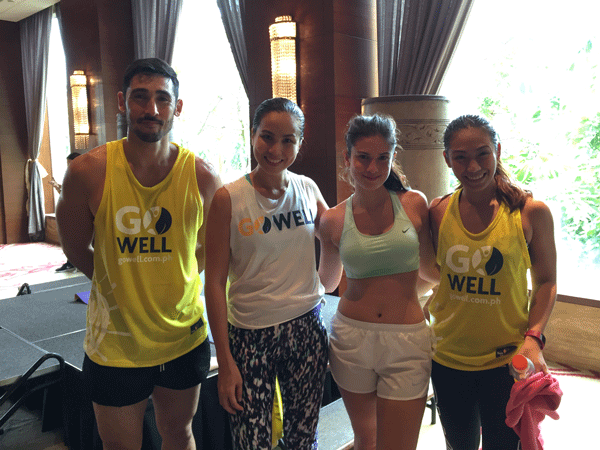 – with Chris Everingham, Bianca King, and Nikki Torres after our Sweat Session at the GoWell Wellness Retreat in Shangri-La Boracay last month –
I first saw Nikki Torres at an Adidas Ultraboost event several months ago. Soon after, I caught sight of her on social media and started wondering what this adidas ambassador was all about… and, more importantly, how did she get those washboard abs? lol
Later on, she invited me via email to her Sweat Session to which I replied in sheer terror: "Thanks! Okay, I'll drop by and check it out." Yikes.  For those who know me, I have two left feet. However, since I'm a dreamer, allow me to share with you my ultimate dream. After having conquered the World Marathon Majors, my next dream is to become the newest (and perhaps oldest!) member of the Philippines All Stars Hip-Hop group. I'm kidding… but, uhm, yes, if there was a slight possibility of that happening, I really would jump at the chance lol.
Back to Nikki. I did drop by at Beyond Yoga in Salcedo Village that day to catch her class. It was awesome. Her music was R&B / Hiphop and they danced and grooved while enjoying a pretty good workout. It's definitely a class that's open to various levels from beginners to advanced.  There were also some toning exercises mixed into the session. For someone like me who can't dance at all, I was eager to give it a try. I was so enthralled and excited that I met with her the week after and asked her to lead a session for the launch of GoWell, my wellness campaign at Sun Life where I work. We had her teach a Sweat Session in Shangri-La Boracay in which I finally joined… and  that's where my career as a dancer began! (Okay, okay, the last few words are a lie!)
Anyway, I think that's a pretty good introduction to our GoWell Community Workout called Sweat Night with Nikki Torres. It's on November 17 at 6:30PM in Function Room C at SMX Aura. We still have a few more slots to go so I do hope you can make it!  Even if you're a runner or a triathlete, it's a great cross training workout that'll allow you to use muscles that you've never used before!  The session is free but pre-registration is required. Just click on this link if you want to join us: GOWELL SWEAT NIGHT: BOOK A SLOT.  Hope to see ya!