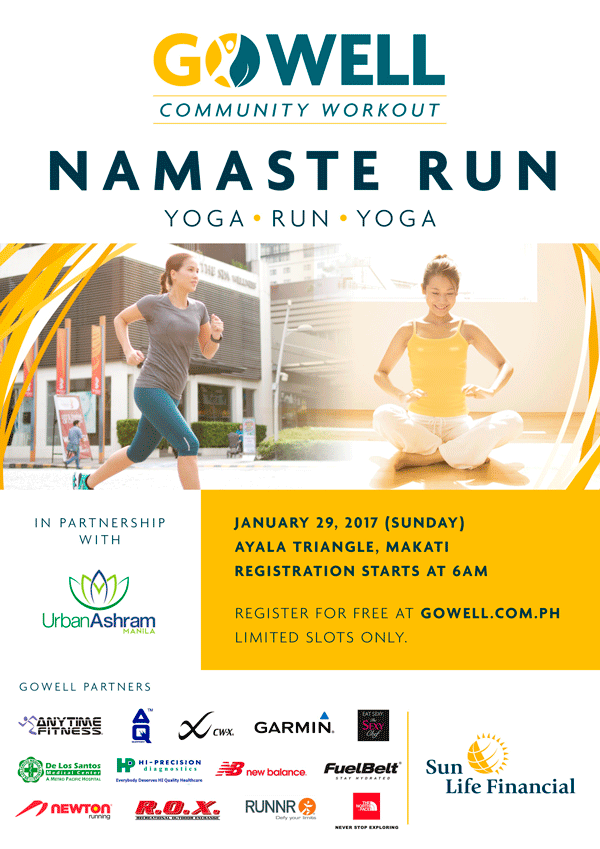 As most of you know, I went back into corporate life and I'm currently loving it as Marketing Manager at Sun Life where we launched GoWell, a new wellness community focused on healthy eating, working out, and living a balance life. We're having our 3rd Community Workout and I'd like to invite you to join.  It's free and all you need to sign up at our website.  Super excited to do yoga and run and then yoga again (lol) with you!  Read on for full event details below…
Get your wellness journey on the bright track by joining a GoWell Community Workout!
GoWell Namaste Run
January 29, 2017, Sunday
Registration starts 6:00 AM
Ayala Triangle Gardens, Makati City
The GoWell Namaste Run is a unique yoga-run-yoga event in the middle of peaceful and serene Ayala Triangle Gardens in Makati City.
In partnership with Urban Ashram, we will be rolling out our yoga mats for pranayama breathing, lacing up our shoes for an easy run with The Bull Runner, Jaymie Pizarro, and ending the experience with a relaxing yoga session. Participants of all fitness levels, from beginners to experienced athletes, are welcome to attend.
Registration is free, but participants must book their slots on www.gowell.com.ph. Click on Events and click on Namaste Run to book the event.  You will receive confirmation via email.
All participants will receive a GoWell lootbag and snacks! GoWell Gold members will also enjoy reserved space for yoga and special access to our Gold Tent.
GoWell Namaste Run partners are: Urban Ashram, The Sexy Chef, The North Face, R.O.X., Garmin, New Balance, Anytime Fitness, Hi-Precision Diagnostics Laboratory, CWX, Runnr, Newton, Fuel Belt and AQ Support.