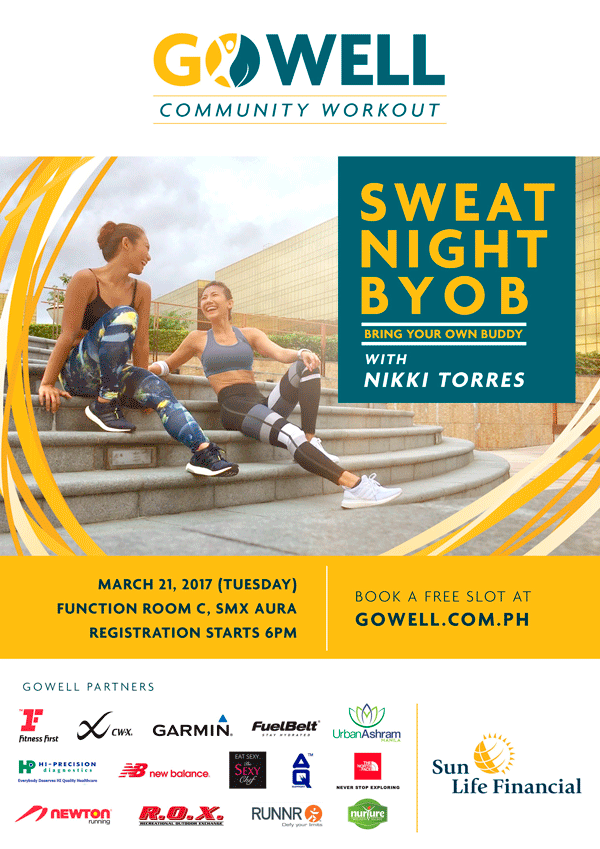 Dance and tone the night away with your best bud in our GoWell Community Workout!
GoWell Sweat Night BYOB with Nikki Torres
March 21, 2017 (Tuesday)
Registration starts at 6:00PM. Event starts at 7:00PM
Function Room C, SMX Aura
You're in for a fit and fun night!
GoWell Sweat Night is a choreographed dance workout led by popular fitness instructor and ambassador Nikki Torres. Get a good workout with a combination of yoga, dance, and bodyweight circuit training, while grooving to the hottest hiphop R&B and EDM tracks in a fun party setting.
Participants of all fitness levels, from beginners to experienced athletes, are welcome. Registration is free, but you must book your and your buddy's slots on www.gowell.com.ph. After booking your slots, we encourage your buddy to sign up to GoWell for a convenient registration on event day.
On event day, participants must register along with his / her buddy.  Individual participants will not be allowed to enter alone.
All participants will receive a GoWell lootbag and snacks. GoWell Gold members will also enjoy reserved space.
Visit www.gowell.com.ph to book your slot now.