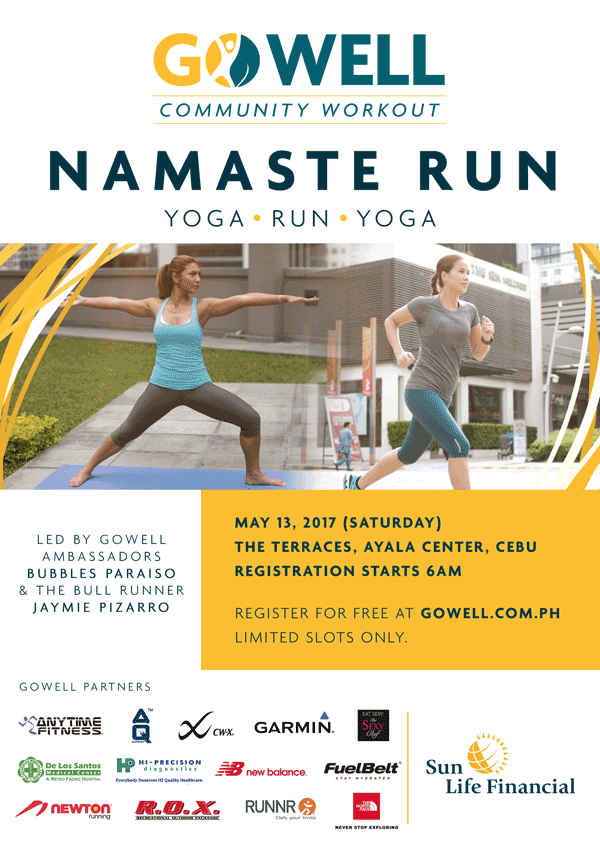 Hi Cebu, we're flying off to see you!   Bubbles Paraiso and I will be leading the first GoWell Community Workout in Cebu and we look forward to seeing you.  Hope you join us for this fun event.
GoWell Namaste Run
May 13, 2017, Saturday
Registration starts 6:00 AM
The Terraces, Ayala Center, Cebu City
The GoWell Namaste Run is a unique yoga-run-yoga event that combines the calm, relaxing aspects of yoga with the adrenaline rush from running.
Led by GoWell ambassador and yoga instructor, Bubbles Paraiso, we will be rolling out our yoga mats for pranayama breathing. Then, we will lace up our shoes for an easy run with The Bull Runner, Jaymie Pizarro. We end the experience with a 45-minute yoga session led by Bubbles.
Participants of all fitness levels, from beginners to experienced athletes, are welcome to attend. Registration is free, but participants must book their slots on www.gowell.com.ph.
Participants are encouraged to bring your own mats for hygiene purposes.
GoWell Gold members will enjoy express entry into the event and will be reserved a space in front.
GoWell partners are: Fitness First, Urban Ashram, The North Face, R.O.X., Garmin, New Balance, Hi-Precision Diagnostics Laboratory, CWX, Runnr, Newton, AQ Support, Fuel Belt and The Sexy Chef.
We look forward to seeing you there!