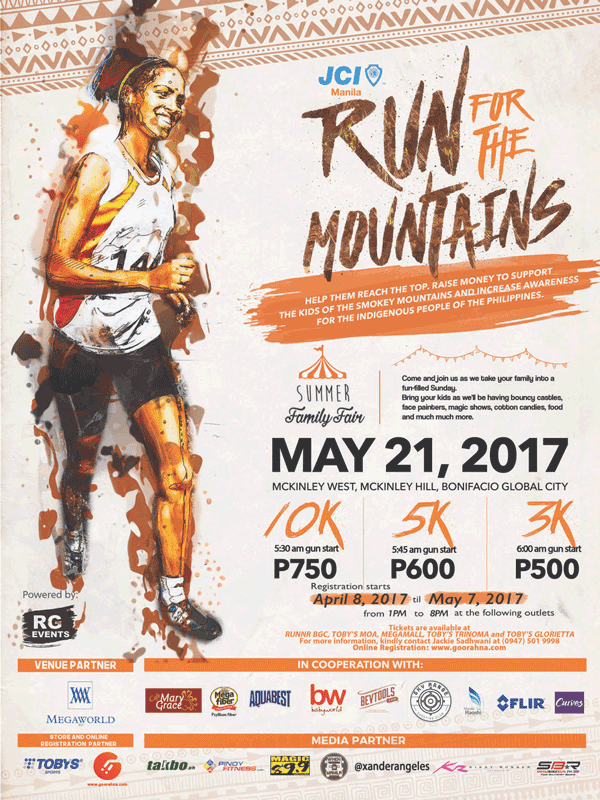 Who's joining Run for the Mountains?  If you haven't signed up yet, don't fret.  They've extended registration!  TBR Jr. and I are signing up today.  Hope to see you there!
EXTENDED REGISTRATION: Registration, except for online registration, has been extended to MAY 20.  There will also be onsite registration on
May 21, 2017, 4:00AM.
Here's more info if you're interested…
PRESS RELEASE: ​Non-profit organization, JCI Manila will kick off a ​​3K, 5K, and 10K run on May 21, Sunday on the streets of McKinley West in Taguig City.
Gun Start is at 5:30am.
Dubbed as Run for the Mountains, the event will also feature performances from Indigenous People (IP) athletes – respectively of Mangyan, Igorot, or Aeta roots. Each is set to showcase his/her skill in archery, javelin throw, storytelling, music, and dance.
Proceeds will go towards the improvement of Field of Dreams – a 60 meter by 60 meter sports facility that regularly runs baseball/softball and football programs for the youth of Paradise Heights – commonly known as the Smokey Mountain community in Tondo, Manila.
Funds will also help build water pipes for homes in IP villages.
"The goal of this run is to come up with resources for less fortunate kids – keep them busy through sports, so they can stay away from drugs and other vices. At the same time, help raise awareness about the plight of IP communities in the Philippines," says JCI Manila Run for the Mountains Chairman, Jackie Sadhwani.
"There's a bright future ahead for people from marginalized and neglected sectors of the country. Extending help is one way of making them realize that the world, after all, is still filled with good people who can inspire others to live a good life," Sadhwani adds.
To know more about JCI Manila's Run for the Mountains, you may visit its Facebook page athttps://www.facebook.com/runforthemountains/