It's that time of year again!
If you're a loyal reader of TBR (and I must thank you for that!), you know that over the past years, I throw a little contest over here in the days leading up to May 5.  It was called the "5 Days to 5/5 Contest" but, this year, I've decided to rename it to "Cinco de Mayo."  It evokes more happiness and, er, it's less of a tongue twister.  From now on, I hereby declare that it's not just Mexico and the U.S. that shall celebrate Cinco de Mayo, but festivities shall also commence in this tiny little blog of mine!
WHY CELEBRATE TBR CINCO DE MAYO?
First, it's my birthday.  I turn…gasp…38.  Some would panic about this, but it's not that big a deal to me.  Mainly because when people ask me how old I am, I'm still stuck at 27.  Seriously.  I sincerely believe I'm still 27 sometimes.  Other times I think and act like I'm 12.
Second, it's my 7th blog anniversary.  Yep, for people who don't know how TBR started, I created the TBR logo and uploaded the first few blogposts on the day of my 30th birthday on our dining table in all of 30 minutes.  I clicked that upload button and thought that no one would ever read the blog (hence, if you read the archives, I disclose high school crushes and completely embarrassing and unnecessary information there).  Lo and behold, after a few years, I actually fooled a number of you into reading…and running. Hehe.  Now, it's been a full 7 years of writing about running!  (That is so freakin' long that I'm actually excited for you to see the changes that are coming for TBR.  Come back next week!)
Third, as I've said in the past, it's my time to thank you all for the support, friendship, kind words, screams of encouragement during a race, or just a simple "Hi TBR!" when we bump into each other.  Thank you for clicking on these pages and reading the crazy things that I write because it's great to feel acknowledged, fantastic to know that someone is making use of what I'm sharing, and, best of all, it's just awesome to connect with other people in this sometimes mad and lonely world.  Thank you to each of you for allowing me keep TBR and this bull in me alive so that I can continue to do what I love doing and, hopefully, touch even more people's lives through running.
PARTY TIME!
So, as my way of thanking you all, I spend the next five days trying to make you guys happy!  Now, what makes runners happy…apart from breaking PRs? hahaha.  Fantastic running gear and shoes to make their run even more fun!
From May 1 to May 5, the next five days until my birthday and 7th blog anniversary, I'll be giving away loads of stuff worth in total over P30,000 to more than a handful of lucky runners!  Each day will have new prizes, new contest mechanics, and new winners.
Thank you so much to our generous sponsors who have donated prizes for our contest!  Mwah!
Shall we begin?
DAY ONE: TBR CINCO DE MAYO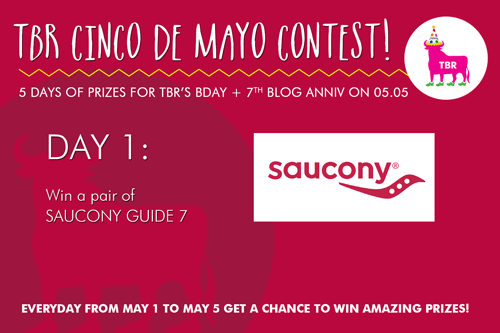 What can you win: 1 pair of SAUCONY GUIDE 7 (color of prize may vary from photo below)
How many winners?  One (1) winner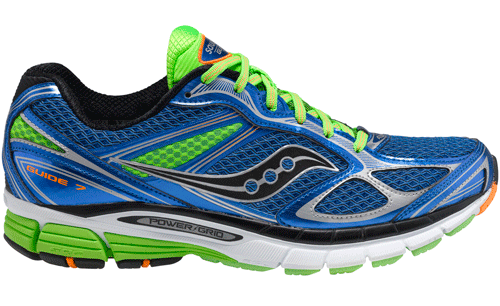 – Saucony Guide 7 for Men –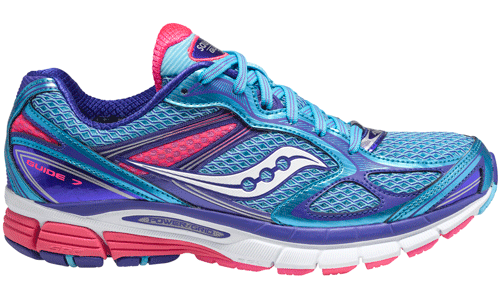 – Saucony Guide 7 for Women –
HOW TO JOIN?
1) Follow The Bull Runner on Twitter
2) Follow The Bull Runner on Instagram
3) Like The Bull Runner Page on Facebook
4) Post a comment on this blogpost with the answer to this question:
WHAT IS THE SINGLE MOST IMPORTANT GIFT THAT RUNNING HAS GIVEN YOU? (Answer should only be in one phrase or sentence.  Using more than 1 sentence leads to disqualification.)
Also include:
– your Name
– Name used in Twitter and FB
– Shoe size
– Gender
HOW CAN I WIN?
Deadline for submission of entries:

Friday, May 2, 2014 at 6:59 a.m.

All entries submitted within this period complying with directions above will be evaluated by TBR.  20 entries will be shortlisted (I expect to have a hard time choosing among all your answers.  I'm such a softie!) and these entries will then be will be eligible for a raffle to be conducted by TBR via random.org.  There will only be one winner.
All entries will be moderated and will be approved upon closing of the contest.
Only one entry per runner. Submission of more than one entry leads to disqualification.
Winner will be announced on the bottom of this blogpost as an update and will be advised via email on how to claim the prize.  Winner must claim the prize at the venue advised by TBR.  TBR will not ship prizes to provinces or abroad.
May the best runner win!
UPDATE (May 2, 7:30AM):  Congratulations to ALLAN C. LIM for winning 1 pair of Saucony Guide 7!  Love all your answers guys!  Thank you to everyone for joining!  Now, on to Day 2!