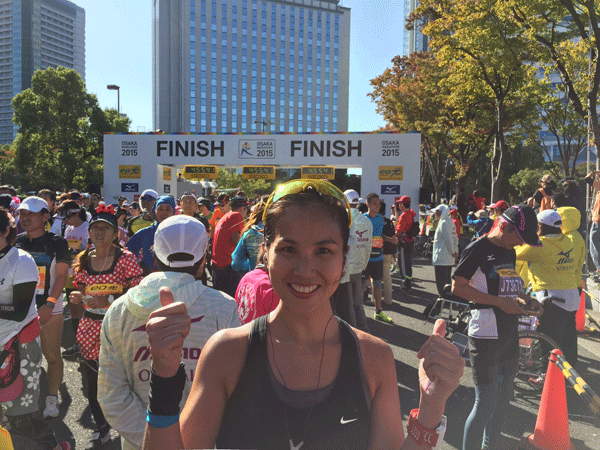 Osaka Marathon was my 14th marathon. Each marathon is a special experience, but they all vary because of all the elements that come into play from training to all the little occurrences in each of the 42 kilometres of the race.
For Osaka Marathon, I was just in a happy place almost the entire time.  I think the biggest difference for this race was that my one and only goal was to enjoy it. I only trained 2 months for the marathon because I had previously felt burnt out from previous races. I thought it would do me more harm than good to train hard. On race day, I didn't put pressure on myself. My pace was relaxed, my mood was calm, and I stayed positive all throughout.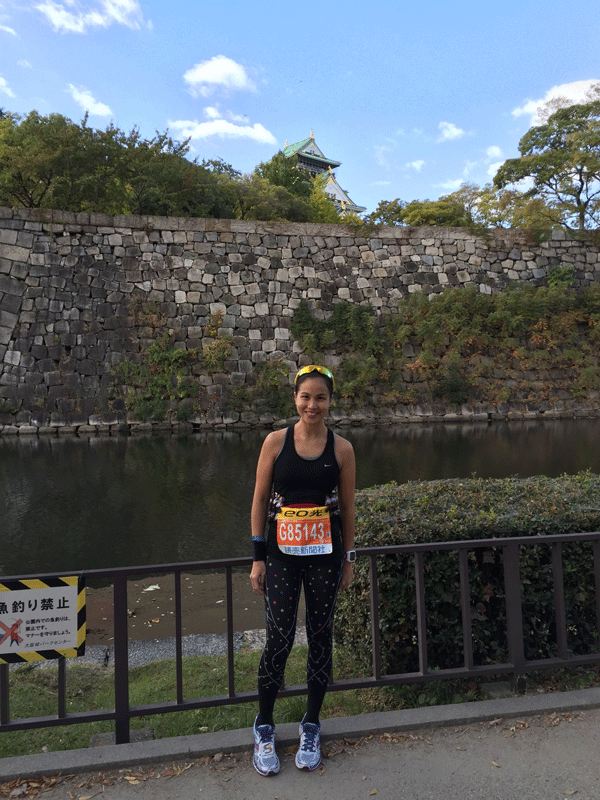 At the race start with Osaka Castle behind me
Luckily for me, everything was smooth sailing. No blisters, no ITB pain, no line at the portalet during the one time I went. Just no problems! Boy was I lucky! My nutrition and hydration plan was perfect. I took 1 GU gel 10 minutes before the race and subsequently at 10k, 20k, and 30k. I carried 8 packs of single serving Gatorade powder with me and took one serving at roughly every 5k of the race. As for my Salt caps, I took it thrice: the first at 7k, 18k, then sometime close to 30k. Hence, no bonking!
My finish time was 4:45, not a PR but not too bad either for someone who sang out loud to her iPod while running! lol. I was smiling from ear to ear as I ran this race and, in the end, it helped me remember exactly why I'm just madly in love with the 42k.
Thank you, Osaka, for the memorable experience!
Here goes my race review for Osaka Marathon:
EVENT: 5th Osaka Marathon 2015
DATE: October 25, 2015
START: Osaka Castle Park, Osaka, Japan
RACE ASSEMBLY AND START:
Osaka Marathon is a very well organized event having the same race organizer as Tokyo Marathon, a World Marathon Major. Over 30,000 runners participated in the event but the assembly area at Osaka Castle Park was relatively simple and worry-free.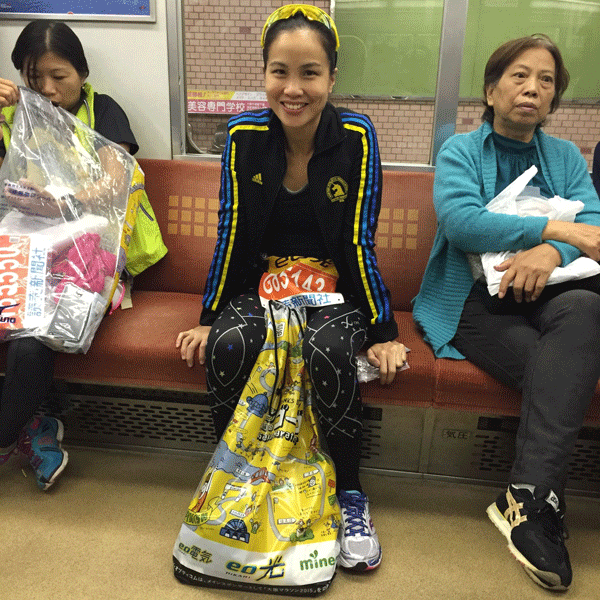 Subway ride to Morinomiya Station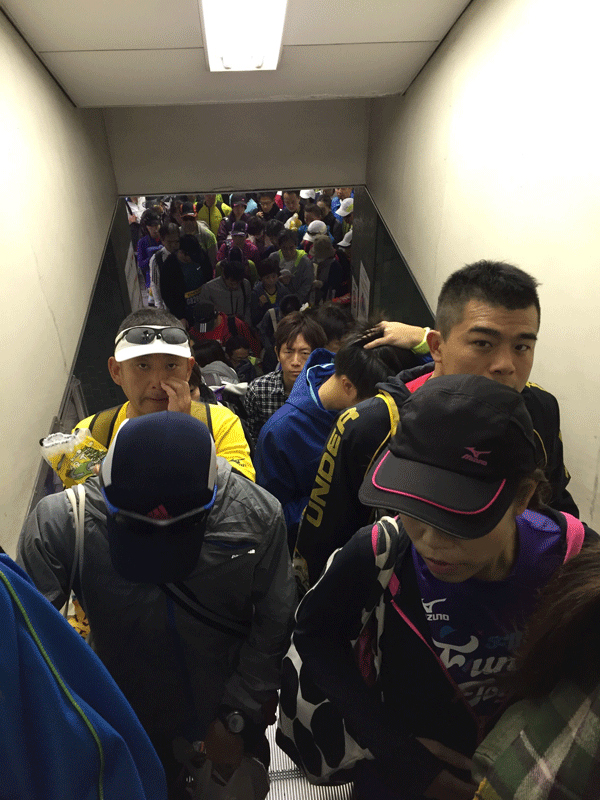 Hundreds of runners at Exit 1 from Morinomiya Station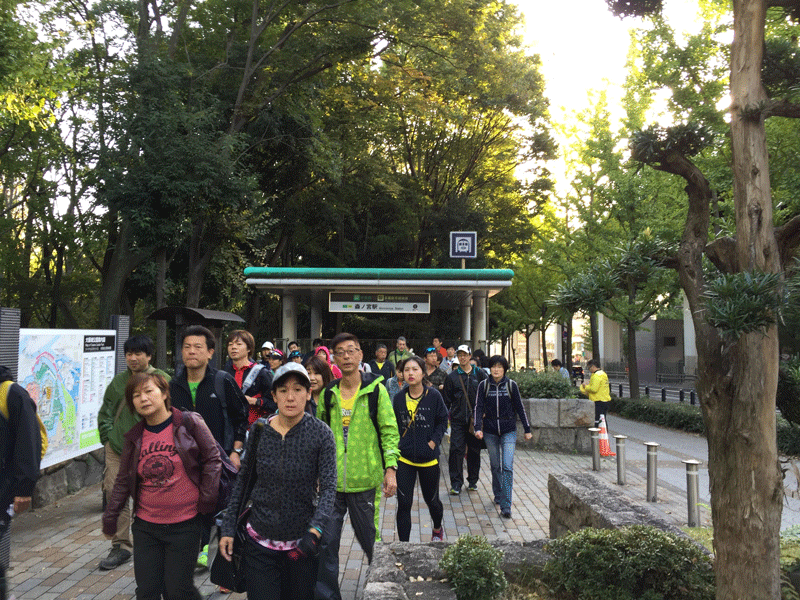 Exit 1 from Morinomiya Station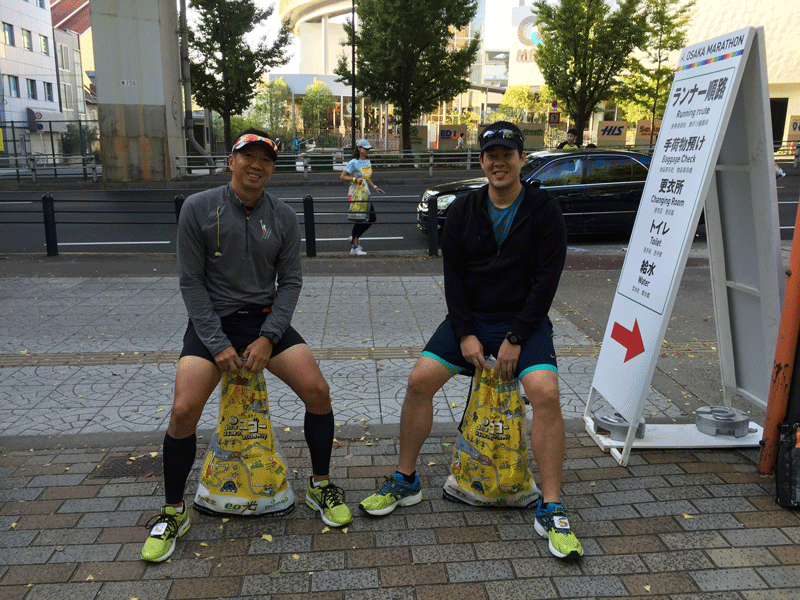 Ardie and Lit while waiting for the rest of the Filipino Runners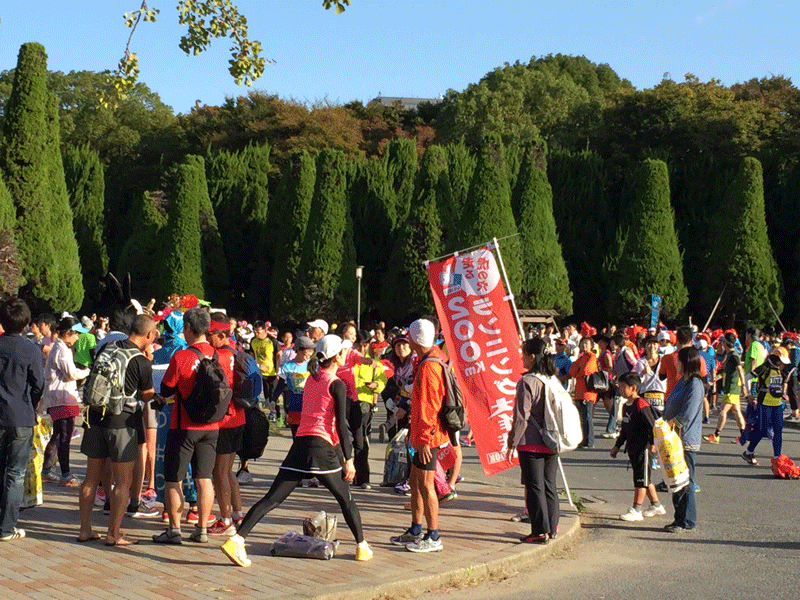 Osaka Castle Park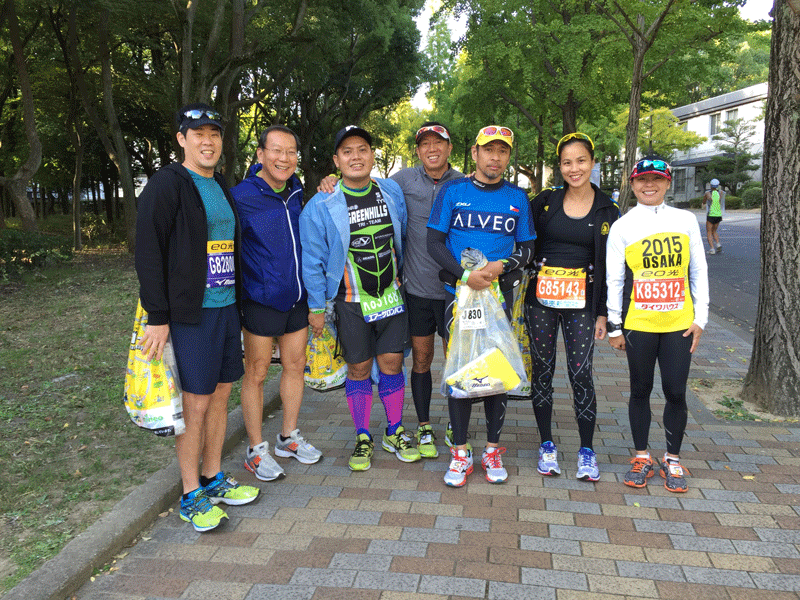 Just some of the Filipino runners at Osaka Marathon
On race day, plan for a 20 minute walk from the station to your baggage deposit, another 20 to 30 minutes for the lines at the potty, and another 20 minute walk from baggage deposit to your corral. At first I thought the long walk was quite long for runners who were about to cover 42k, but it was actually a good warm up for the race.
Tips:
Practice how to get to the park a day or two before the race to avoid getting lost in the subway. To get to Osaka Castle Park, go to Morinomiya Station. Exit 1.
For your ocular, bring cash. Located across Osaka Castle Park is QMall, which has a Gap Factory Outlet.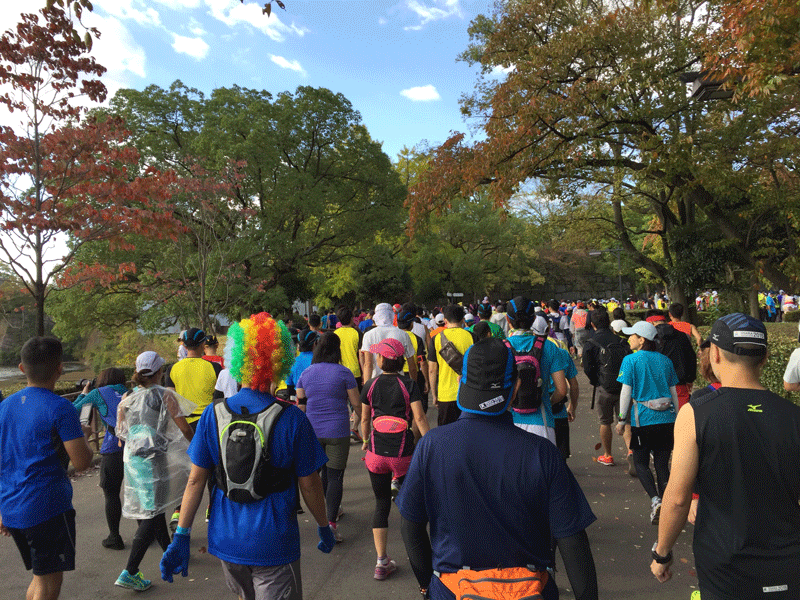 The walk towards my corral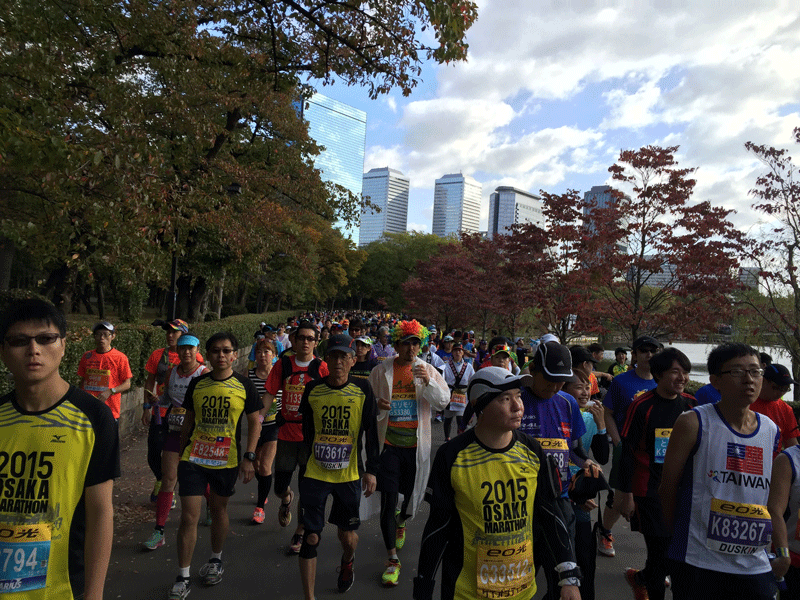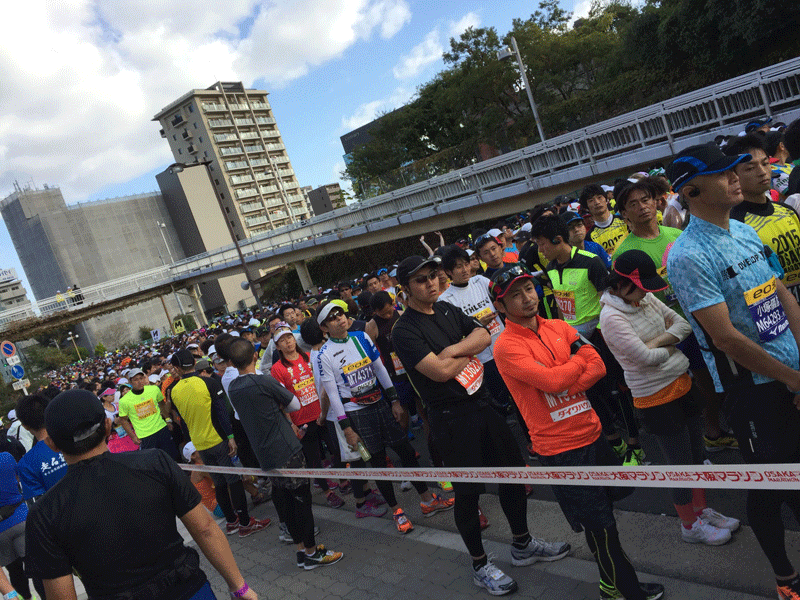 Runners lined up at one of the corrals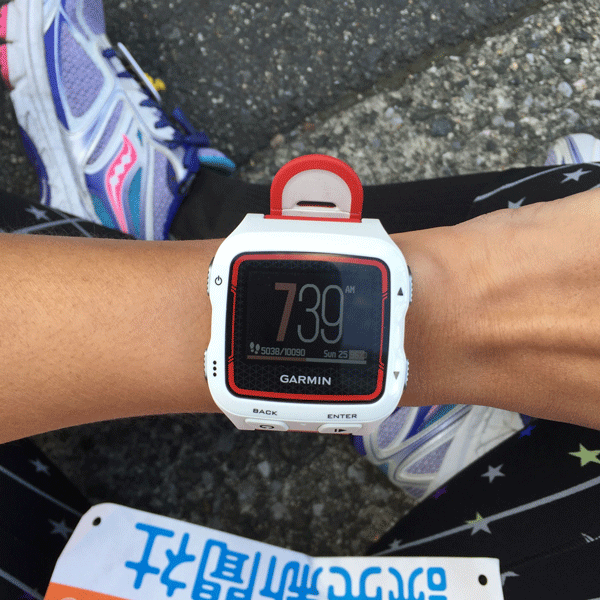 I hit half of my goal steps on my Garmin just getting to our corral. To think I had a 42k to run!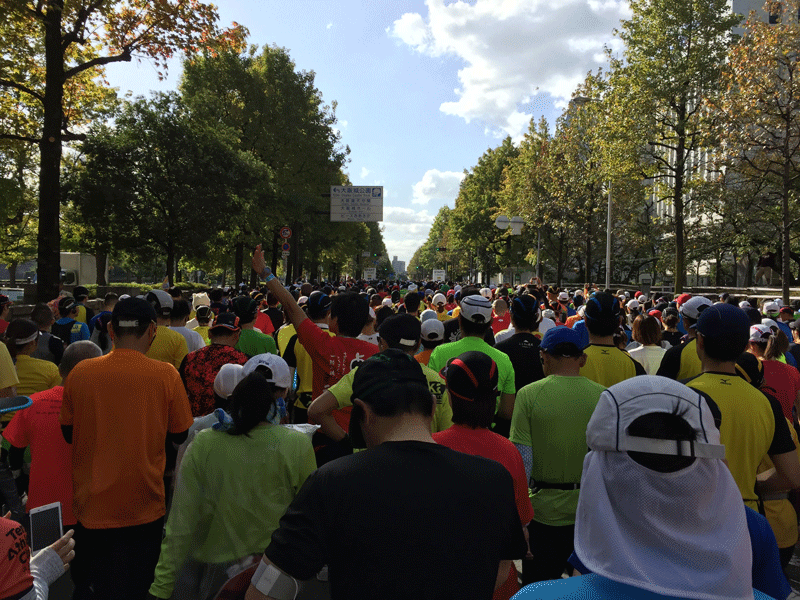 Race start! Woohoo!
RACE:
Course. There were two major climbs that I recall. First at 5k, which was long but manageable, and the second at a cruel 37k, which was around 200m long, steep and had some headwind. The rest of the course was flat or downhill, which made for a wonderful course. I prefer rolling courses rather than flat.
Weather. The temperature that morning was a comfy 15°C. We were quite lucky because previous days had been a bit warmer. With that weather, I felt my sleeveless top and compression tights were the perfect outfit. Temperature when we ended was around 20 to 21°C.
Tip: Use sunblock. While the temperature was cool, the sun was intense.
Traffic. The race had a wave start, but each wave was released without pause one after the other. This made the course crowded especially at some of Osaka's narrow roads. Majority of the time, runners were running side by side with each other. Twice I got kicked under the foot and once, a runner jumped in from behind me on my left, just to overtake. Osaka Marathon has a great course for a decent time, even a PR, but it will take much effort to weave through the high traffic.
Hydration and Food. The first hydration station was at 5k. Hydration stations that followed were over 3km apart. We Pinoy runners are spoiled with our local races having hydration stations much closer to each other. Be ready for this. Hydration provided is Aquarius, a sports drink familiar in taste to Pocari, followed by water at each of the stations. Further in the course, there were Meal Stations offering bananas, bean buns, sushi, and cookies.
Tip:
If you are not used to taking Aquarius, do NOT experiment on race day. Bring your own hydration.
Portalets. Portalets were plentiful. Lines would reach about 5 to 15 runners long, or if you got lucky like me, there would be no lines at all. Unique to this race were the portalet signs informing you how many kilometers away the next portalets were. This was awesome!
Crowd support. The streets were lined with spectators. On major roads, spectators were 3 to 5 rows thick. People stretched out their hands for us to high five or provided food, such as chocolates, fruits, and even cola, for the runners. Noticeably different with the spectators was how quiet they were. Do not expect screaming and cheering like the crowds in Western countries. Japanese are very friendly and supportive, but they are also very modest and shy.
Finish line. The finish line was spectacular. There was music and fanfare and the organizers greeted us with a bag to hold food and drinks.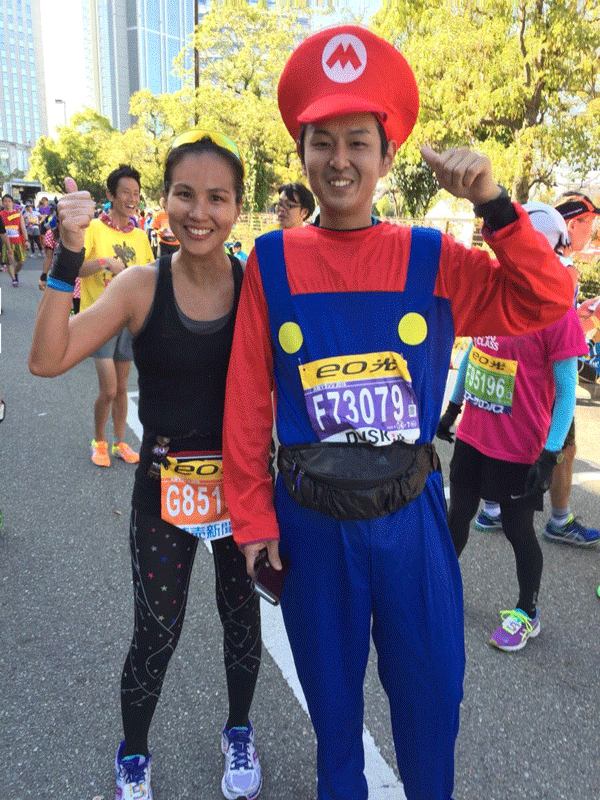 with Super Mario!
Soon after, we were led into a warehouse, which was to me the worst part of the race. Hundreds of us finishers were made to line up next to each other to, ironically, have our Finisher's Medal placed around our neck. You simply do not treat runners who have just covered 42k this way. The race would've been perfect had it not been for this portion.  To be fair though, I spoke to a friend who finished at sub-4 and he didn't experience this crowd. I guess I need to run faster next time. Gulp.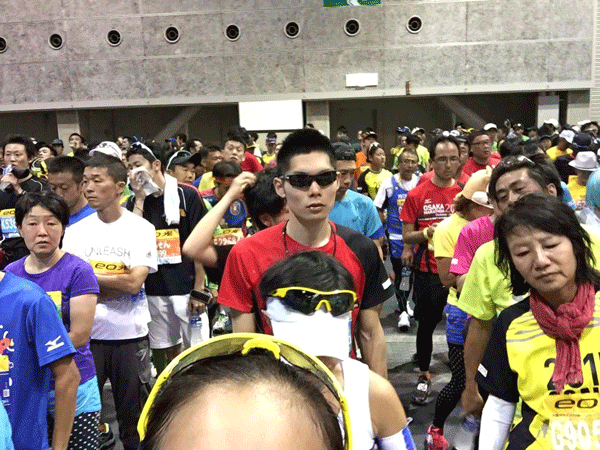 Not so happy campers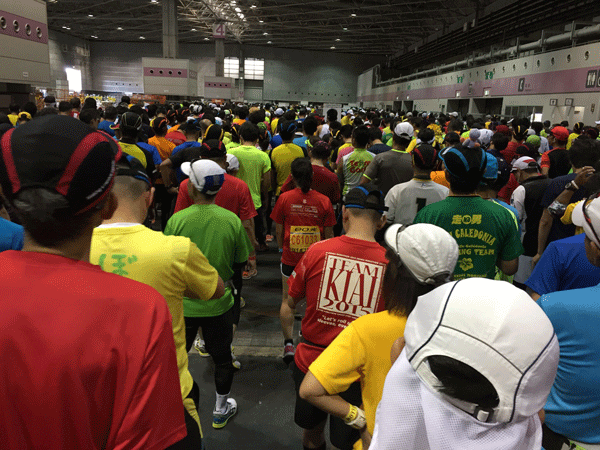 Baggage deposit and claim. Baggage deposit at Osaka Castle Park and claiming at the Finish was both quick and efficient. There was almost no waiting time to pick up my bag. Soon after I collected it. I walked across and sat down to rest. It was there that my friends, Jay and Lit, found me and sat with me. We changed and ate as we chatted about our marathon adventures.
Departure from race. To leave the race area, organizers provided a free shuttle back to the city. There was also a line for a taxi. The lines for the shuttle was long so we took a taxi back to our hotel. Again, in Japanese fashion, it was quick and efficient.
SUMMARY:
Overall, I would rate this race a 5 of 5. I loved the course, weather, food, support, and the city in which it was held! I liked it even more than Tokyo Marathon which is a World Marathon Major. Its only flaw was the long line for the Finisher's Medal, but that should be easy for them to improve next year.
Thank you, Osaka, for such a wonderful and memorable experience!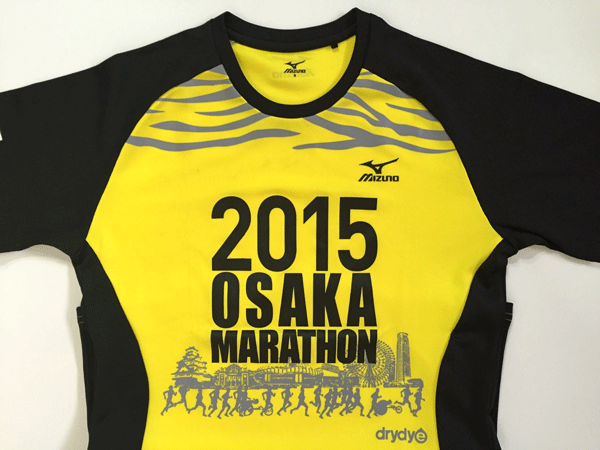 Osaka Marathon 2015 Shirt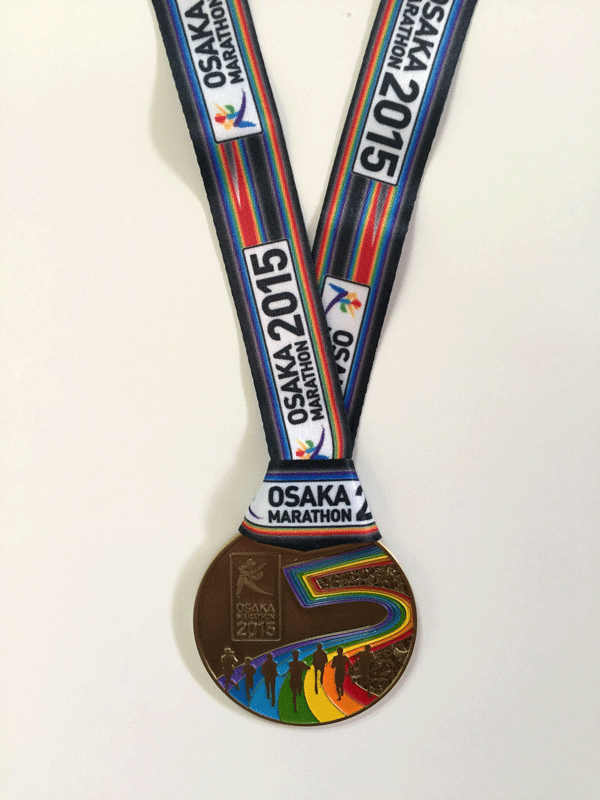 Osaka Marathon 2015 Finisher's Medal
Thank you as always to my sponsors: Gatorade, Otterbox, Peak Form, Fitness First, Specialized, and Oakley for your unwavering support. Thank you also to Runnr for providing my CWX compression tights, Cascos Inc for my Zensah compression socks, Saucony for my Saucony Guide 8, Myofit for my foam roller, and Stride and Stroke for my Spibelt.