After Vancouver Marathon, I was quite happy to goal-less for a couple of months until marathon training resumed for the next goal: Florence Marathon in November.  But, before I could even utter the words "off season," I was invited to join the Sun Life relay team for Cebu Ironman 70.3.
I realized I had less than 2 months to build my speed up again.  Panic mode!  Oh, and I had to heat train! Double panic!
For the past weeks, I've been pushing myself to do my intervals and tempo runs again.  I've been gradually building up my mileage to hit distances over 15k again too.
Thankfully, Jeff Lo of PinoyFitness handed me a GNC Run race kit.  I thought running the half marathon at GNC Run exactly a month before Cebu would be a good test of my current fitness level.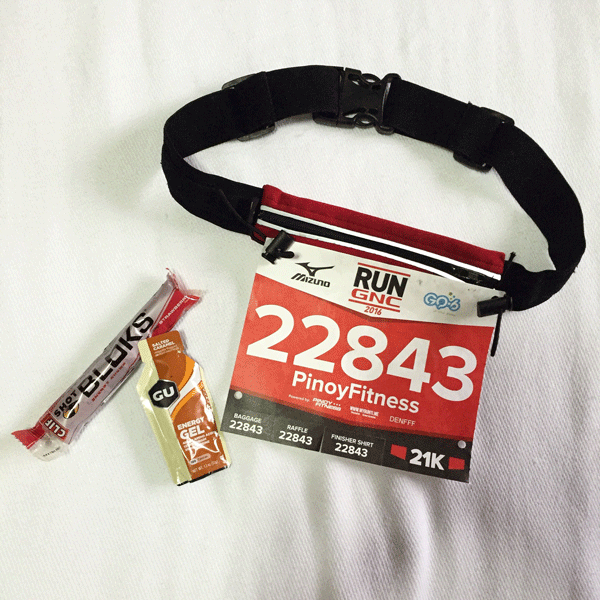 GNC RUN
I showed up at  SM Mall of Asia for GNC Run 21k at 4 AM.  I enjoyed the relaxed vibe of this race.  The number of runners was a comfy size of 1,500 half marathoners, which was much better than the crazy crowds of bigger races.  Just a few minutes after I arrived, the race started and I was off.
I was on serious mode.  Just me and my Spotify.  I ran it at a steady clip, not too fast and not too slow either.  I wanted to see how far I could go before I broke down.
At one point, I ran alongside a more senior runner.  The kind of runner whom you know, just by his stride, that he's been doing this for decades.  Funny that, when we got to chat, he told me in tagalog: "Ganda ng stride mo.  Halatang runner ka."  Talk about runner's mutual admiration club… lol.
Well, my stride was fine until 18k… then things started to fall apart.  I got left behind by that senior runner and things got a bit more difficult.  My legs felt heavy, I started to slow, and I felt the need to douse myself with water at every station.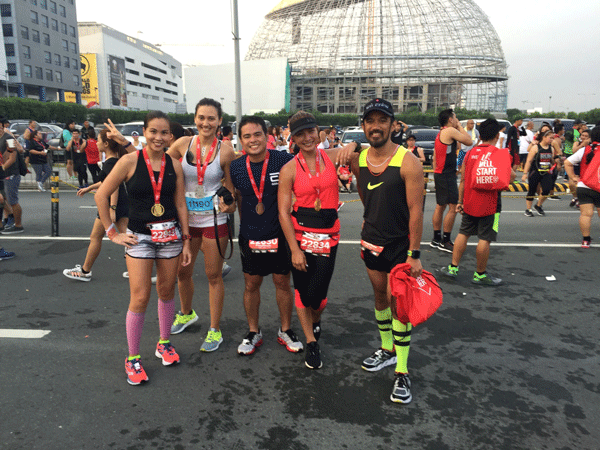 Nice bumping into these fast runners at the finish line – Sara, Jobie, Bubbles and Raoul
At the last 1km, I pushed hard.  I finished the race at 2:10 with a pace of 6:09 min/km.  It was a good experimental run to show me that I still have some work to do if I want to run Cebu stronger.  I have exactly 4 weeks to go!