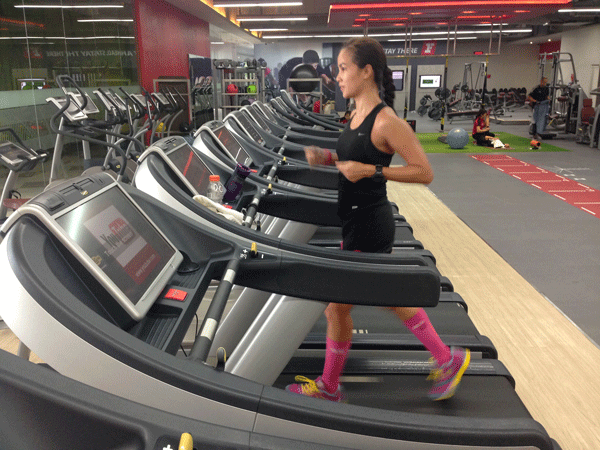 Ironman Cebu 70.3 is exactly 7 days away!  I'm pretty psyched to do the run leg for the Sun Life relay triathlon team.
Looking back at the past couple months, I'd say I'm pretty confident with my training, but I'm still nervous about my performance.  This is the first time I'm joining the relay so starting at around 10AM for a run under the intense heat of the Cebu sun is unchartered territory for me.

My training was pretty much focused on speed.  Having finished a marathon just last May, I had the mileage in my legs to run a half marathon anytime, but I was very s-l-o-w.
With full time work, 2 kids to drop in school daily, and crazy hot weather, I thought it best to run in Fitness First on weekdays to maximize my time. I ran long on Sundays with friends on the road and just crossed my fingers that this was enough for heat training.
Runners often ask me if running on a treadmill can train you well for a race. The answer is Yes!, but, of course, if you're training for a road race, you should be running on the road occasionally too.
Here's how I trained on the treadmill for Cebu and, judging from the faster pace I'm hitting in my road runs, I think it did help me improve my speed:
RUN 1 (TUESDAYS)
This run was usually a Chuck Norris workout. Say what?! Chuck Norris workouts were coined by my ex- triathlon coach, Andy Leuterio. Way back in 2012/2013, when I was training for Ironman 70.3, he handed this workout to me and I hated it but loved it. It is exhausting but effective.
Chuck Norris workouts consist of intervals plus strengthening. Coach Andy's workout was usually a 1k x 10 fast on a treadmill with intervals of squats-push ups-crunches.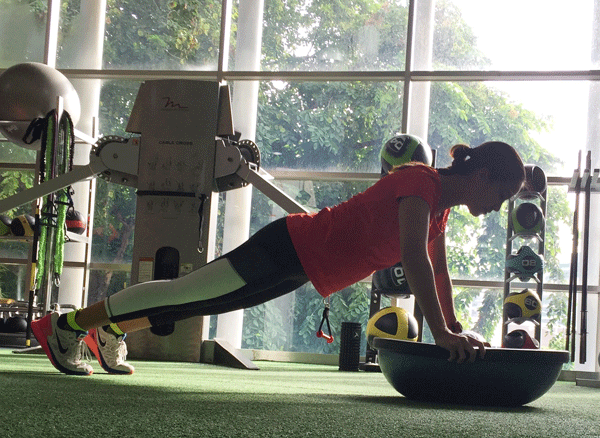 I modified the intervals depending on my schedule for the day. I would do a 1k x 8, 1k x 10, or 2k x 4. For the strengthening portion, I varied it as well so I could strengthen different parts of my body and added weights. I would do anything from sumo squats with dumbbell curls, push ups with bosu, overhead curls, kettle bell exercises, tricep chops, crunches with a stability ball, planks, side planks, single leg dead lifts, bridge, calf raises, and many many more. I'd just make sure to do the same 3 sets of exercises for each interval and stick to that.
The benefit of doing this workout at the gym is that there were so many exercises I could do with the wide variety of equipment available.
RUN 2 (THURSDAYS)
I've always done tempo Thursdays and it didn't stop whether on the road or treadmill. I usually run a 1.5k warm up, run comfortably hard for 6k to 8k depending on my distance that day, then 1.5k cool down.
On good days, I can hit that 6k to 8k of the run without stopping. But, on tough tired days, I struggle with non-stop running on a treadmill so I can break that up into 2 and take a 1-minute water break in between.
The great thing about the treadmills at Fitness First, particularly the ones at Platinum Aura and some treadmills at Bonifacio Global City branch, is that they have side levers to increase the speed and incline with ease. This allows you to "vary the run" by playing with the inclines and the speed quickly so that you don't get too bored.
RUN 3 (SUNDAYS)
Sundays are my long slow run days with friends. Since I needed speed for Cebu, I got rid of the slow runs and ran Sundays a little bit faster than usual. No, not interval pace, but just at a pace where I couldn't chat as much! Lol.
I also chose a tougher course on Sundays to make me stronger. I ran more hills at a faster clip.
Basically, the goal was to kill myself in training so that Cebu would feel like a walk in the park, but making sure the training didn't interfere with the rest of my life.  Working out at Fitness First on weekdays allowed me to squeeze in my runs with the limited time I had while allowing me to work and care for my kids.  It's really the perfect set up!
Now, was my training for Cebu enough? Uhm, we'll know in a week's time!
To all those doing Ironman Cebu 70.3 Asia Pacific Championships, woohoo training is done!  See you in Cebu!