Back in July 2013, as I was training for Ironman Cebu, I crashed my bike on Daang Hari Road. All I remember was wobbling on the bike. Next thing I knew I woke up after 2 minutes of lying unconscious on the open road and finally having my taste of what cyclists like to call "tocino" (or scraped reddish skin) on my shoulders, elbow, and calves. While I recovered fully from the crash and eventually completed the race, I still bear the scars on my arms and legs now. It's the annoying "peklat" but seeing it each day also reminds me of how strong I was to continue the race despite the trauma. In the face of challenges, I just look at that scar and know I can survive anything. (more…)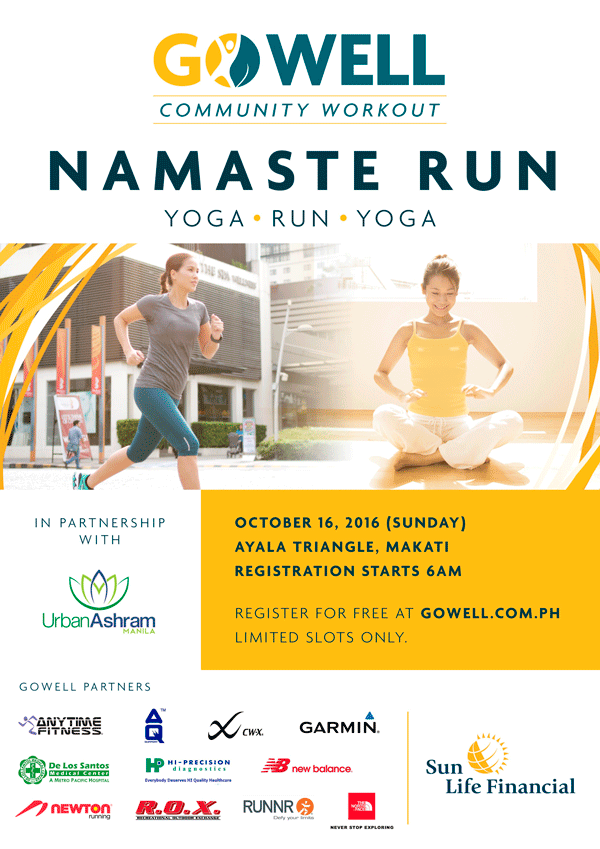 Get your wellness journey on the bright track by joining the first GoWell Community Workout!
GoWell Namaste Run
October 16 (Sunday), 6 AM
Ayala Triangle Gardens, Makati City
The GoWell Namaste Run is a unique yoga-run-yoga event in the middle of peaceful and serene Ayala Triangle Gardens in Makati City.
In partnership with Urban Ashram, we will be rolling out our yoga mats for pranayama breathing, lacing up our shoes for an easy run with The Bull Runner, Jaymie Pizarro, and ending the experience with a relaxing yoga session. Participants of all fitness levels, from beginners to experienced athletes, are welcome to attend.
All participants will receive a GoWell lootbag and snacks! GoWell Gold members will also enjoy reserved space for yoga and special access to our Gold Tent.
GoWell Namaste Run partners are: Urban Ashram, The North Face, R.O.X., Garmin, New Balance, Anytime Fitness, Hi-Precision Diagnostics Laboratory, CWX, Runnr, Newton, and AQ Support.
Registration is free, but participants must book their slots on www.gowell.com.ph. Only 200 slots available.
Hope to see you there!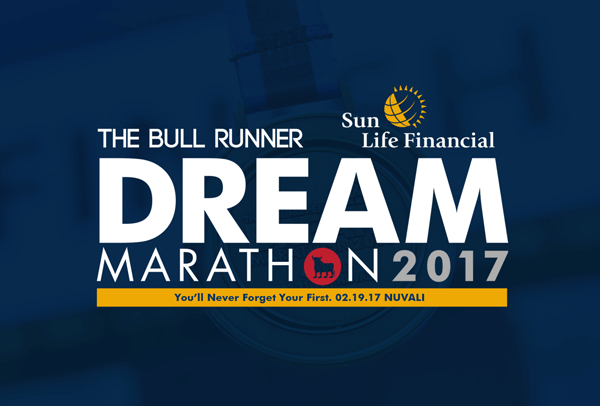 Congratulations to our 8th Batch of TBR Sun Life Dream Marathon participants!   Due to high demand, we increased our participants to 900!
Click on the list below to view the list of runners officially registered with the event.  Should you have any concerns or inquiries, contact tbrdream@gmail.com or 0906-318-2723.
Download / View PDF: OFFICIAL LIST OF TBR SUN LIFE DREAMERS 2017_rev2
WHAT'S NEXT?
1) WELCOME KITS REDEMPTION
All registered runners will receive a Welcome Kit containing the following:
* A Note from the Founders
* Your Dream Marathon Training Program
* Your TBR Dream Official Training Shirt
* Your Calendar of Activities
* Your Dream Card
* TBR Sticker
Participants who did not opt for delivery of kits may pick up their Dream Marathon Welcome Kit. Pick up dates and venues below:
| | |
| --- | --- |
| Sep 16 (Fri) to Sep 30 (Fri) from 12nn to 9pm.  On Sep 21, 12nn to 5PM only. | Planet Sports, Bonifacio High Street (near California Pizza Kitchen) |
| Sept 21 (Wed), 6PM to 9PM | During Bull Circle 1, Henry Sy Auditorium, St. Lukes Med. Ctr., BGC |
IMPORTANT NOTES: 
* Bring your claiming stub (for on site registration), deposit slip (for bank deposit), or credit card/paypal email receipt (for online payments).
* Size of the Official Dream Marathon Training Shirt are available while supplies last.
CLAIMING OF REDEMPTION KIT BY AUTHORIZED REPRESENTATIVE
1. Authorization Letter signed by the Registered Runner
2. Payment confirmation: for online reg – TBR email, for onsite reg – Claim Stub, for bank deposit – Deposit Slip
3. Photocopy of Valid ID of Registered Runner with Signature
4. Photocopy of Valid ID of Authorized Representative
5. TBR and NUVALI waivers SIGNED by the Registered Runner. We will not accept those signed FOR the runner. To be verified with the ID submitted. No signed waivers, no welcome kit. You may click HERE to download waivers.
2) DREAM MARATHON TRAINING PROGRAM
Your Welcome Kit will include the Dream Marathon Training Program. Your 22-week training program begins on September 19, 2016!
3) BULL CIRCLE 1
Block your calendars for our 1st Bull Circle entitled "CHASING THE DREAM" on September 21, Wednesday, at 7:00PM at Henry Sy Auditorium in St. Lukes, BGC. You can come in as early as 6:00PM.
Speakers and topics will include:
Chasing the Dream, Jaymie Pizarro, The Bull Runner
The Dream Marathon Program, Coach Jim Lafferty and Coach Francis Diano
You may also claim your Welcome Kits during this Bull Circle.
For a complete list of schedules, click here.