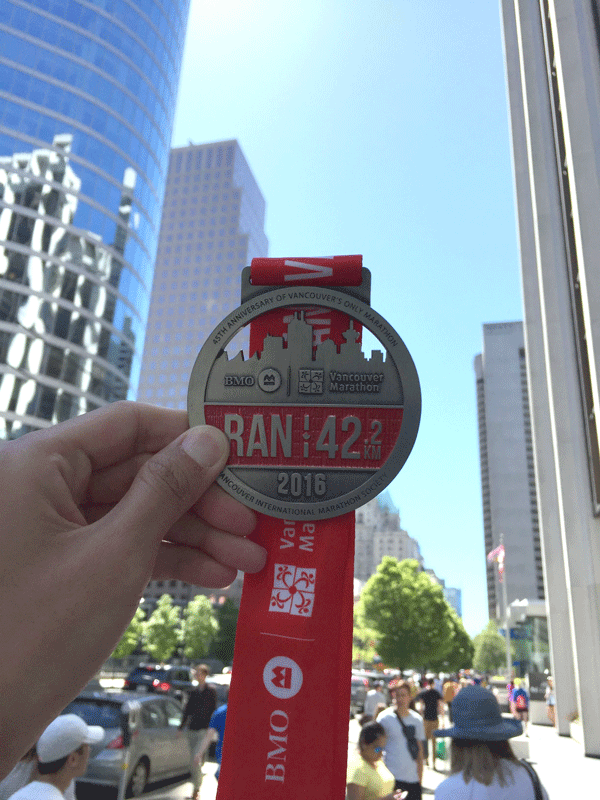 BMO Vancouver Marathon is the city's one and only marathon.  My Vancouverite cousin says it's because May is the only time the weather is perfect to stage one!
For the 45th BMO Vancouver Marathon, total number of participants reached its record high this year with 16,500 runners.  This would be for all categories: 2.5k walk, kids' run, 8k, 21k, 42k relay and 42k. The BMO Vancouver Marathon is a relatively small race compared to any of the World Marathon Majors which have 42k runners alone reaching over 40,000 in number.  With only around 5,000 runners participating in this marathon, I actually looked forward to experiencing a smaller race with less of the foot traffic and craziness that goes with the bigger races.
I came to this marathon as I have done with my past races lately.  I just wanted to have fun.  Turning 40 was a huge milestone in my life and I just needed to celebrate it in a big way.  I didn't need to prove to myself that I was fit at 40, or that I could break a PR I hit a few years ago when I was younger.  In fact, I didn't feel the need to prove myself to anything or anyone.
At 40, I just wanted to celebrate the life I have now.  A life that is my own, independent, honest, peaceful, content, free, and hopeful.
I finished with a time of 4:54.  Not that great a time, but I did have a great time! Hah!
Here goes my race review for BMO Vancouver Marathon:
EVENT: 45th BMO Vancouver Marathon 2016
DATE: May 1, 2016
START: Queen Elizabeth Park
FINISH: West Pender St. 
CUT OFF TIME: 7hrs (more…)