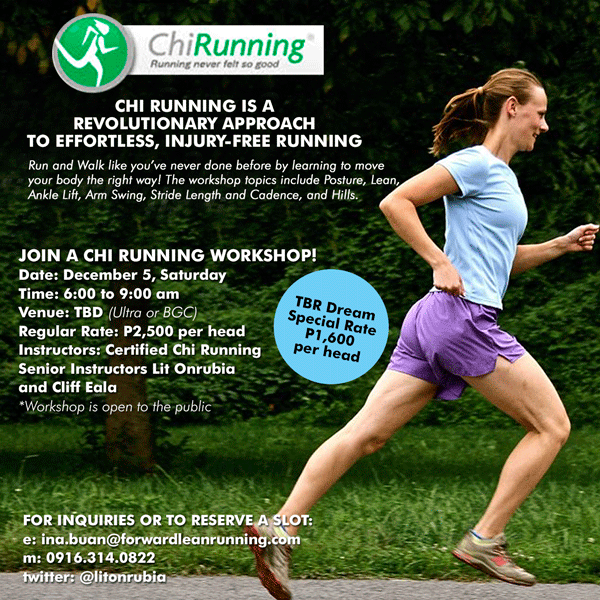 ChiRunning® is a revolutionary running technique that promotes energy efficient and injury free running through proper body alignment and balance. Run and Walk like you've never done before by learning to move your body the right way! The workshop topics include Posture, Lean, Ankle Lift, Arm Swing, Stride Length and Cadence, and Hills.
There will be a Chi Running Workshop on December 5. Full details below:
Date: December 5, Saturday
Time: 6:00 to 9:00 am
Venue: TBD (either Ultra, Pasig or BGC, Taguig)
Regular Rate: 2,500 per person
Special Rate for TBR Dream 42k Batch 2016 participants: Php1,600 per person (Please present your TBR Dream Card on the day of the workshop)
Instructors: Certified Chi Running Senior Instructors Lit Onrubia and Cliff Eala
Please direct all inquiries to Chi Running (not here). To reserve a slot:
email: ina.buan@forwardleanrunning.com
mobile: 0916.314.0822
twitter: @litonrubia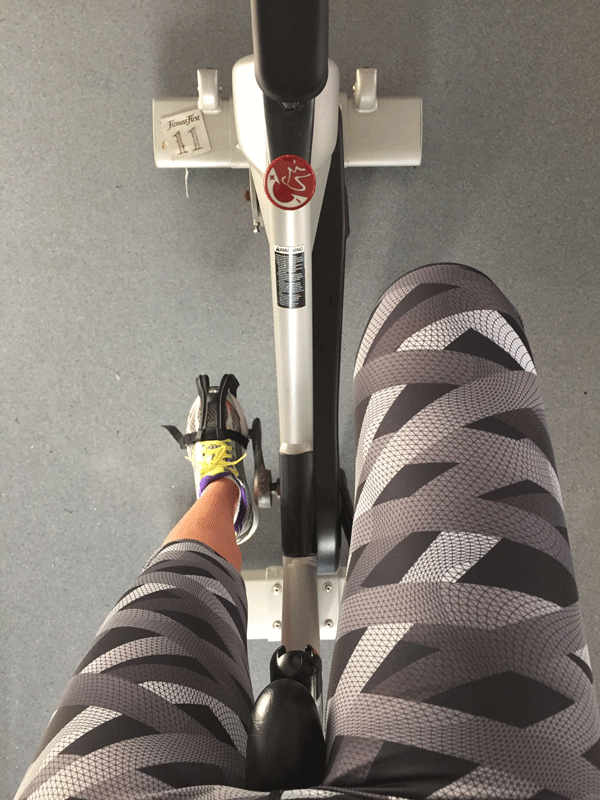 Now that it's off-season for me, I feel like a kid again at the gym. Instead of sticking to a strict running program, I get to try out new activities to work out other parts of my body and also to keep things fun. Last week, I finally got to try the ProCycling classes, which are exclusive to Fitness First.
ProCycling classes are 30-minute high intensity interval cycling sessions based on the training programmes, techniques and events of 9 times World Champion and Double Olympic Gold Medalist, Victoria Pendleton. The sessions are short but intense so it's perfect for busy people or competitive athletes who want to get a good workout in a short period of time. There are 3 kinds of ProCycling classes: Keirin focusing on improving endurance, Team Sprint for strength and power, and Individual Sprint for raw power. (more…)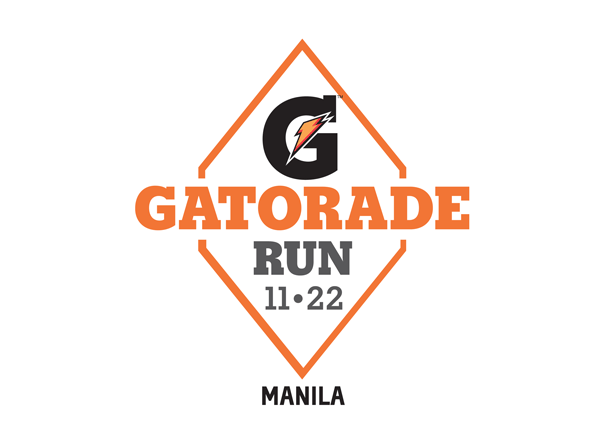 PRESS RELEASE: The world's number one sports drink is finally making its debut in the country's fast growing running circuit with the launch of the first ever Gatorade Run.
The run will happen on November 22 at the Seaside Boulevard at the SM Mall of Asia in Pasay City. There will be two distances—11 and 22 kilometers gun-starting at 5:00 and 4:00 AM respectively. Race fee is P1,100 for 11K participants and P1,500 for their 22K counterparts. The pre-race kit will include an Adidas race tee, a race bib and a timing chip. Another Adidas shirt, this time a finishers tee, will also await all finishers. (more…)