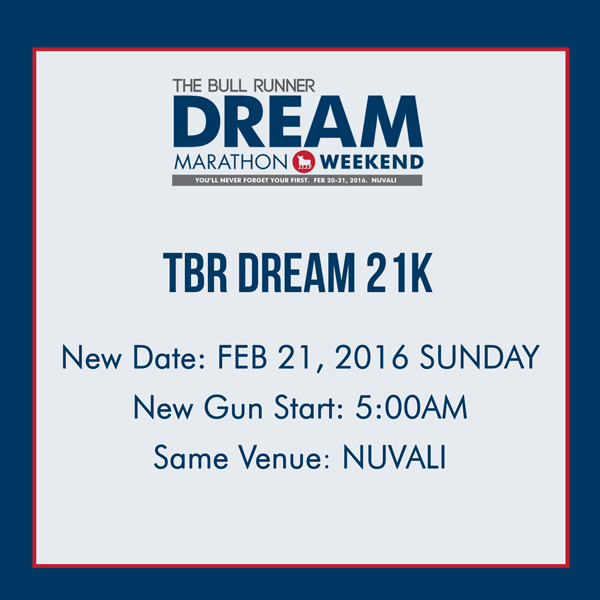 Please be informed that we have decided to move the date of the 21k event from Saturday, February 20 to Sunday, February 21, 2016 for the convenience of majority of runners who will also be supporting friends and family at the 42k event.
Gun start will also be moved later from 4:30AM to 5:00AM. Race venue will remain at NUVALI, Sta. Rosa, Laguna. The 3.5-hour cut off for the 21k event remains as well.
TBR Dream Marathon 42k will remain exclusive to first- and second-time marathoners with a separate finish line from the 21k.
We apologize for the inconvenience this may cause for some registered runners. We will accept request for refunds until November 30, 2016. To avail of a refund, click on this link: TBR DREAM 21K REFUND FORM. You will receive a notification of refund within 10 working days.
To those who made bookings with our hotel partners, Seda Nuvali, Paseo Premiere and Technopark Hotel, please call the hotel to cancel your bookings to avoid credit card billings. There will be no cancellation fees.
For any concerns, you may contact TBR Dream Hotline at tbrdream@gmail.com or 0942-477-6099. For more details, visit www.tbrdream.com.
Thank you for your kind understanding.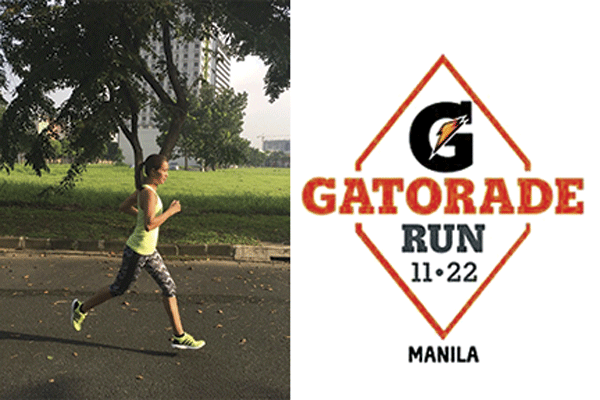 The half marathon is a favored distance among many. For experienced runners, it provides enough of a physical and mental challenge without wearing one down during training or on race day like a marathon. For newer runners, it is the distance that takes one from being a recreational runner into an endurance athlete. A half distance is by no means half of just anything; it's a full on challenge that should be taken seriously with proper training and preparation.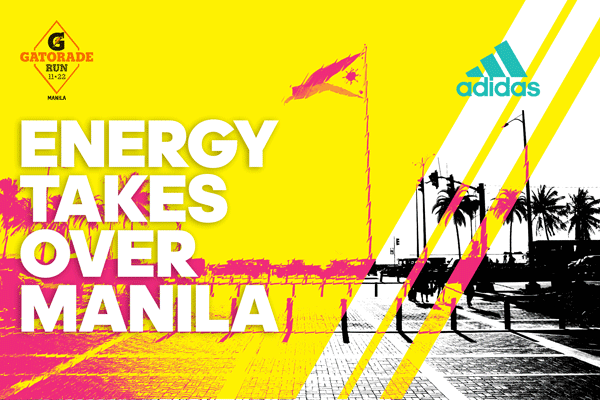 Unless you've been living under a rock, you may have heard that Gatorade will be having its Gatorade Run with 11k and 22k. I hear Gatorade is preparing a lot of surprises for us runners in the last kilometer of the run. Now, if you truly want to be alive enough to experience all that as you run towards the finish line, you may want to read my tips on how to prepare for your first 21k: (more…)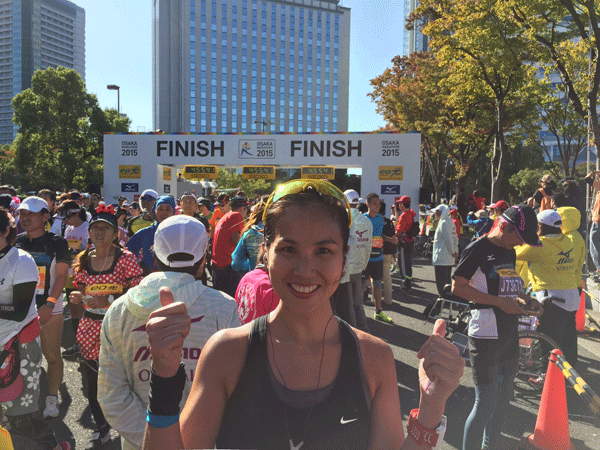 Osaka Marathon was my 14th marathon. Each marathon is a special experience, but they all vary because of all the elements that come into play from training to all the little occurrences in each of the 42 kilometres of the race.
For Osaka Marathon, I was just in a happy place almost the entire time.  I think the biggest difference for this race was that my one and only goal was to enjoy it. I only trained 2 months for the marathon because I had previously felt burnt out from previous races. I thought it would do me more harm than good to train hard. On race day, I didn't put pressure on myself. My pace was relaxed, my mood was calm, and I stayed positive all throughout.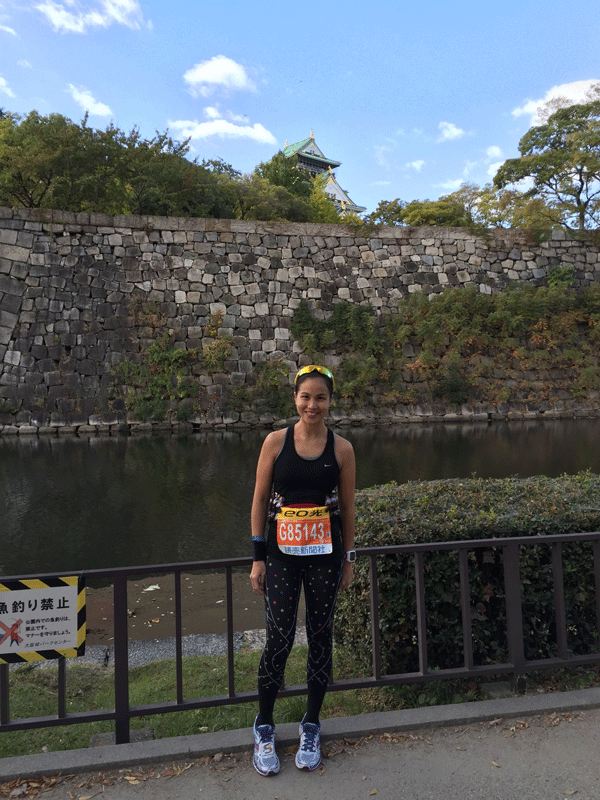 At the race start with Osaka Castle behind me
Luckily for me, everything was smooth sailing. No blisters, no ITB pain, no line at the portalet during the one time I went. Just no problems! Boy was I lucky! My nutrition and hydration plan was perfect. I took 1 GU gel 10 minutes before the race and subsequently at 10k, 20k, and 30k. I carried 8 packs of single serving Gatorade powder with me and took one serving at roughly every 5k of the race. As for my Salt caps, I took it thrice: the first at 7k, 18k, then sometime close to 30k. Hence, no bonking!
My finish time was 4:45, not a PR but not too bad either for someone who sang out loud to her iPod while running! lol. I was smiling from ear to ear as I ran this race and, in the end, it helped me remember exactly why I'm just madly in love with the 42k.
Thank you, Osaka, for the memorable experience!
Here goes my race review for Osaka Marathon: (more…)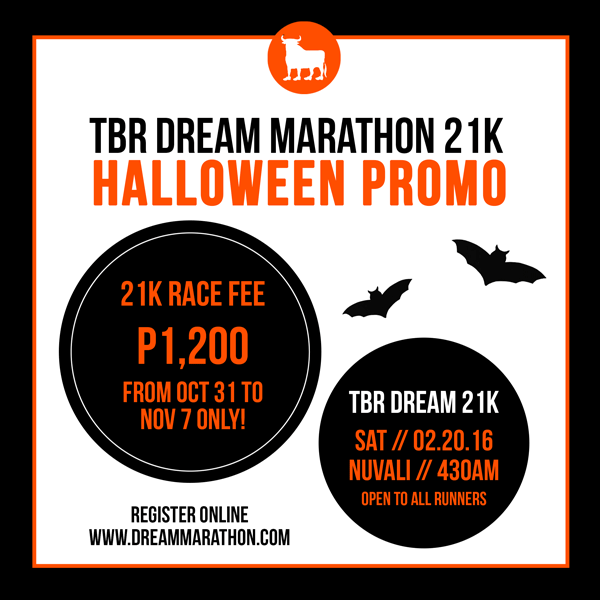 We've got a special treat for you this Halloween! For TBR Dream Marathon 21k, we're slashing rates to P1,200 only from October 31 to November 7, 2015!  Hurry and register online now at www.dreammarathon.com.
It is the first time we'll be holding TBR Dream Marathon Weekend on February 20 and 21, 2016.  While TBR Dream Marathon 42k, the first and only marathon in the world for beginners, is now on its 7th year and will be held on Sunday, it is the first time we'll be holding TBR Dream Marathon 21k on Saturday.  TBR Dream 21k will be on February 20, 2016, Saturday at Nuvali, Sta. Rosa, Laguna.  Gun start is at 4:30AM.  We hope to see you at our inaugural event. Click HERE for more details.